International students become campus leaders
By Barbara De La Hoya
Contributing Writer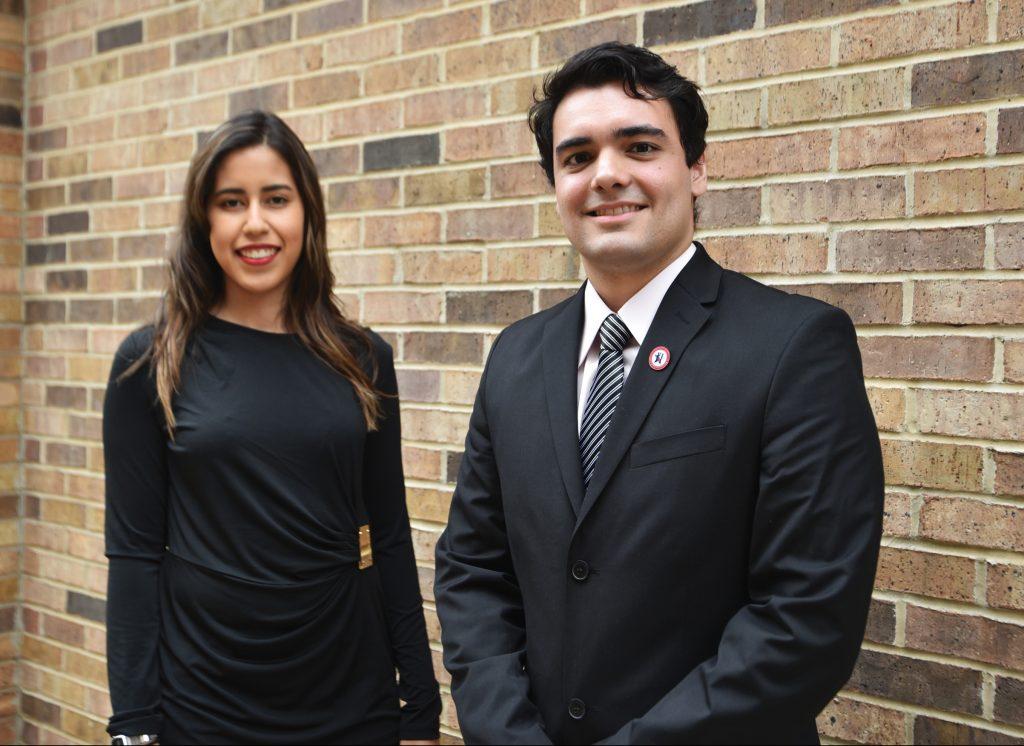 Two international students, Maria Fernanda "Marifer" Tovar and Carlos Valbuena, were elected to serve as Brookhaven College's Student Government Association president and vice president, respectively, for the 2018-2019 school year. Tovar and Valbuena secured their victories, despite being at Brookhaven for a short amount of time.
"I feel awesome," Tovar said. "I couldn't believe as an international student … I already have this big position and a big responsibility. I feel proud of myself."
They ran the majority of their campaigns on Instagram and flyers they posted around campus, hoping to achieve a sense of inclusion at Brookhaven, Tovar said.
"We noticed that here in Brookhaven College, the students aren't that involved in extracurricular activities," Tovar said. Their lives revolve around going to work, attending class and heading back home, she said. 
Tovar remembers her first day at Brookhaven. She could not make friends because everyone around her was on their phones.
Valbuena said when students transfer, he wants them to be prepared for competitiveness. That is why one of their major goals is to get Brookhaveans more involved and prepared as the leaders for the next stage of their educational career, Valbuena said.
As students, both have been involved in clubs and organizations such as Phi Theta Kappa Honor Society and the International Club.
They said they do not want their fellow students to think some activities are not offered at a community college and miss out on opportunities. "Be open minded and see the new opportunities that Brookhaven can give you," Tovar said. 
Hailing from Mexico, Tovar is in her second semester at Brookhaven and is studying finance. She hopes to one day go back to Mexico and help her country. She believes the way to make a change in the world is to be involved in politics.
Valbuena, who is from Venezuela, has been here for three years, and is studying civil engineering. He wants to focus on either project management, urban and regional planning or international development.
Valbuena also hopes to return to his country and serve his people just like he will serve the students of Brookhaven.
He said it is important for people to understand how politics work. "Even though my major is far from politics, I feel … as good citizens we need to be active," Valbuena said. 
Tovar and Valbuena said they were not always as confident. Tovar said she thought communication might be a problem. "Sometimes for this type of position you have to communicate a lot and when English is not your native language, you're sometimes afraid of messing up," Tovar said. "But you're putting barriers on the things you're capable of doing."
Valbuena said he always felt like an outsider as he began his journey, but it did not stop him from getting involved. "It is worth it," he said. 
They said the support and encouragement of their friends in the International Club and SGA, as well as their Phi Theta Kappa advisers, were the push they needed to run for office, Tovar said.
Esteban Lopez, SGA's current president was a mentor to Tovar. She credits Lopez with motivating her and making her realize the potential of being something more than just a student. He encouraged her to make changes at Brookhaven. Valbuena pushed her to run for office when she first arrived to Brookhaven too. 
Valbuena said, Brian Borski, OSL director and SGA advisor,  gave him advice when he initially planned on running. Valbuena was worried about his time management, not knowing whether he would be able to handle it all. But Borski was the bedrock for Valbuena. Borski is the kind of person one could talk to, Valbuena said. Borski told him it was going to be tough, but he would always help with the process. He was a friend to hear Valbuena out and push him to be his best and eventually lead him to where he is now. 
Their first objective will be appointing a new executive board. They have already begun looking for candidates and interviewing potential senators. Tovar and Valbuena want to increase the diversity of senators and their executive board, Tovar said. "Don't be afraid to get involved, it's a great opportunity," Valbuena said offering advice to students who might consider running for in the future. They were not expecting all these opportunities as international students. 
"I used to label myself as this foreign kid with the accent and many times felt I didn't belong here, but now I see the opposite," Valbuena said. "I see myself as a leader, as somebody who can actually make an impact." 
When students approach Tovar and Valbuena and let them know that they are inspiring, they know they are doing the right thing. "I'm so thankful that I have all these opportunities," Tovar said. "Now I can share all my knowledge with [students]," Tovar said.