Journalist explores media, politics
By Natalie Davila
Staff Writer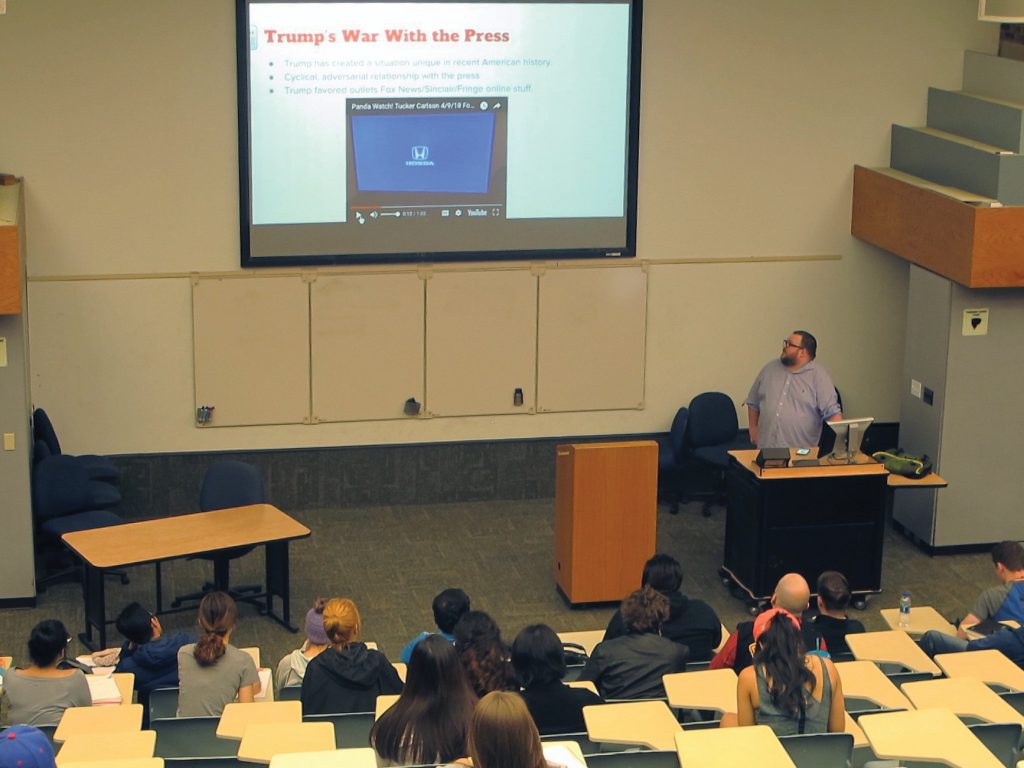 Brookhaven College's Institute for Political Studies and IGNITE invited the Dallas Observer staff writer Stephen Young as a guest speaker to talk about covering politics from a journalist's perspective.
Young spoke at the April 11 presentation about the criticism journalists receive from people, who, influenced by President Donald Trump, tend to believe they report inaccurate facts.
"Since Trump has been elected, I get a couple death threats a month," Young said.
"Our theme for this year is media literacy," Ahad Hayaud-Din, IPS director and political science professor, said. "We wanted people who cover media as well as Trump and his relationship with the media."
Hayaud-Din previously invited guest speakers to talk about the media from an academic point of view.
Young is a Dallas native who graduated from El Centro College and the University of North Texas. Since 2014, Young has been a reporter for the Observer, covering local politics, news and sports.
Young was at the Next Generation Action Network march where police officers were killed July 2016 in downtown Dallas. He also was one of the first journalists to enter El Centro College after the shooting.
For the 2016 presidential campaign, Young covered Trump three times when he visited Texas. "The media's problem is we did not take Trump seriously as a candidate," Young said. "We treated him more like he was a comedian on tour."
Young showed one of his articles on Trump to the attendees. The article was about Trump's visit to Dallas in September 2015, and was written like a music review to attract readers.
"I originally came to the event for extra credit, but I found him really interesting and funny," Jonathan Viazcon, a student, said.
A video of Trump criticizing Sen. Marco Rubio in Fort Worth was shown.
Trump's rallies easily allowed him to single out the news media and encourage people to scream and spit at reporters. Young said it even began to get scary for journalists. Young said he decided not to take a press pass and went as a regular civilian instead to have a safer experience attending Trump's rally in Fort Worth.
Young said he believes Trump became president with the help of fake news. Young does not like that Trump constantly talks negatively about the media, saying reporters fabricate news and do not have accurate sources.
Young said it is important to listen to more than one news outlet so people do not become biased toward an issue.
"Trump says he hates the press, yet he needs the press," Young said as he pointed out how the media helped him become president.
Being short staffed and having no budget, Young talked about 2018 being a terrifying year for all members of the media. Having Trump constantly condemn the media puts journalists' jobs at risk.
Young said the next big issue students should be aware of in Dallas is the ethnic and income separation of Dallas County.