Soccer captain recalls time at BHC
By Victoria Valdez
Sports Editor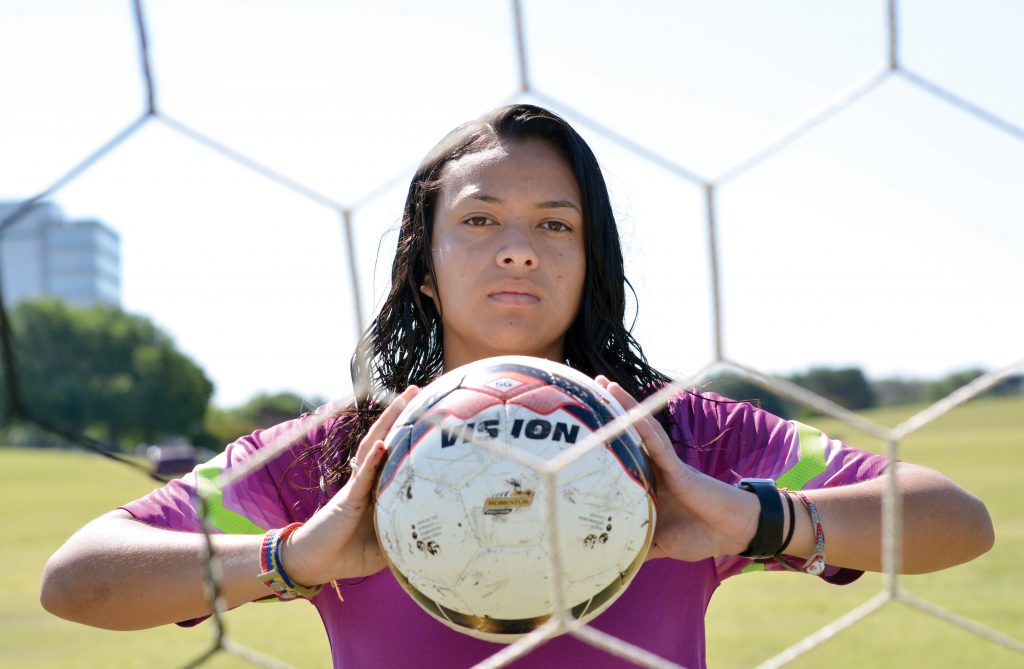 Daniela Marin, goalkeeper and team captain for Brookhaven College women's soccer team, could have played for a professional Colombian soccer team, the Atlético Bucaramanga. The opportunity came after her mother sent out Marin's résumé. She turned it down because they wanted her to play immediately.
"I couldn't just drop everything and leave because I was in school and it was during soccer season," Marin said.
Marin has a full schedule this semester. She takes online courses and comes to campus on Mondays and Wednesdays at 7:30 a.m. for a physical education course and practices with the Bears at 2 p.m. Monday through Thursday. 
Marin was born in Colombia and came to Dallas when she was 6. When she was 9, she played soccer for the first time. She played soccer in church groups with her brother. "I used to play every sport in elementary school, but I was the best at soccer," Marin said. 
When she played for her middle school team, Marin discovered her talent as a goalkeeper. "I used to be a forward player during our first season of soccer, but our team was really bad and our defense was bad," Marin said.
She asked her coach to be goalkeeper. "He put me in as goalie, and the opposing teams never scored on me," Marin said. "I think we only lost one game with me as goalie." 
When Marin was a freshman at W.T. White High School, she tried out for the soccer team and made the varsity team. "We lost every single game my first year," Marin said. With a new coach during her senior year, she said the team went to the playoffs for the first time in 25 years.
Joseline Sorto, forward for the Bears, said she has known Marin for 12 years and attended the same schools. "Daniela is a very calm and smart girl," Sorto said.
While in high school, Marin planned to attend a university if she received offers from scouts, but only community college scouts recruited at her school.
"I got offers to play for all the community colleges," Marin said. She thought about going to play for Richland College. "I knew Richland was good at soccer because back-to-back, they've gone to the national tournament."
Jimmy Elder, Brookhaven women's head soccer coach, was persistent in recruiting Marin. "I called her immediately and asked her to hold off on her decision until she could visit Brookhaven," Elder said. While still at W.T. White, Corrina Ortiz, a teammate, said great things about Elder's coaching skills.
Marin was guaranteed more game time if she played for Brookhaven. At the time, Richland had four goalkeepers while Brookhaven had two. She chose to play for the Bears over the Thunderducks.
Her favorite thing about the Bears soccer team is her teammates. "You have a laugh every time you enter practice, so even when you're in a bad mood, you're going to laugh because we're funny," she said.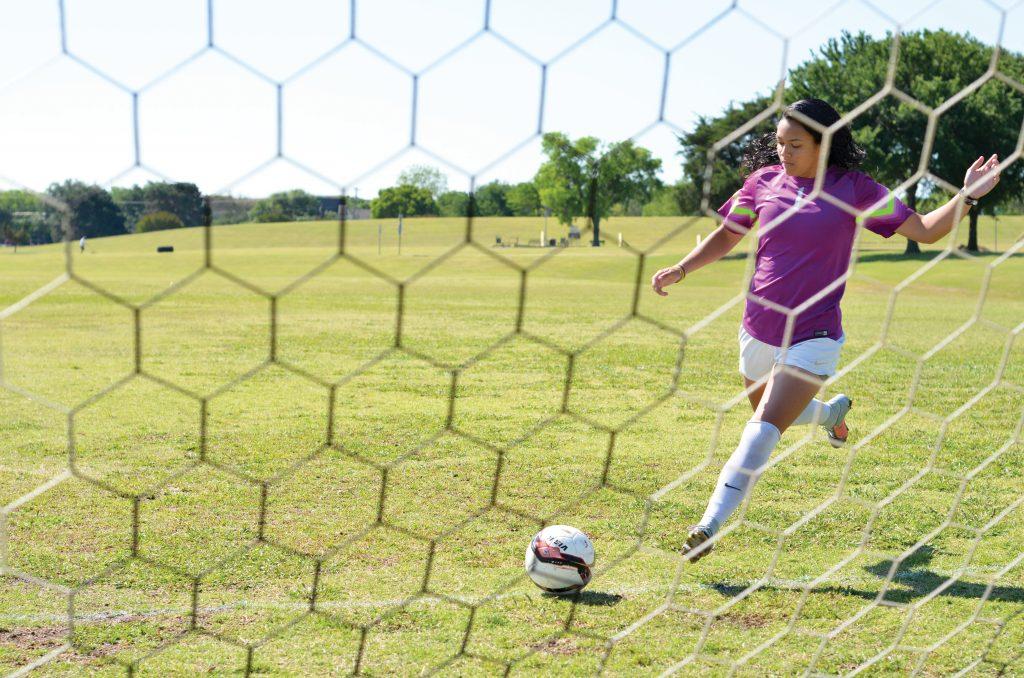 Marin's greatest achievement happened last semester, when the soccer team won the 2017 NJCAA Division III Women's Soccer Championship Tournament. "It was hard, but we were able to do it as a team," Marin said. "This year, no one could touch us. We were just so good."
Her favorite memory was the golden goal scored during the championship game.
Marin said everyone had their hopes down at the begining of the 2017-2018 season. "We lost our pre-season game against Angelina College," she said. "It was a lot of pressure, but in the end, we knew we were good enough to win."
When midfielder Jazmine Bustos scored the winning goal, Marin took her Colombian flag and ran toward the center of the stadium and waved it.
"Winning the national championship with my best friend will forever be the best memory of my life," Sorto said. "I just love [Daniela] so much as a person and she is unique in her own way."
Marin said, "Our struggles in the beginning helped us become a stronger team." After placing third in the tournament in 2016, Marin said the team did not think they could repeat their success. "Even parents would come up to me telling me, 'I don't think it's possible this year,'" she said.
Elder said: "Daniela's commitment to excellence makes her special. She is very optimistic and a great leader. She brings people up when they are down and she brings hope where others find none."
Marin said her mother and brother are the most influential people in her life. "They always support me in anything I do," she said. 
Marin said she is glad to have attended Brookhaven because it has helped prepare her to play soccer for a university.
This is Marin's last semester at Brookhaven. She will receive her Associate of Arts and she said she wants to major in criminal justice. Marin received scholarships from several universities, but her top two picks to transfer to are Texas A&M International and Texas Woman's University, where she has received full-ride scholarships to play soccer.
"After I visit Texas A&M International, I'll decide within a week where I'm going," Marin said. "TWU is my go-to college because its closer to home, but Texas A&M International is giving me more benefits than TWU, but it's a lot farther."
Marin said she wants to work for the FBI once she completes her degree and play professional soccer.
Marin said her time at Brookhaven was a great experience. "It was nice to win as captain and to enter the national championship for both of my years here," Marin said. "None of this would be possible without my teammates."