Author chases tornadoes, stories
By Jacob Vaughn
Copy Editor/Fact Checker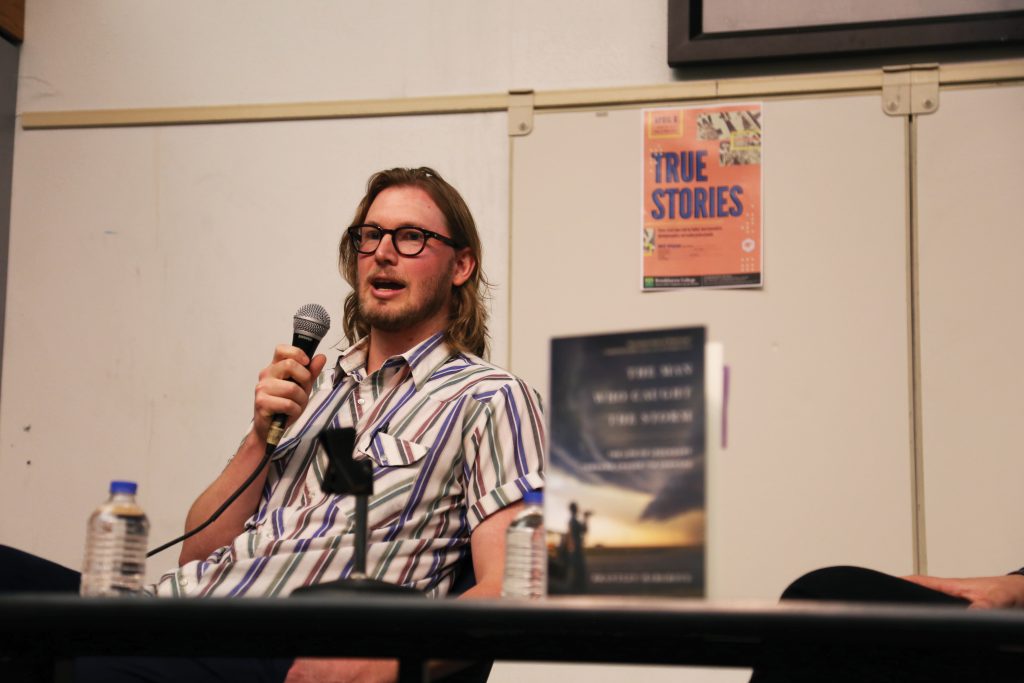 Brantley Hargrove, a freelance journalist, sat in his underwear watching TV in a hotel room in Nebraska. He had been on the road with a team of storm chasers.
"[We] stepped outside and it was just like pea soup," Hargrove said. "The humidity, the warmth, you could see all the moisture in the air. The guys I was with – these really seasoned storm chasers – they were just giggling like little school girls. They were just like, 'This is a day. This is a day.' And their confidence only increased as the day wore on."
The computer models agreed. A "big event" was on the horizon. Later that day, Hargrove saw his first tornado, a 500-yard wide funnel tearing through northeast Nebraska. "We followed it to the very end until it was this thin, little rope contracting into the sky," Hargrove said. The group looked over their shoulders and saw another twister forming, with a third behind it. "By the time we catch up to it, we have two 500-yard tornadoes ahead of us on either side of this highway and so we're just kinda driving up to them like we're going to field goal them or something." Hargrove saw four EF-4 tornadoes that day in June 2014.
That experience showed Hargrove the power of nature and the phenomenon that killed Tim Samaras, a storm chaser, in 2014.
Hargrove would later use that experience to understand and retell Samara's life in his first book, "The Man Who Caught the Storm."
However, just a few years ago, he was a University of North Texas student writing for his school paper, the North Texas Daily, after only just starting to take journalism courses. 
Some stories, like his first about a bodybuilder and the extremes he went to for the sake of gaining muscle, interested Hargrove a great deal. Other stories about campus administration and the nuts and bolts of university bureaucracy were boring to Hargrove. Although, in hindsight, he said, these kinds of stories proved to be crucial for his career. "I think I realize now that the boring stuff that I thought was a waste of my time was actually pretty essential," Hargrove said. "But I was too young and callow to know that at the time."
After about a year at the North Texas Daily, Hargrove said he became disenchanted with journalism. He could not see a path forward. However, he hit a turning point within about a year left in his undergraduate career at UNT. His professor persuaded him to take a three-week narrative nonfiction writing course in Archer City, a small northwest Texas town. He had never heard of the town before. "I thought, probably, it was going to beat vacuuming rental cars at Enterprise for the summer, so I was like, 'All right, yeah, sure I'll sign on,'" Hargrove said.
At first, he said, taking a class that did not provide him with a prompt was disorienting. Hargrove and his classmates were told to find a story and write about it for the duration of the course. Being used to specified assignments, he dabbled around for a while. He took trips with friends to the local bar or piled into a truck with a bunch of beer and drank. 
That was until he found an old book in his hotel room written by Larry McMurtry, a local from Archer City.
McMurtry's family was one of the first to settle and start ranching in the small town. "Some claim the three essential books in Texas history are the Bible, the Warren Commission report and Larry McMurtry's [Pulitzer Prize winning novel] 'Lonesome Dove,"' according to The New York Times. McMurtry's narrative style would later influence Hargrove's voice in his own writing, he said.
After graduating in 2006, Hargrove still did not know what he wanted to do with his life. Living in the Spur Hotel in Archer City, working construction for the hotel owner, he decided it was time to get a real job. His first job as a reporter was at a daily newspaper in Gillette, Wyoming called the Gillette News Record. One of his first stories was about a family of four who was surprised with quadruplets in a Denver hospital.
Hargrove later went on to find even more interesting stories through his job at the News Record. "Just all sorts of crazy stuff going on out there," he said. "The very thing I thought I was chafing against as a cub reporter for a university newspaper – I was building on that." Through this he was able to learn how to work a beat, develop relationships and maintain those relationships. "That is something that only comes with lots and lots of practice," he said.
Looking back, Hargrove said he is glad he did all these things and did not go straight to gq.com where he would probably be assigned to write 200 words on the latest Marvel flick. He said he needed to learn the not-sexy basics of reporting if he later wanted to write a big investigative piece or eventually a book.
That is what he began to do when he moved to south Florida after two harsh Wyoming winters. "It was wonderful," he said. "Sunny beaches, clear blue water and just the craziest-ass-stories you could possibly imagine."
Hargrove's first story with an alt-weekly Florida publication, Village Voice Media, was about the longest serving prisoner for a marijuana offense in American history. The prisoner was a smuggler in the heyday of weed smuggling, he said. The Drug Enforcement Agency eventually launched a massive manhunt, which got him imprisoned for the next 30 years. "I was one of the only people to write something substantial about him," Hargrove said.
It was not long before he came back home to Texas to write for Dallas' alt-weekly publication, the Dallas Observer. He wrote stories about anything imaginable. 
In 2011, Hargrove wrote about the drought that decimated farm and ranch country in Texas, and about a guy that sought compensation from the state after being wrongly imprisoned for years. 
Eventually, he came across the legendary storm chaser Tim Samaras, whose account Hargrove turned into a cover story for the Dallas Observer. He said he had about three weeks to put the story together, which entailed trips to Oklahoma and Colorado to meet people in Samaras' life.
After the story was published, Hargrove said this story cried out for a much more in-depth account. He then proceeded to talk to his agent for the next four years about making a book out of Samaras' life, who died during a tornado. He wrote a book proposal that took him about four months to finish. 
"It's as much storytelling as it is salesmanship," Hargrove said. While writing the proposal, he tried to meet his quota of a blog post a day and 10-12 reported features a year for Village Voice Media group. "Most of the time, I did not meet my quota," Hargrove said.
In the end, Hargrove's exhaustive reporting, trying to find his way and not meeting quotas led him to release his 304-page book detailing the life and death of  Samaras. Hampton Sides, an American historian, calls it an instant classic of americana. In the midst of organizing talks at bookstores and with other publications about his book, Hargrove is on the lookout for his next big story.