Thrifting saves pockets, recycles clothes
By Elena Walker
Arts & Culture/Soical Media Editor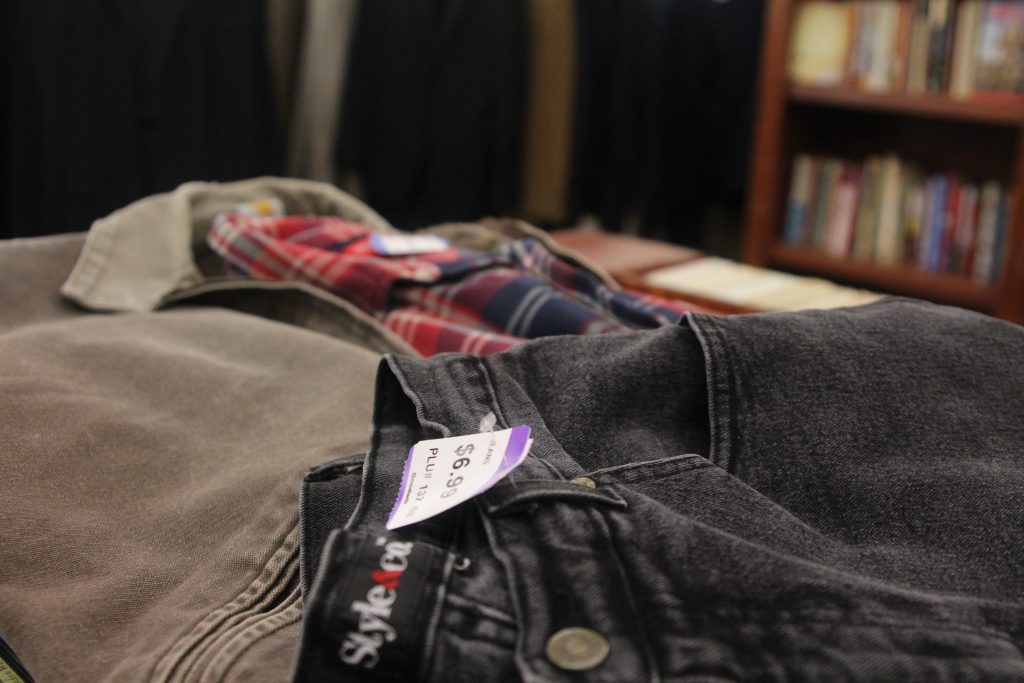 Thrifting is an example of one person's trash being another person's treasure. Thrifters have the opportunity to shop a variety of clothes at discounted prices. Racks are filled with rare fashion finds waiting to be worn. Thrifting is not a typical shopping experience, but it can lead to some unique finds if shoppers are willing to search.
DISCOUNTED DISCOUNTS
Thrift shop prices are considerably lower than retail shop prices. On top of the opportunity to shop at an already discounted price, some thrift shops keep ringing up deals. According to HuffPost, "Many thrift shops do tag sales, where they further reduce the prices of items – designated by the color of their price tags – that are already selling for dirt cheap."
Luckily for D-FW residents, the area is filled with a variety of thrift shops including Plato's Closet, Uptown Cheapskate, Out of the Closet Thrift Stores and Goodwill Industries.
RESALE SHOPS
Resale shops, such as Plato's Closet and Uptown Cheapskate, have a co-beneficial relationship with their customers. Shoppers take in name brand clothing and accessories. After being inspected by the store staff, they will offer store credit or cash on the spot for the items. According to the Plato's Closet website, "You'll find a huge selection of trendy, designer styles as well as those everyday basics you can't live without – all at up to 70 percent off mall retail prices."
Uptown Cheapskate buys items daily, which means the racks are constantly being filled with new finds, according to its website. Uptown Cheapskate has a pricing software used to estimate the amount customers should be given for each item. "It proposes an amount that will benefit the customer selling to us, by giving as much compensation for the items as possible, while maintaining a price point that allows other customers to get the financial break they need on the quality items we provide," according to the Uptown Cheapskate website.
THREDUP
Thrifting is not limited to in-store deals, thanks to websites such as ThredUp, the largest online shopping destination. Thrifters can choose from thousands of new options uploaded daily. They have a thorough selection process, ensuring all the items offered are flaw-free, functional and fashionable.
CLOSET THRIFT STORES
Out of the Closet Thrift Stores offers customers unique finds and free HIV testing. "Tests are performed by certified testing counselors, using the most advanced testing technology," according to the store's website. Test results are ready in 20 minutes or less. The company donates 96 percent of every purchase to fund AIDS Healthcare Foundation's HIV and AIDS programs and services in the U.S. and abroad, according to its website.
GOODWILL
Goodwill's website outlines how donating can change someone's life. After donations hit the racks, a thrifter will purchase an item and the funds from the purchase will support the job trainings and services Goodwill offers.
In 2016, Goodwill's career service programs connected more than 313,000 people in the U.S. and Canada with jobs. According to Goodwill's website, Goodwill offers access services such as financial services, family support and entrepreneur resources for their employees.
Thrift Shop Locations Closest to campus

Plato's Closet
Trinity Valley Shopping Center
Carrollton, TX

Uptown Cheapskate
500 E Round Grove Road #131
Lewisville, TX 75067

Out of the Closet Thrift Store
3920 Cedar Springs Road
Dallas, TX 75219

Goodwill
2116 E Belt Line Road
Carrollton, TX 75006