Arts dean retires, continues to teach drawing classes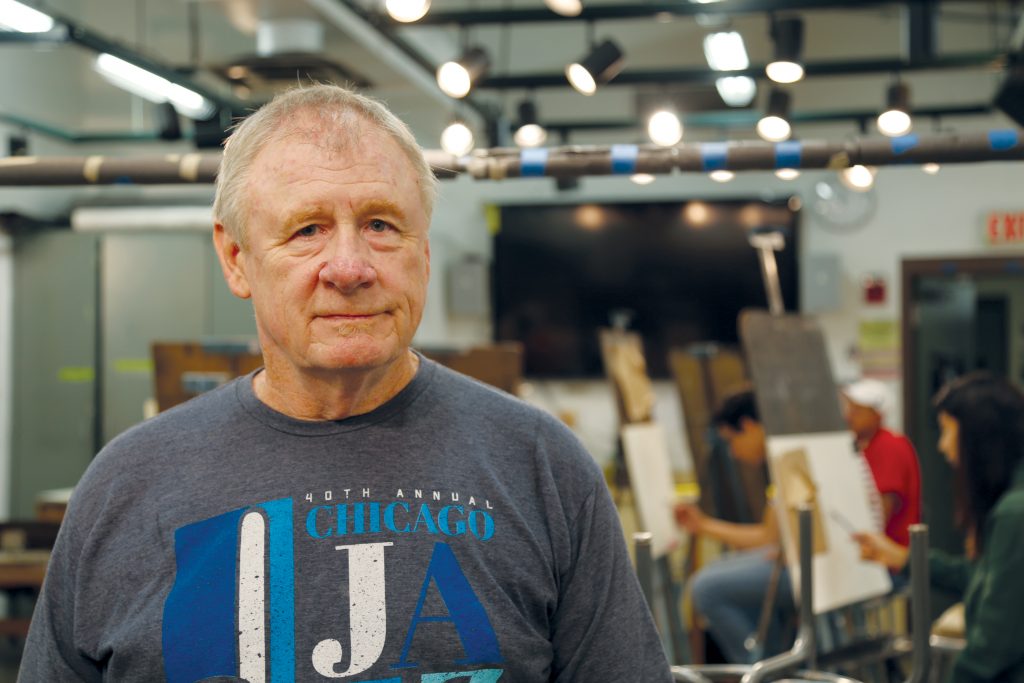 By Stephanie Salas-Vega
Editor-at-Large
Rick Maxwell joined the Dallas County Community College District as a young instructor in the '70s, thinking he would teach for a few years and eventually move on to a university. Now, 44 years later, the retired dean of the Brookhaven College School of the Arts said his phenomenal experience with the district changed his plans.
During his time with DCCCD, he worked at four of the colleges – Cedar Valley, Eastfield, El Centro and Brookhaven colleges.
"I learned very early on in my career that I enjoyed working with students in the first two years of their college career, and I felt there was a real place for me and I could make a difference at Cedar Valley and Eastfield," Maxwell said. "When I came [to Brookhaven] I truly had colleagues and learned that a group dynamic can get a lot more done."
Before coming to Brookhaven in 1997, Maxwell taught 3D design, sculpture and drawing as a full-time faculty at Cedar Valley, Eastfield and El Centro
In 1975, while in graduate school, Maxwell taught continuing non-credit art classes as an adjunct at Eastfield while also teaching at El Centro. When Cedar Valley opened two years later, he landed his first full-time teaching job. He later returned to Eastfield to teach full-time. He was also a charter member at Cedar Valley and served as chair of the art department at Eastfield.
Then Brookhaven opened in 1978.
"Brookhaven had always had a marvelous reputation for studio art," Maxwell said. "The art department has always been well known as being a really good place to work, so I asked first if there was any adjunct work."
In 1997, Maxwell split his time between teaching as an adjunct at Brookhaven and full-time faculty at Eastfield, until a full-time position at Brookhaven opened. He applied and transferred to Brookhaven, where he was part of the studio faculty from 1999 to 2008.
His leadership experience as a department chair at Eastfield made him a candidate to serve as art department interim dean at Brookhaven in 2008. Maxwell said being dean was an incredibly hectic job with very little training, but he enjoyed the challenge.
"I understood the campus better," Maxwell said. "I was actually physically on one little part of the campus every day, but becoming the dean you get to know everybody from across the campus. It really broadened my world to get to know all these different people I was working with."
Maxwell said he made several memories at the colleges he has taught. During his third year at Cedar Valley, one of his student's family thanked him for keeping the student engaged and involved in academics so he could learn to read.
Maxwell was also part of a team that worked with architects to expand Brookhaven facilities. The studio art work group was involved in the architectural concept to add a new wing to F Building, the only stand-alone sculpture department in the district and the first stand-alone gallery.
"The idea was if we could double the square footage we could double our enrollment, and we did," Maxwell said. "I was really excited to be able to add all that space and equipment and to see the students come and use it was a real high point."
Maxwell's retirement is not really a retirement, he said. He will remain at Brookhaven and teach drawing.
He also plans on becoming a full-time studio artist to spend more time in his studio, where he makes bent wood sculptures.