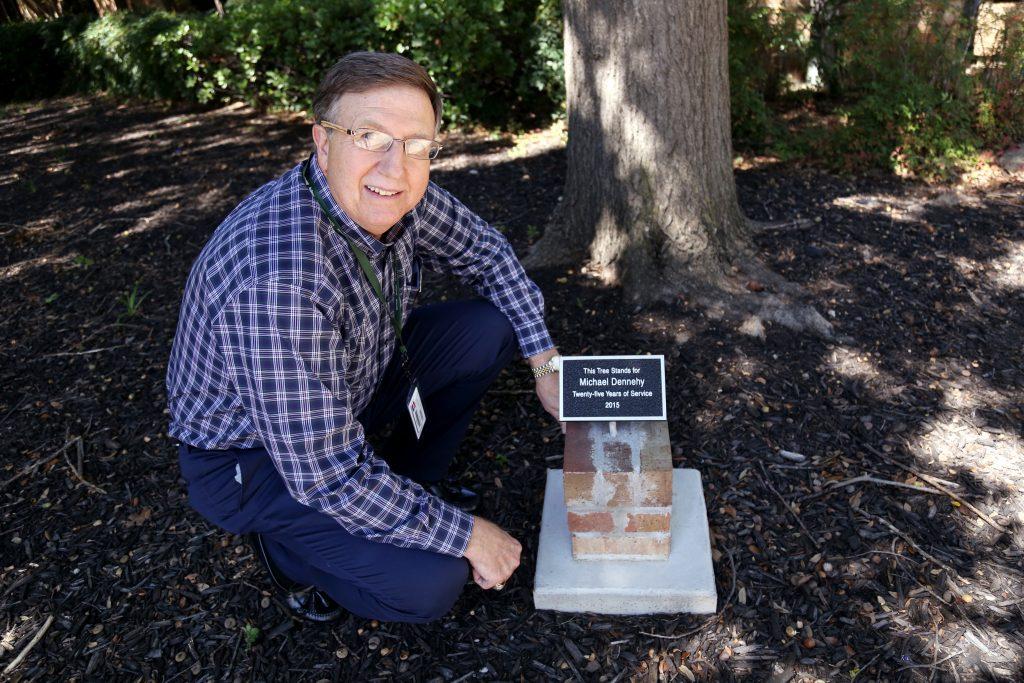 By Stephanie Colmenero
Managing Editor/Web &
Social Media Director
"I've always liked working with people, but I've always liked working with data and information," Michael Dennehy said. "If people have information, good information, they can make better decisions." Michael Dennehy is executive director of planning, research and instructional effectiveness, is a charter member of Brookhaven College.
Having a curiosity about data and knowing to use the software to explore data and present it is something that has always impassioned Dennehy, who has worked in institutional research for 13 years.
Over the course of 43 years, Dennehy has been a member of five North Texas colleges, including three Dallas County Community College District schools and the Le Croy Center.
A reception celebrating Dennehy's retirement was held Sept. 27.
Dennehy grew up in Dallas and graduated from Bishop Lynch High School. He attended Eastfield College during the school's second year. There, Dennehy said, he had the best teachers in the world. "They were young," Dennehy said. "They were excited about being there. They were knowledgeable. They were people I could look up, and I was also lucky enough to call some of them colleagues and friends later on," he said.
After Eastfield, Dennehy attended North Texas State University, now the University of North Texas, where he earned his Bachelor of Science in guidance studies.
Dennehy also earned his Master of Arts in counseling from Southern Methodist University and a doctorate of education in supervision, curriculum and instruction from East Texas State, now Texas A&M University at Commerce.
During his senior year at North Texas, Dennehy said, he was eager to return to DCCCD. Before graduation, he began to make calls to district counseling centers to find a job as a counselor. At the time, DCCCD had four colleges open – El Centro, Mountain View, Richland and Eastfield.
He made connections that eventually landed him his first job at Mountain View. Dennehy said he did not know exactly what type of counseling he would be doing, but ended up being a veteran's counselor.
Dennehy began his career in 1977 at Mountain View College where he worked as a Vietnam War veterans' counselor, helping returning servicemembers select classes and receive their benefits.
He then moved on to work at Richland College for one year where he worked as a career counselor before going to Brookhaven in June 1978, before the college opened.
At Brookhaven, one of his first tasks was to help create a career library. He was also one of five charter counselor faculty members. "As a part of our duties we were required to teach courses in human development," he said. Dennehy taught courses, such as interpersonal relations, career development, and personal and social growth. These courses, he said, have been mostly replaced by other disciplines.
"It was really a great honor because this was the last of seven colleges that were built, and it was supposed to be the best college in the district," Dennehy said.
In 1985, Dennehy left Brookhaven to help open Northeast Texas Community College as director of counseling. "I'm very proud of the fact that I was charter administrator and faculty member of two colleges," Dennehy said.
He remained at Northeast Texas for 15 years until he returned to DCCCD when he joined the Le Croy Center as dean of distance learning.
Dennehy said that in 2004, Bob Little, a government professor, asked him if he wanted to apply for dean of social science. "I encouraged him to come back," Little said. "We missed him and I knew what an outstanding administrator he would be."
Since returning to Brookhaven, Dennehy has served in several positions including interim dean of math and science; dean of world languages; and associate vice president of planning, research and institutional effectiveness.
Dennehy has also taught psychology part-time throughout the years.
Carrie Schweitzer, director of sustainability, who has worked with Dennehy since 1980, said he is a renaissance man who has a scope of abilities and willingness to be curious. He is a risk taker with a wide range of interests. "From gardening to his love of data and numbers, his passion really showed in his interest in teaching students," she said. "His ability to work with so many personalities and his diverse sense of thinking makes him a team builder, [and] team member with his hands-on attitude."
After retirement, Dennehy will spend time with his wife, children and grandchildren. He plans to visit his daughter, who is currently stationed on an U.S. Air Force base in Germany, after she moves to North Carolina. He said one of the first places they will visit together is Italy.
Dennehy said he will continue his carpentering and wood work. He also plans on taking art classes and is interested in learning how to watercolor, Dennehy said.
He looks forward to being able to garden, but does not plan to stop teaching entirely. He will remain a part of Brookhaven as an adjunct faculty teaching psychology.
"I'll be leaving knowing that the college will continue to grow and grateful to the career that I had," Dennehy said. "I would like to thank Dr. Thom Chesney for having the confidence in the job that I have done. I'll be leaving with a sense of gratitude."