Spooky Trot returnns to campus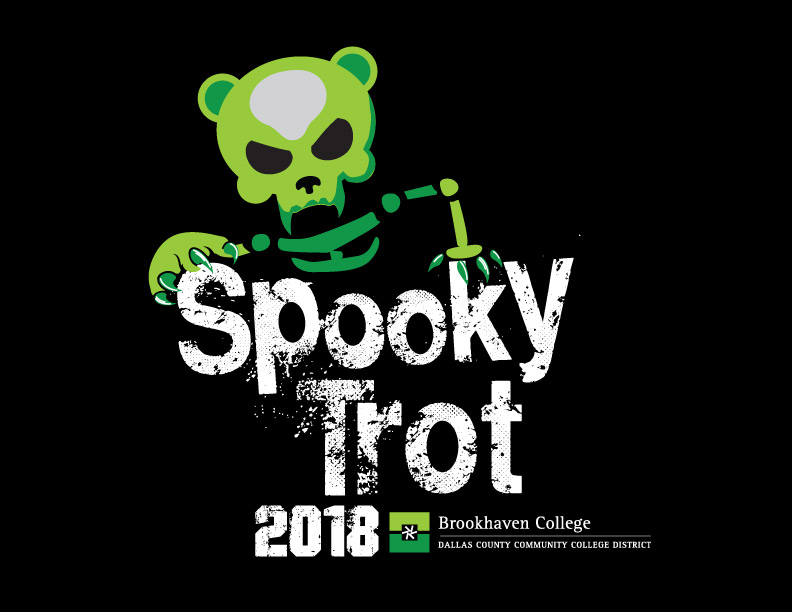 By Matthew Brown
Copy Editor
Before going trick-or-treating, Brookhaven College students, staff, faculty and community members will have an opportunity to treat students to much-needed meals at the seventh annual Spooky Trot Oct. 26.
The Spooky Trot is a 5k race and costume walk contest held every October to raise food and awareness for The Cave, the Brookhaven food pantry. The minimum donation of 10 non-perishable food items, toiletries or $10 cash serves as the entry fee and directly supports the pantry's stock.
All participants will receive a free T-shirt.
While more serious runners are timed, casual participants may choose to walk around the track. Costumes are also encouraged for both runners and non-runners, according to Brookhaven's website.
The race will begin at 8:00 a.m. Participants should arrive at 7:30 a.m. for check-in, Rebekah Benavides, Office of Student Life student program development coordinator, said. They must register and fill out a waiver in advance online on the Brookhaven website, using the search keywords Spooky Trot to find the registration page.
The fastest three men and fastest three women will be awarded trophies. The participants with the top three best costumes, chosen by a secret panel of judges, will be awarded gift cards, Benavides said. The costume contest consists of three categories: scariest, funniest and silliest. There will also be a best overall winner.
Vikki Ethington, the campus police officer who organized the first five Spooky Trots, said one year a student scared a lot of people as an unnervingly-realistic Jason from "Friday the Thirteenth," complete with a ski mask, flannel shirt and even a real chainsaw.
"To say that the Spooky Trot has a massive impact on the pantry is an understatement," Jennifer Allen, history professor and food pantry coordinator, wrote in an email to the Courier. "That one event basically helps keep the pantry stocked through November."
Allen said every kind of shelf-stable food item is always in demand. However, high-protein foods, foods that can be eaten from the package, pastas and noodles, and canned fruit are popular.
The pantry impacts the campus greatly because almost half of Brookhaven's students have experienced food insecurity over the past 30 days, Allen said. A quarter are perpetually food insecure, and hungry students cannot focus on their classes or jobs. The pantry serves approximately 200 individuals per month.
It serves the people who the system is not working for even though they are doing all the right things, Allen said. There people who need support as they make sacrifices in the present to lift themselves up educationally and improve their lives in the long run.