Pianist jazzes up BHC recital hall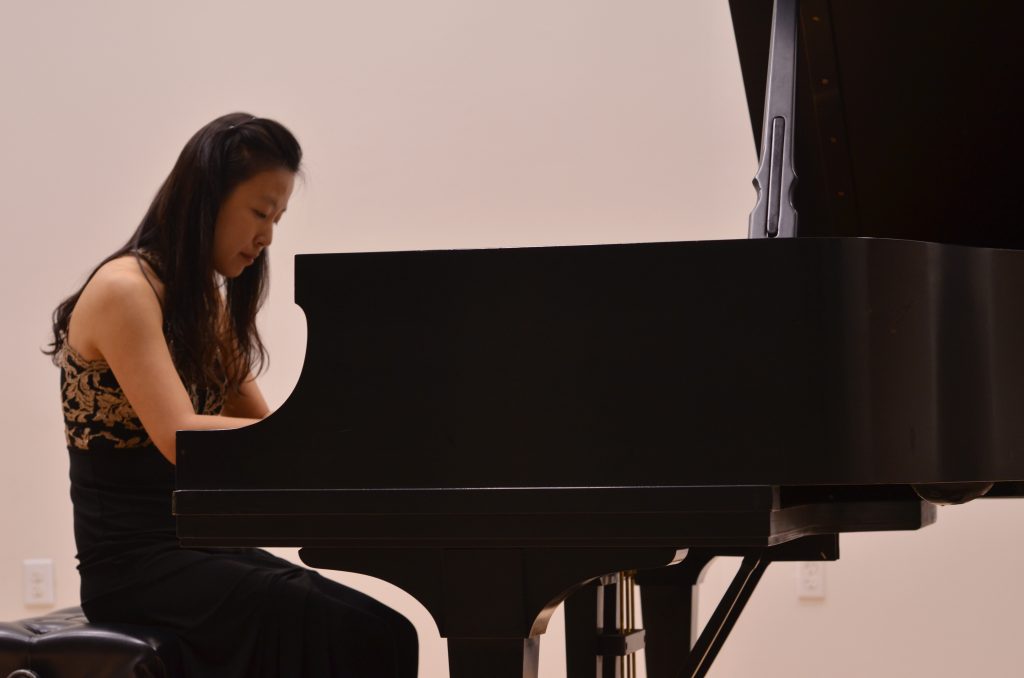 By Jacob Vaughn
Copy Desk Chief/
Music Editor
The Recital Hall at Brookhaven College was packed. Octavio Gutierrez, music department chair, rushed to get more seats in the room as people continued to pile in for the third performance of The Music Department Piano Festival, Oct. 17.
Award-winning pianist and Eastfield College music faculty member, Hee Sun Yun, better known as Sunny Heesun Yun, played a free concert in the Recital Hall. Yun performed works by Manuel María Ponce, Johann Sebastian Bach, Ignacy Jan Paderewski and Nikolai Girshevich Kapustin.
Gutierrez said he was introduced to Yun last semester by his former professor world-renowned pianist Adam Wodnicki, who also instructed Yun. "She is a very professional musician," Gutierrez said. "I knew that any good student that he's OK with is a good pianist. He wouldn't tell me [about] somebody who wasn't."
Audience members were silent as Yun took her first steps on the hardwood stage in the Recital Hall. She began with Ponce's "Prelude and Fugue on a Theme by Handel." The first notes she played were low, rumbling and reverberating throughout the small performance space.
Some attendees watched Yun intently as her fingers struck the keys of the piano. Others closed their eyes, tapping their feet and swaying to the music. They were just along for the ride. "They have their own unique way of listening to the music," Gutierrez said. "I call them active listeners."
Yun displayed a wide range of emotions through her performance. During the piece by Ponce, her performance seemed angry. As she made her way into Bach's "Italian Concerto, BWV 971," her fingers' touch on the keys grew gentle.
"You go through all sorts of emotions in a piece," Gutierrez said. Each song is a story. Not one with a beginning, middle and end, but one about feelings and all the things going on in the listener's head, he said.
The music Yun played is what Gutierrez calls absolute music. It is music without an intended message that is left up to the listener's interpretation. While Paderewski may have had his own message behind his song "Humoresques de concert, Op. 14," when Yun performed it, every attendee conjured their own meaning.
Unlike many performing classical musicians, Yun incorporated a contemporary composer in her set. "Variations, Op. 41," by Kapustin was a jazzy mess of dissonance and dynamics. It was fun and the perfect transition into her encore.
Until Yun's concert, no other performer in this year's Piano Festival had decided to play an encore. Last semester, Wodnicki, her instructor, played three encores for his concert in the Performance Hall. Gutierrez said he thinks Yun got the idea to do an encore from Wodnicki.
Her fingers ran across the keys like an Olympic runner in a 100 meter dash during her jazz rendition of Mozart's "Turkish March." The song, which many in the audience likely recognized, was born again through Yun's performance. "Who said a classical pianist can't play jazz," Gutierrez said as claps rangout through the Recital Hall.
"I heard her start playing and was like, 'OK, I like this,'" Dub Kennedy, a student, said. "Then she jazzed it up. It just shows the variety of styles she knows."
When the concert finished, Yun took questions from the audience. She said she started playing piano with her sister when she was 5 years old and that she never dreamed she would be where she is today. Currently pursuing a doctorate of musical arts in piano, and having played notable venues like Carnegie Hall, she can now say she is better than her sister at playing piano.
Kennedy said Yun's concert gave him a newfound interest in piano. "I haven't seen someone at her level of playing," he said. Kennedy said he hopes to attend more of Yun's concerts in the future.