Campus celebrates Arbor Day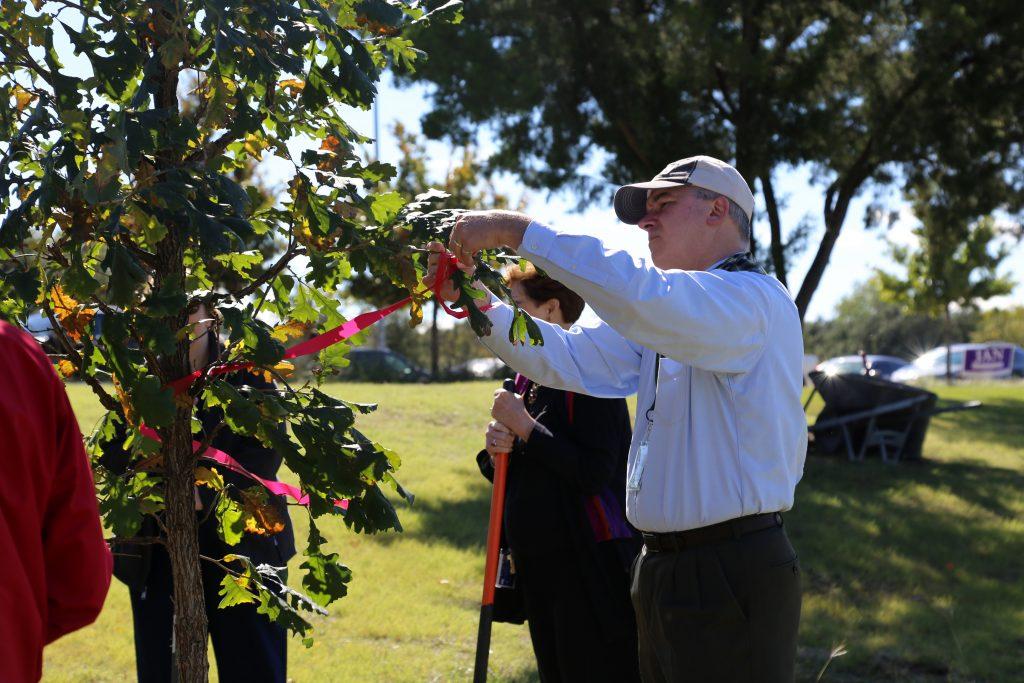 By John C. McClanahan
Copy Editor/Editorial Proofreader
Green leaves from a small bur oak rustled in the wind across the road from Brookhaven College's H Building. The tree, situated near the west athletic field, is Brookhaven's newest botanical installation placed in observance of Arbor Day Nov.1.
Arbor Day is an annual holiday that promotes and celebrates tree planting and care, according to the Arbor Day Foundation.
The Campus Tree Advisory Committee planted the bur oak as part of the campus' sixth annual tree planting ceremony. Students, staff and faculty gathered at the corner of Pine and Cottonwood streets to see the new organic piece rooted into Brookhaven's soil.
Texas State Arbor Day is held on the first Friday of November, according to the Texas A&M Forest Service. This year, Brookhaven celebrated the holiday a day early.
Charter faculty members, along with Brookhaven President Thom Chesney and Garry Hodges, building operations supervisor, dedicated the bur oak in part to commemorate the campus' 40th anniversary.
Funds for this year's tree were allocated by George Herring, vice president of business services, Carrie Schweitzer, director of sustainability, said. A crew from Southwest Wholesale Nursery in Carrollton delivered and planted the tree earlier that morning.
Before the ceremony, the Green Team Coalition, Office of Sustainability, Groundwork Dallas and North Texas Master Naturalists set up tables along the parking spaces of Pine to provide information on sustainability.
A few students taking professor Christopher Kirkhoff's biology class walked over to see the new tree and learn about ways the environment affects them.
Kirkhoff is a member of the Campus Tree Advisory Committee and is the curator for Brookhaven's botanical collection. He documents the plant species that inhabit the campus.
"Every landscape tells a story," Kirkhoff said. He said the environment surrounding Brookhaven is significantly different than the one in which he grew up in Pennsylvania. Kirkhoff said North Texas habitats and environments make up different ecosystems.
His students listened to a master naturalist explain the life cycles of native pollinator insects – creatures often found in Brookhaven's Windmill Garden, which is supported by the Office of Sustainability, Green Team, Campus Tree Advisory Committee and local master naturalists.
Kiesha Riser, a student, said she learned about the different eco-friendly organizations that collaborate with Brookhaven. She said taking Kirkhoff's class has made her more aware of the environment and ways to keep its natural balance.
Brookhaven participates in Tree Campus USA, a program that helps two-and four-year colleges around the country establish and sustain community forests, according to the Arbor Day Foundation. Brookhaven participates in the foundation's Campus Tree Plan, part of which includes the annual tree planting and observance of Arbor Day.
"Part of our responsibilities are to annually plant a tree," Schweitzer said. "Over the years we have done a variety of activities, and we have planted more than one tree a year."
Schweitzer said the Office of Sustainability and committee combined last year's tree planting with a student services project where participants removed guy-wires and added mulch to campus trees, and also planted a bur oak near W Building.
Although bur oaks, which can grow 70-80 feet tall, might be too big for most urban and suburban yards, the tree makes a great choice for parks, institutional grounds and expansive yards, according to the Arbor Day Foundation. And the tree might be on campus for a while.
Bur oaks grow slowly but can live to be 400 years old, with some living up to 450, according to the U.S Department of Agriculture. The tree also removes over 19 pounds of nitrogen, sulfur, ozone and particulate matter every year, according to the USDA.
"Maybe 40 years from now, we will see a truly majestic tree. That's what I'm hoping for," Schweitzer said.