Volunteers swap tacos for pledges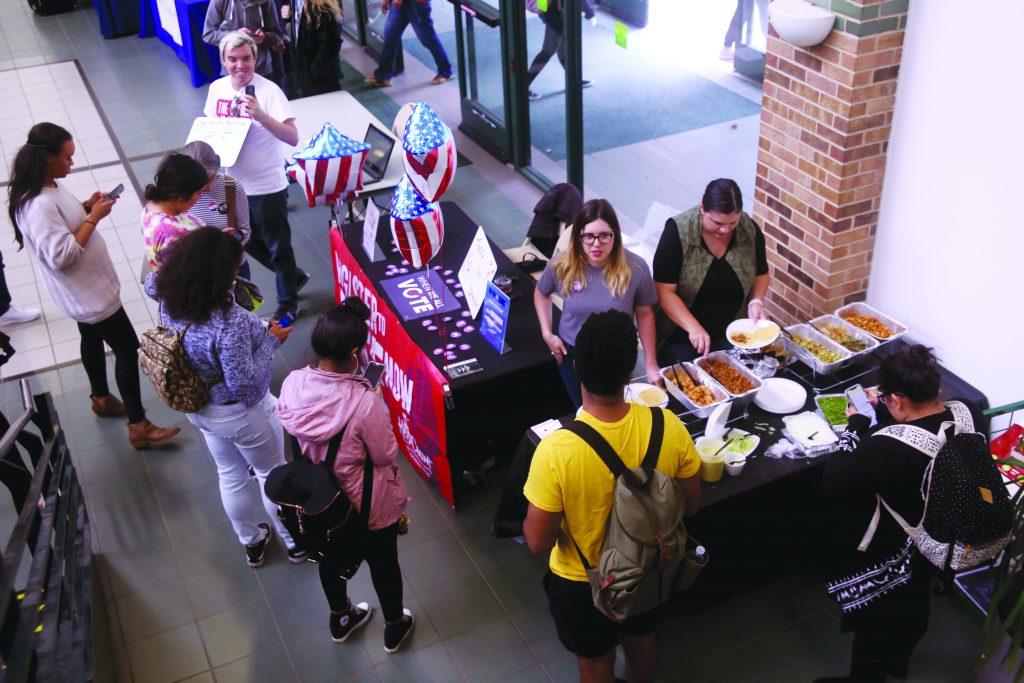 By Jacob Vaughn
Copy Desk Chief/Music Editor
The smell of pork, chicken and shrimp tacos wafted throughout the S Building lobby as students, staff and faculty walked through Brookhaven College's Student Services building. A table was set up with all the makings of a south-of-the-border snack Oct. 30. Brookhaveans were invited to prepare themselves a taco to their liking and pledge to vote.
HeadCount, a nonprofit, nonpartisan organization that stages voter registration drives at concerts and music festivals around the country, held the event. The organization reaches out to young people and registers them to vote.
During the 2018 midterm election, early voter turnout among Texas voters ages 18-29 increased fivefold, according to The Hill.
Since 2004, HeadCount has registered about 500,000 voters and built a network of about 20,000 volunteers nationwide, according to its website.
While a lot of students were quick to give their pledges for free tacos, others questioned the effectiveness of the organization's tactics.
"It's the type of thing that catches people's attention, but I don't know if it's going to persuade people to vote," Brendan Rippner, a student, said. He said people would likely just take the free food.
Texas historically has low voter turnout, Chris McDonald, a HeadCount volunteer, said. "So many people complain about politics, but so few people take the time to vote," McDonald said. He said low voter turnout is not an accident, and that obstacles such as voter ID laws make it more difficult to vote in Texas. Some states have same-day and automatic voter registration, he said. This is not the case in Texas.
McDonald said voter ID laws affect students especially because many of them have only their school IDs, which they cannot use to vote.
McDonald said two things people often tell him are that their vote does not matter and that all politicians are the same. "One thing I'll do is, I'll have a jar of guitar picks, and I'll hand them out," he said. "One guitar pick may not seem like a lot, but in that jar, when you add them up, you have a bunch. You could go on tour with this whole jar of guitar picks and never have to worry about it."
HeadCount recently partnered with Motivote, a nonprofit, nonpartisan organization that encourages young people to get involved in the political process by making it like a competition after they are registered to vote.
"You earn points by a screenshot of Election Day on your calendar, or tagging three friends on a tweet saying, 'Hey don't forget to vote,'" McDonald said. In doing so, participants are registered in contests for things such as Ben and Jerry's ice cream and concert tickets, he said.
Several students McDonald encountered at Brookhaven said they were international students who could not vote. He said there are some volunteers with HeadCount who are in a similar situation.
However, he said there is still room for them in the political process. "You can always volunteer and register someone to vote," he said. "You can always influence your family, or whoever, to vote for what you believe in and tell them why it's important. We're all in this together."