Old roofs spring new leaks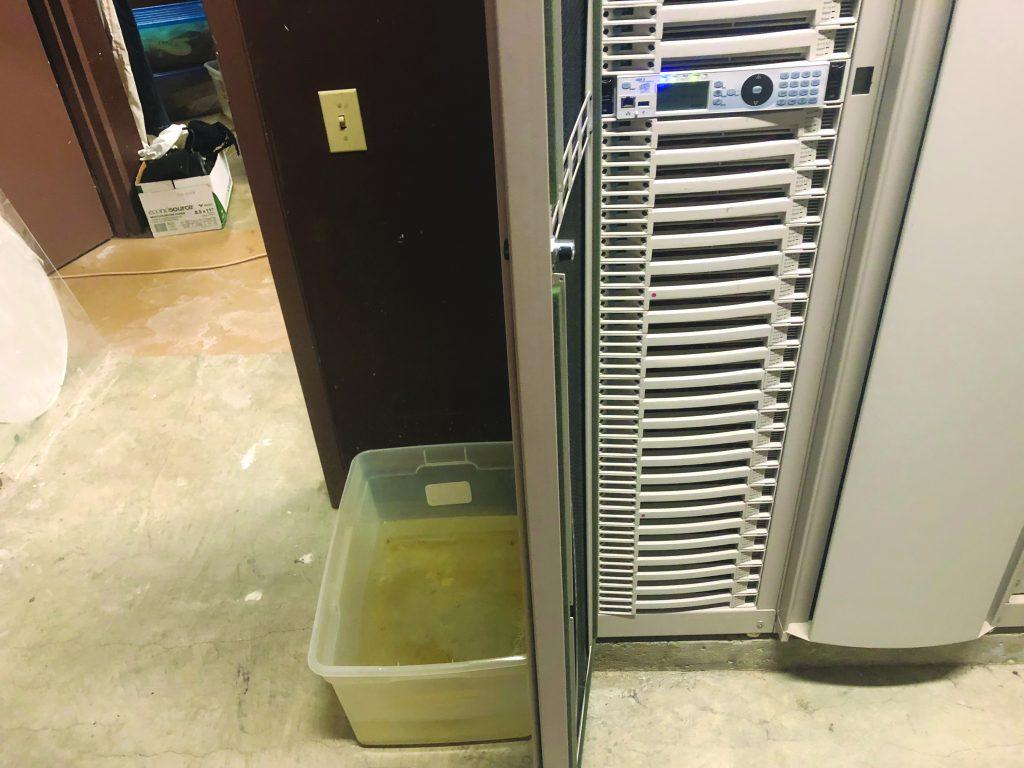 By Jacob Vaughn
Copy Desk Chief/Music Editor
Buildings were made differently in the '70s when Brookhaven College was under construction.
The way Brookhaven and other Dallas County Community College District campuses were constructed have led to the leaks students, staff and faculty see when rain strikes, Garry Hodges, building operations supervisor, said. And the funding for more permanent fixes to all of the campus' ailments is likely years away.
Most older roofs are made of copper, Hodges said, and were welded and soldered together. Over time, temperature changes caused the welds and solder joints to break. It is a constant repair issue, he said.
"The way the roofs slope, [the water] all goes to that one area," Hodges said. This pushes the water to another area of the building. "It's just the way they built buildings back in the '70s," he said.
Hodges has worked in other facilities with flat roofs, unlike Brookhaven's, he said. "The facility I worked at before, they had a lot of flat roofs and they leak," he said. "They try to design and make things that won't, but Mother Nature wins and typically you get roof leaks."
Due to a lack of funding, Hodges and his crew are often forced to patch up the leaks on campus instead of committing funds to permanent repairs. He does not look at these as repairs because the leaks generally return, he said. Hodges does not foresee these patches holding up more than a year, he said.
Steps are being taken to get the facilities departments the funding they need to make these repairs, DCCCD Chancellor Joe May said during a press conference with district student media Nov. 2.
About five years ago, the district started increasing its investment toward maintenance on DCCCD campuses, May said. The district spends about $16 million a year on facility maintenance, he said. Hodges said representatives from each campus got together and said they needed more.
The district recently finished a facilities master plan, May said. "It's basically architects, engineers and others going into each of our colleges, taking a look at all of the facilities [and] identifying what the needs are."
Once the needs of each campus are identified, the district will revisit the issues and create a facility condition index, May said. This will determine whether the cost to make repairs exceeds the cost of tearing down and creating new buildings, he said.
Hodges said it would be a lot more efficient to replace some of the buildings on campus. "Brookhaven was pretty heavy on the backbone side of the system," he said. "We have requested in our master plan that some buildings may be removed, torn down and rebuilt."
Hodges said the longer the campus goes without substantial repairs, the more expensive it will be in the long run.
May said he would like to be able to request the money needed for these facility expenses by 2019.
Hodges is currently in the process of scheduling repairs for B, C and S buildings, he said. In a year's time, he said he predicts the leaks caused by this fall's record rain will be fixed. However, some buildings did not make his list and will still need work. If money and manpower were not obstacles, he said, he would get all the repairs done.
"I would come to work, and I would probably smile a little bit more. My forehead wouldn't be wrinkled up as often," he said. "It would be a lighter and easier day if the funding was just there."