Retired prof receives highest honor
A packed hall at Texas A&M University – Commerce erupted in applause as a five-minute video about the life and career of John Neal, professor emeritus, came to an end. Neal, who retired from Brookhaven College in May 2017, approached the lectern at the front of the room to receive an award, then addressed nearly 200 journalism students and advisers from two-year colleges across the state.
A charter member of Brookhaven, Neal founded the college's student newspaper, The Brookhaven Courier, in 1978. He supervised the program for 33 years and served as the student publications adviser for more than 20 years.
Neal worked as a professor full-time until 2011, teaching various journalism and visual communications courses, including newswriting, editing, photography and graphic design.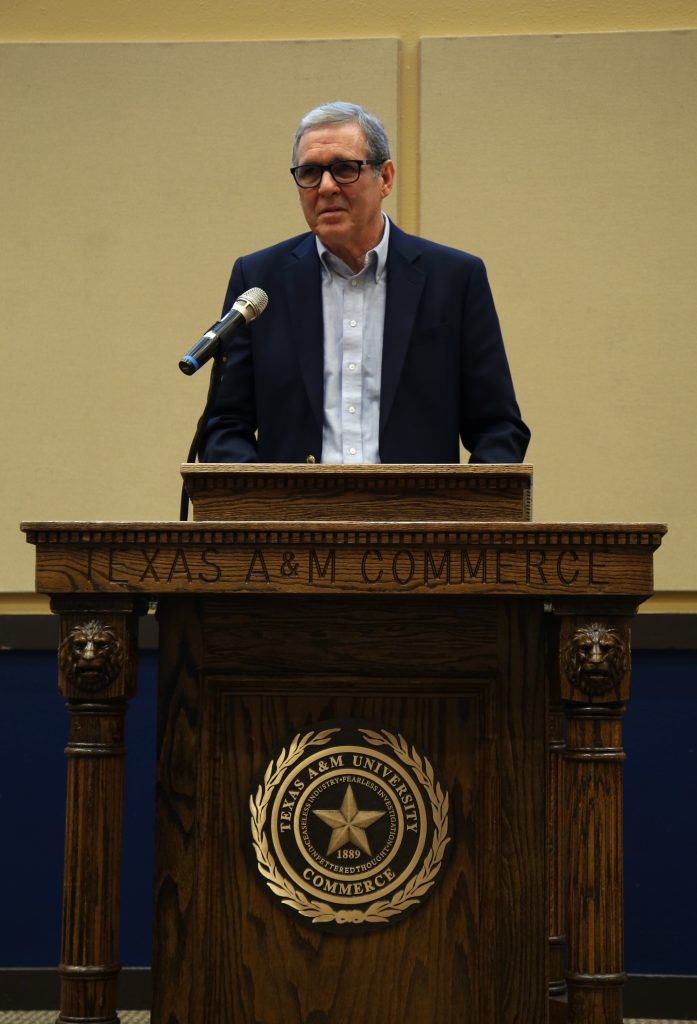 Before working at Brookhaven, he was the coordinator of graphics at Richland College. He also worked for the Longview News-Journal, the Kilgore News Herald and the Corsicana Daily Sun.
Neal earned his bachelor's degree in English while teaching at The University of Houston. He also holds two master's degrees – one in communication journalism from The University of Texas at Austin and another in English from Texas A&M University – Commerce. Neal also has a doctorate in college teaching of visual communications from the University of North Texas.
When Brookhaven opened in 1978, much of the campus was still under construction. Neal said the facilities needed to begin the student publication, including the darkroom, were not finished when the college opened.
Neal said the first year consisted of getting the paper started. "It took us a while to get everything started," he said. "We didn't get our first issue out until November of 1978."
The Courier's inaugural staff met in his classroom in the basement of L Building until their designated spaces were available. "Even though the journalism classroom wasn't quite complete, we could still meet in there," Neal said. "But we couldn't use the darkroom until November of 1978."
At the time, The Courier's staff did not use computers to write articles or edit photographs, Neal said. One of Neal's first students, Juan Porra,  had an in-home darkroom, which he used to develop photos until the Brookhaven darkroom was ready.
Originally printed in black and white only, The Courier did not begin to print in color until 1983. That year, the staff placed a color photo on the front page. Brookhaven also hosted the TCCJA convention that year.
Neal said he has enjoyed teaching students about journalism and seeing them learn as quickly as they do at a two-year college. "It's a privilege to teach what I love," Neal said. "In a classroom, you have some interaction, but there is so much more interaction in a newspaper office. I developed so much respect for those students."
In an email to The Courier, Joy Tipping, a Brookhaven alumna who has worked for publications such as NPR and The Dallas Morning News, said Neal set the course for her professional life. Tipping took his beginning journalism course in 1979.
"I knew almost immediately that I'd found my calling," Tipping said. "Dr. Neal's inimitable style – great kindness, compassion and a profound respect for the moral and professional tenets of journalism – formed the basis of how I have tried to do my job for the last 30 years."
Neal said The Courier's staff increased in size quickly the first year. He said the summer of 1979 made a big difference for the journalism program. "We ended up doing a summer newspaper using those students, and some came back in the fall and there was a larger staff with a lot of
talent," Neal said.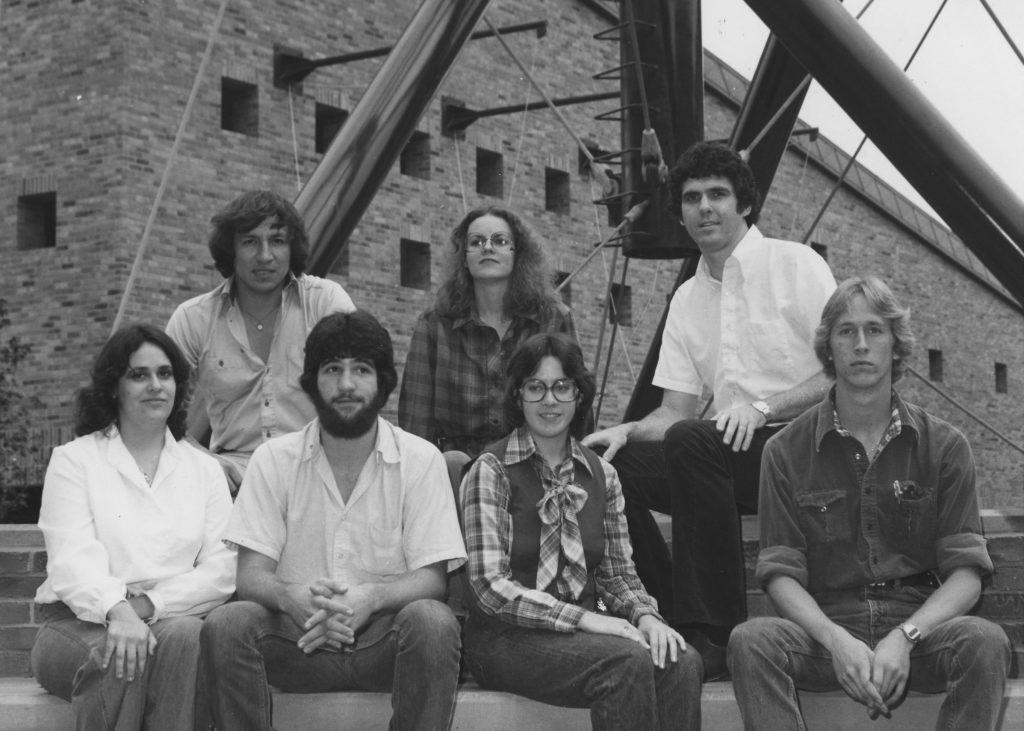 INFLUENCE
In an e-mail to The Courier, David DiPietro, a Brookhaven film instructor, said Neal inspired him to teach film. DiPietro said he took a film class with Neal in 1984. "John was not only impeccably prepared to take his classes a certain way," he said. "He also was open to improvisation, and having his classes veer into areas his particular students needed."
DiPietro said Neal was not only a wonderful mentor to him, but also a guiding influence on him in his adult life.
"For me, John's teaching transcends the classroom," DiPietro said. "He and I have remained in contact for over 35 years, and John is someone I know I can always turn to when I need a thoughtful, guiding hand in any aspect of my life."
Rodrigue, who is the current TCCJA president, was also one of Neal's students. "Dr. Neal is one of the wisest, fairest and most dependable people that I've encountered," Rodrigue said. "First as his student, then as his colleague, I saw that he always knows the best approach to take when a reporter encounters difficulty when doing his or her job."
Neal served as president of TCCJA from 1983-1985. Neal said he has a lot of respect for the organization.
He always looked forward to TCCJA because it is for community college journalism programs. There's something special about the convention.
"It was a pleasure for me to get with all the other advisers and compare situations we were going through with each other, and talk about solutions that the students might encounter if their sources aren't cooperative," Neal said.
"It is still good to see that it's still happening," he said. "That, to me, is the future of journalism, and it's still going strong."