Unique art to be sold in Art Club sale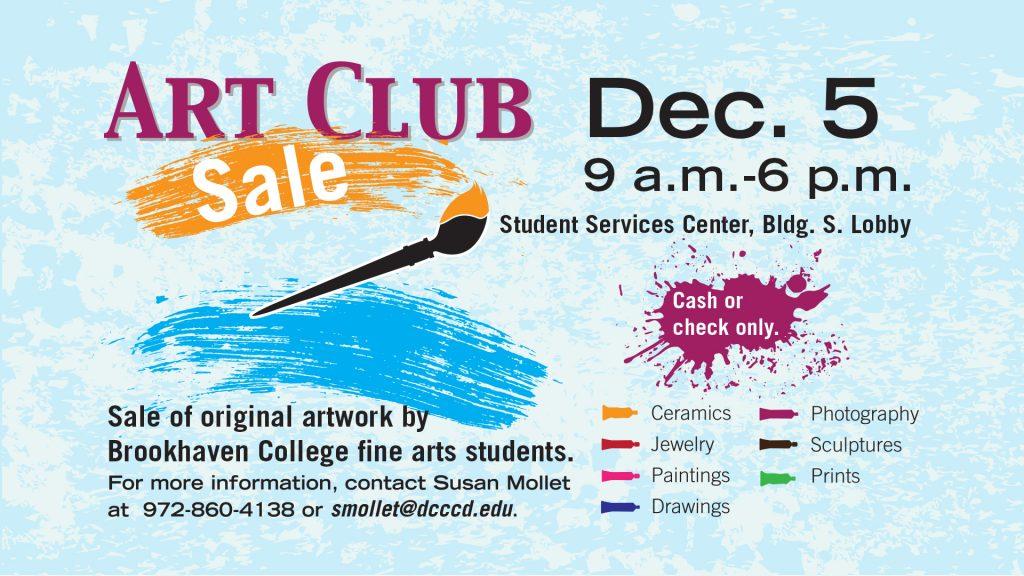 By Thao Nguyen
Opinions Editor
Brookhaven College students, staff and faculty looking for one-of-a-kind gifts or other art pieces will be able to find them during the Art Club's annual sale from 9 a.m. to 6 p.m. Dec. 5, in the S Building lobby.
Ceramics, jewelry, paintings, drawing and photography will be among the items available for purchase. Susan Mollet, adjunct ceramics faculty, said the student work that will be available is of fine art quality, most of which was created in the studio classes.
"It's very important for artists to show their work, but when someone turns around and wants to buy your work, it makes you feel really good," Mollet said. "It's also a good way for students to get feedback on what they do."
Mollet said the sale is the club's main fundraiser. Of the money the artists make from the sale, 20 percent will go back to the club.
Mollet said part of the funds raised will go to charity. Each year, club members chose charity organizations they want to support. This year, the club chose Shared Housing Center, a Dallas-based nonprofit that facilitates affordable housing options for homeless or near homeless individuals.
Kandy Burdette, a student, said she has participated in the sale for the past eight years. Burdette said it is a great opportunity for students to showcase their work to the public and know that the community looks forward to the sale too. She said people have contacted her to inquire about the sale. "I have sold a few pieces," Burdette said. "It's interesting to get to my sister's house and see my pieces there."
Mollet said organizing the sale was a challenge in the beginning. However, throughout the years, they have gained experience and made the sale more organized. She said a lot of work goes into the preparation of the sale, but club members help carry the weight and lighten the load.
Cash and check will be the only forms of payment accepted during the sale.