Tuition increase will pay for textbooks
A proposed increase of $20 per credit hour in tuition is intended to cover all required course textbooks.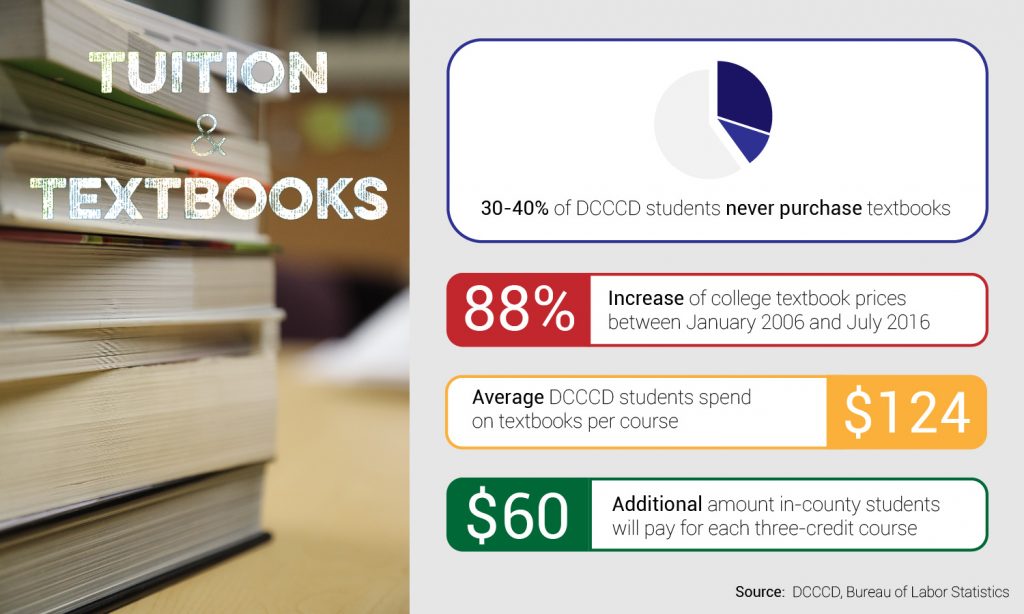 By Jubenal Aguilar
Editor-in-Chief
[email protected]

As early as fall 2019, all Dallas County Community College District students may see an increase in tuition of $20 per credit hour. The proposed increase, commonly referred to as inclusive tuition, will include the cost of all required classroom textbooks, which will be available to enrolled students on day one of the course.
The new measure, which has not yet gone before the board of trustees for a vote of approval, is still being developed to determine which learning and educational materials will be covered and how they will be made available, Jose Adames, El Centro College president, said.
RISING COSTS
"It's going to raise costs for students," Charlie Warnberg, a Brookhaven College English professor, said.
If approved, the increase will add $60 for a three-credit hour course raising the cost of a class from $177 to $237. An in-county student taking 12 credit hours in one semester will see tuition go from $708 to $948.
As of press, the increase for out-of-county and international students has not been determined.
The rise in textbook costs is a problem college students have dealt with for years. According to a campuswide email from the committee overseeing the development of the program, "From January 2006 to July 2016, the Bureau of Labor Statistics reported that the consumer prices for college textbooks increased 88 percent."
On average, DCCCD students spend $124 per course on textbooks, according to the email. The inclusive tuition model will reduce that expense by half.
WHAT'S INCLUDED
During a visit to Brookhaven College on Oct. 15, Chancellor Joe May said the new program is intended to allow all students to have required textbooks by the start of the semester. Many students, he said, do not have them on hand when they begin a course, which can cause several issues and may lead them to not complete the course as intended.
"We've known for some time that somewhere between 30-40 percent of our students never purchase their textbooks or learning materials," May said.
However, May said the new program will not restrict faculty decisions on what books they will require for their courses.
Scott Sires, Brookhaven faculty association president, said, "The tuition increase will include all of the day one required materials." Those include any textbook in any format – e-text, digital form or hard copy – as required by the instructor of that class.
"I do believe digital is the default," Sires said. But if a hardcopy textbook is required, it will be available to the students. If the textbook is required to be a hard copy, that is what will be provided.
For courses in which e-textbooks are available and the instructor does not require physical book, students will be allowed to opt to get a hard copy for an added cost, Adames said. That added cost is yet to be determined.
REQUIRED SUPPLEMENTS
One of the main concerns of faculty is which learning materials beyond textbooks will be covered under the tuition increase. Students in different programs across the district require different materials.
This poses different challenges to faculty. Art students are generally required to supply their own materials, such as pencils, paints and canvases. Key Meersman, a dance professor, teaches ballet and requires her students to have the appropriate attire, which costs $159. David McNabb, automotive technology lead faculty, said auto technology students are required to have their own tool sets, which may cost $800-2,500.
"As I understand, it will not include any kind of materials," Sires said.
However, the final decision on what learning materials will and will not be included is still being discussed, Adames said.

EVERYBODY IN
Adames said all students will need to pay into the tuition increase if the program is adopted. "At this point, as I understand it, everybody buys in," Adames said. "There is no nuance that, 'I took a three-credit class and my teacher does not use a book … and therefore I'm not paying.' Everybody pays."
"By putting into tuition, they can't opt out," May said. "If we added it in as a fee, federal financial aid rules say that we have to allow them to opt out. … We don't want students not having the learning materials."
Adames said the everybody-in model is similar to the fees of other colleges and universities. All students must pay the fees even if they do not use the service. "You don't get to say, 'I'm not taking advantage of it, so therefore, I'm not paying that fee.'"
FREE WON'T BE FREE
In a student media press conference Nov. 2, May said the contract with Follet will allow for the initial increase to be lowered over time if the colleges increase their adoption of digital materials and open educational resources, or OERs. If the adoption of these materials grows enough, May said, the original increase may be lowered to $14.50 per credit hour.
However, an increased use of OERs is a concern for the faculty members who have already adopted them.
The idea behind OERs, Warnberg said, is that educational materials should be developed and made available for anyone to use. "The principle of an OER is that it's free," Warnberg said. "Charging $60 a course for something that was designed explicitly to be free is violating the intent of the OERs and may be violating the license agreement that they come with."
NO ACADEMIC FREEDOM
Warnberg said faculty try to balance the best value of course materials against the cost to students. "In some cases, we sacrifice – we make trade-offs – in terms of the quality materials we offer or require in order to meet that financial goal."
The intent of the increase is to eliminate that barrier.
"Because the cost for students for textbooks will be fixed, then the cost of the textbook is no longer a factor in the teacher's decision about which text to use," Warnberg said. "Teachers will be free to choose the best text for their student without having to consider the cost to the student."
Without the burden of cost, more professors will make the decision to select better and more expensive textbooks, Warnberg said.
"When you take away the incentive to consider cost, then it's going to be really good for the students, but I don't think it's a sustainable initiative," Warnberg said. If a majority of faculty begin opting to use more expensive textbooks, the initial $20 increase may be higher in the future.
"The choice is then to say, 'Well, you can require any materials you want for your class as long as they are on our approved list,'" Warnberg said. "And that is the exact opposite of academic freedom."
FACULTY TAKE
During a Nov. 29 meeting, the Brookhaven Faculty Association discussed the tuition increase proposal. "There's a lot of questions from faculty that need to be discussed and answered," Sires said.
"It is not good," Sires said of Brookhaven's faculty overall consensus. "There is not a good understanding of this program and there are a number of scenarios that faculty are curious about," Sires said.
Faculty who teach courses which do not require a textbook said it will increase their students' tuition. "They're not going to get anything from this new program," Sires said. "They're just simply going to pay more tuition."
Other faculty have developed or adopted OERs in order to help students save money. "Now those students are going to have to pay additional tuition despite the fact that some faculty have adopted, or developed and then adopted OER materials," Sires said.
In some classes, books may not be required, but other course materials are. "If those items are not covered by this program," Sires said. "Then you have a situation where that faculty is concerned because their student will pay the increase, get no books, but still have to go out and pay full cost for whatever supply, material or tool."
In other cases, a single textbook may be used for two or more courses, Sires said. Those students may end up paying more for the book across their courses versus purchasing the book once. McNabb said automotive technology students use one book across 13 courses in completion of the associate of applied science in automotive technology. The textbook, which costs $156.80 new from Follett, will cost automotive students $780. "This deal doesn't do anything for our guys," McNabb said. "It literally does nothing except increase tuition somewhere between 20 and 25 percent."
Sires said some faculty believe distance learning and online students may choose to take courses from one of the other community college systems in the area if DCCCD's tuition increase becomes a burden. "Is it going to be more financially attractive for students to go to those other places instead of the Dallas County system," Sires said.