Adjunct faculty member starts photography nonprofit for veterans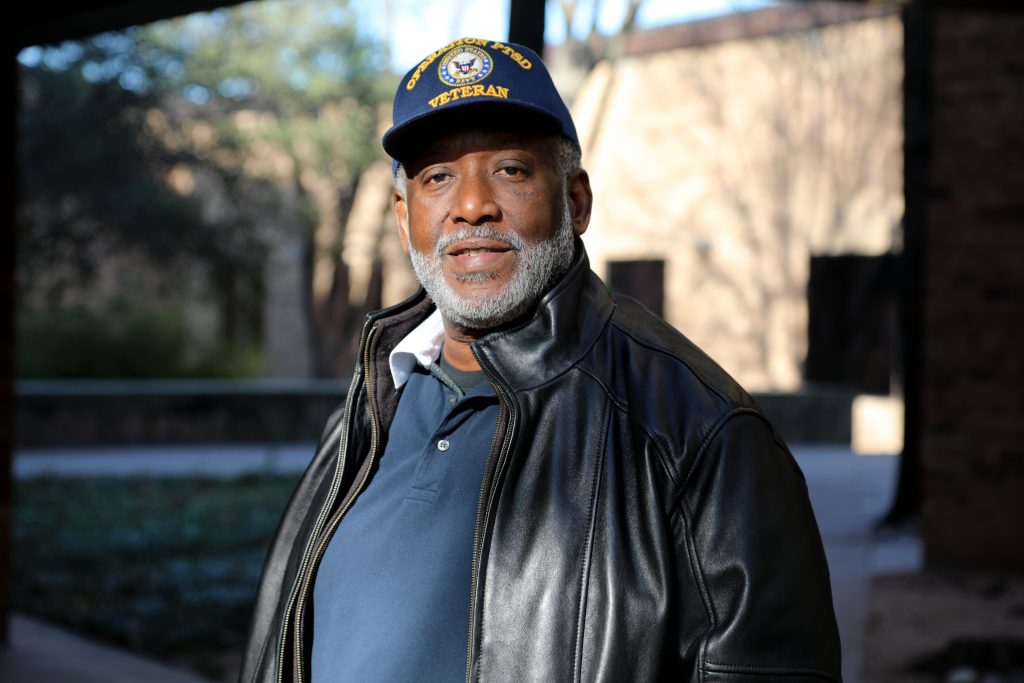 By Thao Nguyen
Opinions Editor
Aaron Thomas, Brookhaven College visual communications adjunct faculty, spends his days helping people through his love for photography.
Thomas teaches photography and digital imaging at Brookhaven. Off campus, he works as a professional photographer and documentarian while studying to earn his master's degree in documentary production and filmmaking at the University of North Texas.
In 2016, Thomas started Photographically Touching the Soul Deeper, a charity organization, to help veterans suffering from post-traumatic stress disorder.
Giraud Polite, dean of Business Studies Division and former professor to Thomas, said he is an exceptional artist-scholar.
But Thomas had to overcome many obstacles to get where he is today.
MILITARY MAN
Thomas said he created a charity dedicated to veterans because he is one.
He joined the military in 1975 and was stationed on the USS John F. Kennedy, an aircraft carrier, in the Mediterranean Sea. He served as an electrician and traveled to over 33 countries.
While he was in the Mediterranean, a catastrophic event took place during a refuelling operation between the USS John F. Kennedy and the USS Belknap, a guided missile cruiser. "[The] two ships collided and caught on fire," Thomas said. "[There was] a lot of smoke and fire, and many people were fatally wounded."
Thomas and his fellow servicemembers fought the fire for three days. "There were fatalities," he said. "People got hurt and ships got burned."
After he left active duty, he served in the Navy Reserve for four years.
PTSD
He left the military when he was about 20 years old, unaware he had developed PTSD. It affected his life and his relationships.
People in the military are trained to be warriors, Thomas said.
"It's called a fight, flight or freeze [response]," Thomas said. He was trained to mobilize and move toward danger.
"One doctor said [PTSD] is not a disorder," Thomas said. "It's a reorder because of our training."
He lived with PTSD for 42 years before he realized it was a problem in his life. During that time, he divorced twice, alienated four daughters and his siblings before deciding to seek help for his condition.
Thomas said he established the charity to help veterans who suffer from PTSD because people who do not suffer from it cannot understand what it is like. And people with PTSD tend to isolate themselves.
He enrolled at North Lake College to pursue photography, something he was passionate about. His desire to learn more about photography also took him to Richland College and Brookhaven. Between the three schools, he earned five associate degrees by 2016.
Meanwhile, he was also taking classes at Texas A&M University-Commerce, where he earned his Bachelor of Fine Arts the same year. Thomas said, "The discipline that I had to learn to be successful gave me a place to focus my negative energy."
He found himself calmer because he was happy doing photography.
HELPING VETERANS
Thomas coined the term "photographically touching the soul deeper," a backronym stemming from PTSD.
Thomas said his first challenge was mustering the drive to put together a way to help veterans with mental health issues, which can be complicated without formal counseling training.
Thomas enrolled in a Richland continuing education course where he learned the ins and outs of establish and manage a 501(c)(3) nonprofit organization.
It is not fully operational because of required funding. He hopes to continue educating and telling his story to the people who can fund his charity and have the same interest as he does. He is seeking funding and volunteers to get the charity in full swing.
His charity will provide a place for service-connected disabled veterans to learn the disciplines of photography, photo printing and creativity. In doing this, the charity is providing a place for companionship for veterans who feel isolated.
Thomas said: "The charity is looking to bring these veterans together, and train them through having a common focus on a subject matter, and bringing comradery and friendship in a place where they can trust that what's wrong with them will not be looked poorly at."
He said he is rewarded spiritually and does not help others for a trade-off.
"I've done that for so many years already, like I go to work to get a check. … Being my age, I'm kind of outgrown to 'I do something for you, you do something for me,'" Thomas said. "I'm beyond that now. My goal is to just help as many people as I can."
A different light
Thomas said he no longer struggles with PTSD. He said the disorder is still a struggle for some of his loved ones. "I've lived with it since I was 20 years old, so for me, it was normal," Thomas said. "It's only not normal for someone who doesn't know what it's like to be me."
Thomas said his charity and photography have helped him see things differently and translate his fear into visual imagery. When he creates an image, his fear goes away.
Polite said: "I believe that Aaron's charity organization provides an extraordinary service to our veterans. Art has the proven ability to help us see the world from diverse perspectives and aid in our social skills. Aaron's organization has the potential to serve as a vehicle to many women and men who are in need of a readjustment to the world."