US on wrong side of road in caravan issue at Mexican border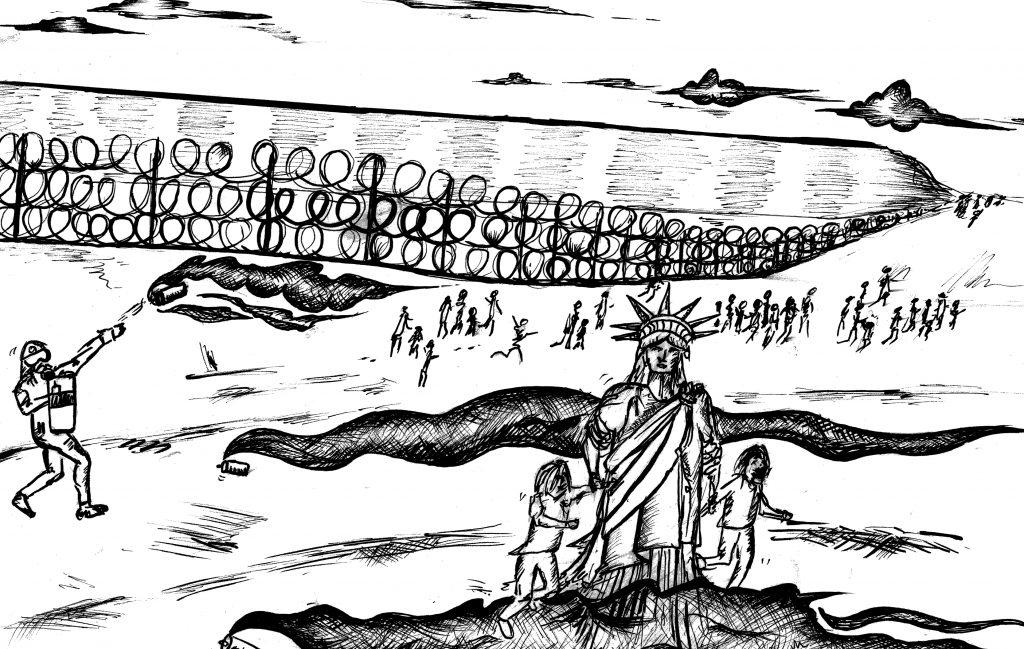 By Thao Nguyen
Opinions Editor
President Donald Trump deployed more than 5,000 active-duty military troops to the U.S.-Mexico border in the week before the 2018 midterm elections. The deployment exceeded the number of U.S. military personnel currently fighting the Islamic State group in Iraq and Syria, according to CNN.
The troops were sent to Hidalgo, Texas, the opposite end of the border from where the caravans of Central American asylum seekers were headed, weeks before they were predicted to arrive, according to NBC.
Trump even went as far as to say in an unsubstantiated Oct. 22 tweet that unknown Middle Easterners had infiltrated the caravan.
On Oct. 31, Trump tweeted: "Our military is being mobilized at the southern border. Many more troops coming. We will not let these caravans, which are also made up of some very bad thugs and gang members, into the U.S. Our border is sacred, must come in legally. Turn around!"
The move was criticized by some as a political prop.
Since his presidential election campaign in 2016, Trump has promised his supporters and constituents a fight against illegal immigration, which included building a wall along the U.S.-Mexico border, according to The Washington Post.
Anyone with common sense should realize this is just a political plot by Trump and his administration. We have the world's most powerful military force, according to Business Insider, but we are worried about unarmed civilians, including seniors, women and children, who are just trying to flee violence in their homeland.
According to CNN, Will Fischer, a former Marine who now works for VoteVets, a veterans organization, said: "Donald Trump thinks unarmed people who are fleeing horrors and are still 1,000 miles away are a national security threat a week before Election Day.
"It's a political ploy to blow upon the embers of racism and nativism, and he is using the military again as a political prop to advance his own agenda," Fischer said
Even Fox News, which generally sides with Trump, does not agree with the troops being stationed at the border.
On Oct. 29, Shepard Smith, a Fox News anchor, said: "There is no invasion. No one is coming to get you. There is nothing at all to worry about. We're America. We can handle it."
According to ABC 10 News San Diego, 1,800 out of the 5,600 troops on the southern border are now in California.
Fox also pulled Trump's race-baiting ad featuring Luis Bracamontes, an unauthorized immigrant who killed two California police officers in 2014. The ad ties Bracamontes to the caravan, according to Vox.
According to The Wall Street Journal, the matter escalated Nov. 25 after hundreds of immigrants participated in a peaceful march in Tijuana, Mexico, and rushed to the border. Border agents shot tear gas over the Mexican border toward the people as they climbed the Mexican border fence.
Dozens of mothers with young children were caught in the chaos. A photo of Maria Meza and her children trying to escape the gas went viral. Meza grabbed her children, of whom one was in a diaper and the other was barefoot. "I grabbed my daughters and ran. I thought my kids were going to die with me because of the gas we inhaled," she said, according to BuzzFeed News.
Meanwhile, Trump defended the agents during a Nov. 26 roundtable in Mississippi, saying they used a very weak form of tear gas and that he was assured the gas was very safe, according to The Fort Worth Star-Telegram.
Natasha Pizzey, a journalist who witnessed the attack, tweeted: "'Minor form of tear gas'?! I felt that stuff burning my face 100s yard away. Most people in the march – parents included – thought it would be a way to plea for help from the U.S. It may seem naive, but they really had no idea it would escalate or that tear gas would be used."
According to the Centers for Disease Control and Prevention, tear gas can cause a burning sensation in the eyes and mouth, shortness of breath and burns or rashes. Prolonged exposure can lead to blindness or breathing problems.
This is the wrong move from our leader, and it is also very controversial whether we have the right to fire tear gas over Mexico's border. Shortly after, Mexico's foreign ministry sent the U.S. government a diplomatic note expressing its concern about the use of nonlethal weapons, and called for a full investigation, according to the BBC.
Alastair Hay, a professor of environmental toxicology at Leeds University in Britain, said the tear gassing was a clear violation of Mexico's territory, according to The New York Times.
It seems we are living in an era where America is no longer a safe place to seek asylum. Our leaders have been trying to deal with civil rights issues behind other countries' borders for decades, but this is how we handle a civil rights matter right on our own border.
We have separated children from their parents and put them in camps, and now we are using tear gas on unarmed people. Trump and his administration's response to the caravan has gone too far in support of his political agenda. This is a very sad time for our nation and for civil rights around the world.