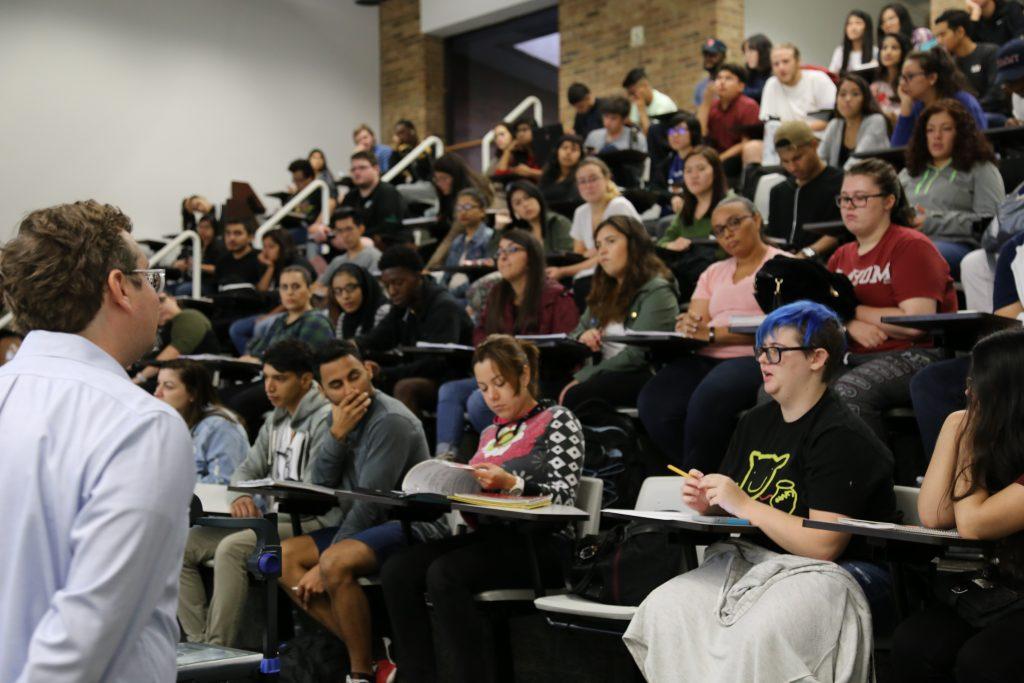 By Matthew Brown
Contributing Writer
In August 2017, Hurricane Harvey dropped an estimated 15-33 trillion gallons of water on Texas – the largest rainfall event in U.S. history, according to the United States Geological Survey.
Adrian Shelley, director of Public Citizen's Texas office, a national nonprofit consumer advocacy group, said Texas can expect an increase in extreme weather scenarios if average temperatures continue to rise.
Shelley visited Brookhaven College Sept. 11 as part of the Texas Climate Change Tour lecture series to detail the effects of rising global temperatures affecting the state.
Shelley's presentation outlined ways Texans are working to fight climate change and how students can participate.
Carrie Schweitzer, director of sustainability, said about 175 students attended the two presentations. Shelley said if temperatures continue to rise unchecked, environmental consequences will surface. He also said action can and is being taken to reduce the effects of global warming.
Shelley said that while countries set goals to prevent the global temperature from increasing more than 2 degrees Celsius (4.9 degrees Fahrenheit) in the Paris Agreement, some of the worst forecasts for climate change predict global temperatures may rise by 9 degrees Fahrenheit by 2050.
Lanna Bradshaw, a geology professor, said temperature increase will change the environment in many ways most people will not understand until it has happened.
FUTURE PREDICTIONS
Shelley said rising temperatures in North Texas will increase evaporation and the depletion of the area's water supply. The worst estimates predict a 35 percent decrease in the Trinity River's flow and a 20 percent drop in the level of area reservoirs in the coming decades.
He said severe droughts, such as the one from 2010-2015, are accompanied by wildfires. According to a report by Texas A&M Forest Service, "No county in Texas was immune to wildfire. Homes were destroyed in more than half of the state's 254 counties."
Shelley said climate change advocacy can reverse climate change if communities begin using eco-friendly resources.
Renewable energy, he said, has grown in Texas with wind turbine manufacturers increasing from two to 40. The state currently has 532 solar-industry employers, according to the Texas comptroller website.
The U.N. defines sustainability as preserving "the ability of future generations to meet their own needs." Schweitzer, who helped organize the presentation, said she leads efforts to fight climate change on campus. Her role at Brookhaven is multi-pronged, split between administration, co-education and student engagement.
SOLUTIONS
Schweitzer oversees the Green Team Coalition, Brookhaven's environmental service group. She said the Green Team provides opportunities for students to help promote sustainability on campus, such as holding fundraisers, developing the Windmill Garden to support local plants and pollinators and organizing the annual Earth Day celebration and last year's Trashionista, a recycling fashion show to raise awareness for environmental causes.
Beyond campus action, Shelley said, citizens should take political action at the municipal level. He said eco-friendly policies adopted in Dallas, such as the city's decision to use only renewable energy to run public utilities and buildings and to commission a $500,000 climate change action plan are evidence that city-level engagement is an effective way to make sure eco-friendly policy is enacted, even when state and federal governments are hostile to such policies.
Brookhaven does not offer degrees in sustainability. Eastfield College, however, offers two programs in renewable sustainable energy – a two-semester certificate program to prepare students to work as entry-level solar and wind power installation technicians and an associate of applied science degree intended to give students more advanced supporting skills.