Alumni to act in returning play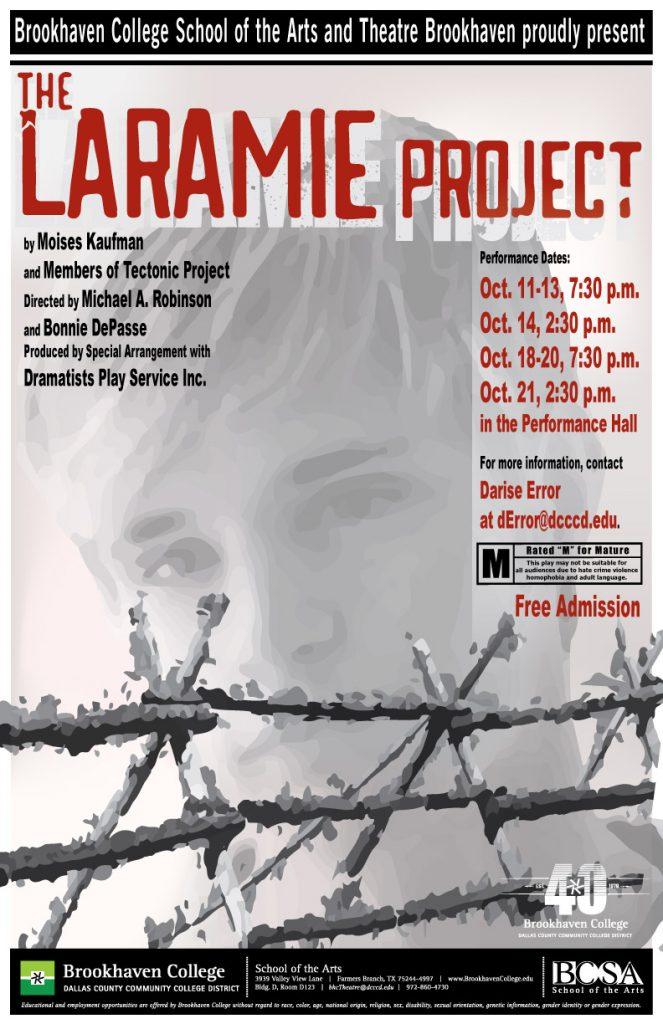 By Karla Estrada
Contributing Writer
Theatre Brookhaven will present "The Laramie Project" Oct. 11-21. The shows will be the second production of "The Laramie Project" at Brookhaven College since its first in 2005. The play, which will be included in Brookhaven College's 40th anniversary celebration, will include alumni from each decade since it opened in 1978.
TRAGIC ANNIVERSARY
The play is based on the life of Matthew Shepard, a 21-year-old man who was tortured and murdered in October 1998 in Laramie, Wyoming, for being gay, according to NPR.
"It will be an introduction to some younger people, and it will be a chance to look back and reminisce at what we've done since and maybe what's currently endangered," Darise Error, Brookhaven theater department chair, said.
She said the younger generation must know about what happened to Shepard and the significance of his murder case. "The 18-year-old, upcoming freshman class wasn't even alive yet when this happened," Error said.
The production will be presented as an informative piece about discrimination toward the LGBTQ community.
"We have an opportunity to look back to 1998 when he died and look at the progress of LGBTQ rights and the gains that have been made," Error said.
RETURNING CAST
Michael Robinson and Bonnie DePasse will co-direct the production. Both were part of the theater program decades ago, Error said.
Auditions were held Sept. 4-6 in the Performance Hall.
Andrew Aguilar, a Brookhaven alumnus, was part of the 2005 cast while still in high school, Error said.
"I keep coming back [to Brookhaven] because I know I am always welcome here, and Theatre Brookhaven still feels like home," Aguilar said in an email to The Courier. He will reprise the roles of Doc O'Connor and Dr. Cantway. Aguilar said returning on the 20th anniversary of Shepard's death feels more potent.
Error said the play will stand apart from traditional structure and style because most actors will take on multiple characters instead of only one. The play, Error said, has over 60 characters. "Some characters are polar opposites of one another," she said. "Actors have to lay aside personal feelings and not judge the characters they disagree with, but give him and her their full say."
Aguilar said the 2005 show was performed in the Black Box Theater with 14-16 cast members, but this year, it will be on the main stage with 24 cast members. He said many of the returning alumni actors have refined their acting skills, which will lead to richer performances.
The show is free, Error said, but donations of canned food and nonperishable household and hygiene items for The Cave, the campus food pantry, are encouraged. "I think with a play that has a social message … it's nice to provide social service," Error said.
"The Laramie Project" will run Oct. 11-21 with shows at 7:30 p.m. Thursday-Saturday and 2:30 p.m. Sundays.