Film photography exhibited in Denton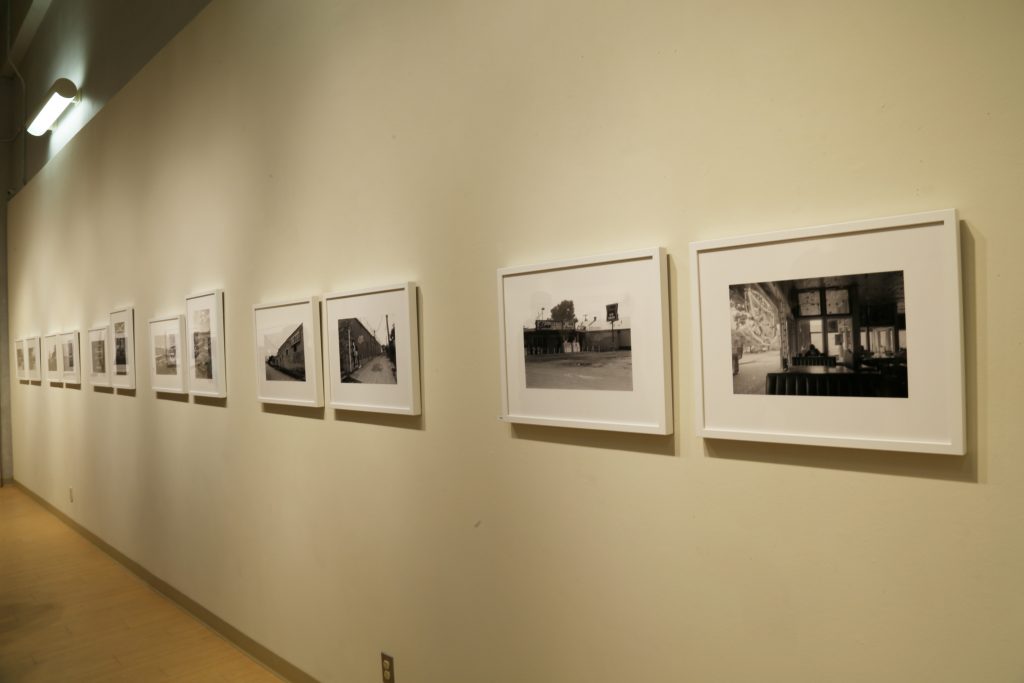 By Adam Bourenane
Contributing Writer
Brookhaven College continuing education instructors Erin and Steve Reeves were among 18 photographers whose works were featured in "On North Texas," a film photography exhibition featuring black and white photographs of North Texas.
Armand Kohandani of Denton Camera Exchange and actor and photographer Jason Lee organized the exhibition with help from the Greater Denton Arts Council. Ilford donated film to the photographers to shoot for the group exhibition.
Kohandani and Lee selected the featured photographers. The conditions for photo submissions, included no posed shots, use of artificial lighting or works done in a studio, Steve said. The photographers' objective was to capture their neighborhood, town or area in a way that showed its significance to them.
Erin and Steve attended continuing education courses at Brookhaven in 2010. Since then, they have become continuing education instructors, teaching an array of photography courses, Steve said.
The Reeveses also own MakeShift Photography, which provides photographic, printing and educational services, in Deep Ellum. For the past year-and-a-half, the couple has worked with Lee, who exclusively shoots film.
"[Jason] put on this show, and because we work with him, we kind of ended up in the show too," Steve said. "We've come to cement ourselves within the Film Photographic community here in the D-FW area."
Lee's appreciation for film photography stems from the New Topographics movement, named after an exhibition held in 1975 at George Eastman House in Rochester, New York. The movement redefined what was worth shooting and what was considered art, Lee said. "You had gone from this stylized darkroom beautiful printing to just photographs of American shopping mall parking lots, and just random everyday mundane things," Lee said.
Before New Topographics, photographers did not consider humanity an essential part of nature to capture.
"They had to do that, I think at that time, because people weren't respecting that medium," Lee said. "It doesn't have to be a beautiful Ansel Adams print of Yosemite National Park that he spent two weeks printing in a darkroom. It can be a photo, like Armand's, of a Mustang parked under a tree in front of a suburban house. That evokes something."
While some may see film photography as dated, Erin and Steve are part of a community committed to keeping it alive. "There's always somebody who's trying something you haven't tried, whether it's a style of photography or a way to mount your photos," Erin said. "It's esoteric enough still that you figure out who the other photographers are who are still doing film, and you band together."
Kohandani said today's photograph galleries often exhibit digital works, though he enjoys celebrating film photography as a medium.
"It preserves the traditional practice of photography, and it's one that lends itself more to the artistic process," he said. "The outcome is much more favorable in my opinion."
The Reeveses, who live in Deep Ellum, said they felt reconnected with their city after shooting their photos for the exhibit.
"When you live in an area, you get used to doing your daily work and going about your business without stopping to pause and really notice the world around you," Steve said. Erin and Steve described much of their area as very beautiful, but also old, dilapidated and run-down.
Kohandani sees this as a reflection on the medium of film photography. "It's been around for that long, for ages, as [has] the content," he said. "It just goes to show that there are interests in old things and that old things are interesting."