Harpists harmonize at Brookhaven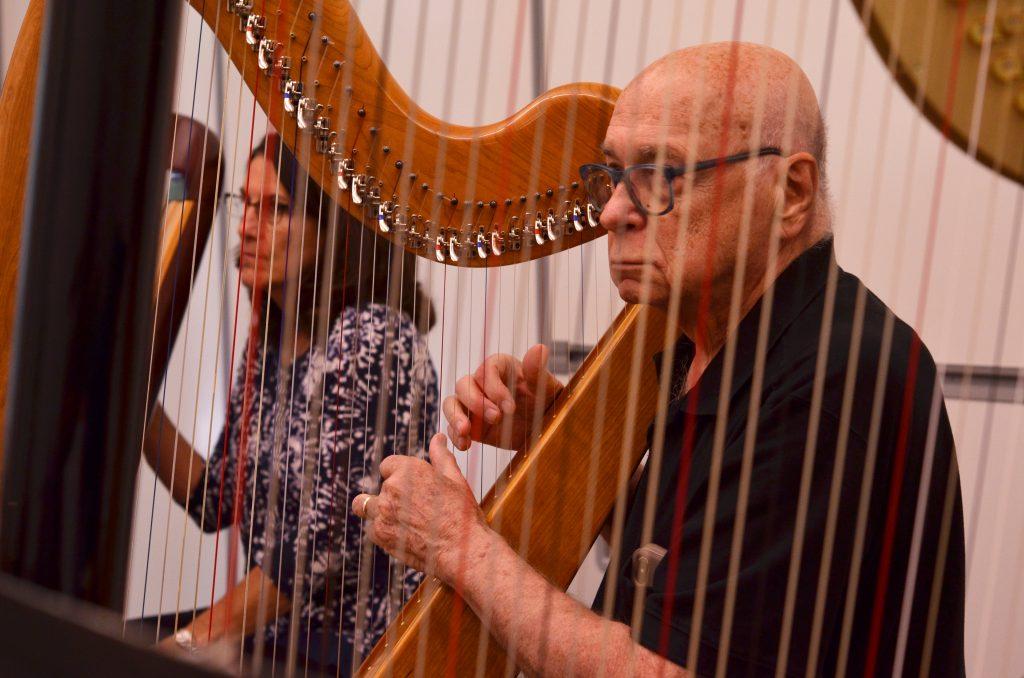 By Jacob Vaughn
Copy Desk Chief/Music Editor
Every Thursday morning, harpists can be heard plucking away at strings, harmonizing in W Building. As their instruments tower over them, Cindy Horstman, ensemble director and music adjunct, calls out directions.
The Brookhaven College School of the Arts is home to many different groups of musicians ranging from vocalists to pianists. Among them is the only harp ensemble in the Dallas County Community College District, which was created in September 2015.
Horstman started the group at Collin College with six students, she said.
"It's very unusual," Horstman said. "When I started at Collin, one of my students sort of talked with the music faculty and said, 'I know this harpist and I'd love for her to be a teacher here and have an ensemble.'"
In 2017, Horstman returned to Brookhaven as an adjunct and formed the harp ensemble. She has taught at Brookhaven on and off for 13 years. She said she came back because it is her favorite place to teach.
The ensemble has grown to include eight members, she said. Throughout her years at Brookhaven, Horstman has come to know the faculty well. The music department has been very supportive of the group.
"She is one of the best we have, in the sense of adjuncts," Octavio Gutierrez, chair of the Brookhaven music department, said. "She has extensive experience in teaching and also in ensemble."
Traditionally, most harpists emphasize the performance of classical music. However, Horstman leads her students on a different path. She teaches them to read jazz music and chord charts, to understand music theory and to improvise, she said.
"Classical musicians just read whatever's in front of them, and that's all they do," she said. "And they don't really think on their own." If her students are ever handed incomplete sheet music, they will know what to do.
One does not consider the harp when thinking about jazz music, Horstman said. While she is classically trained, Horstman has experimented with the genre since 1993. Jazz is where her heart is.
Horstman and the members of the ensemble are ambassadors for the instrument, which is hard enough, she said. Throwing the complicated harmonies and improvisation found in jazz music in the mix causes additional challenges for the harpists.
All of the students who have left the ensemble continue to perform at their churches and other events, Horstman said. Along with the technical aspects of the music, Horstman teaches members of the ensemble the importance of networking and how to create a business out of what they do.
"I'm all about practical application in teaching," she said. "I think it really has an impact more on the student if they can apply it to something in real life. That's kind of my philosophy."
Horstman said she would like to provide the harpists with more opportunities to perform in front of larger audiences.
The Jazz Educators Network, an organization dedicated to building the jazz arts community, periodically holds their annual conference in Dallas. The harp ensemble has performed at the conference in the past, but Horstman hopes to land them a spot on the main stage.
Because the ensemble is relatively new to Brookhaven, it has not had the opportunity to perform in the Performance Hall. However, Gutierrez said that is something they hope to organize Spring 2019.
The harp ensemble will perform during the first Coffee Concert 1:30-2:30 p.m. Oct. 10 in the Performance Hall lobby.