Spotify tracks moods, activities with big data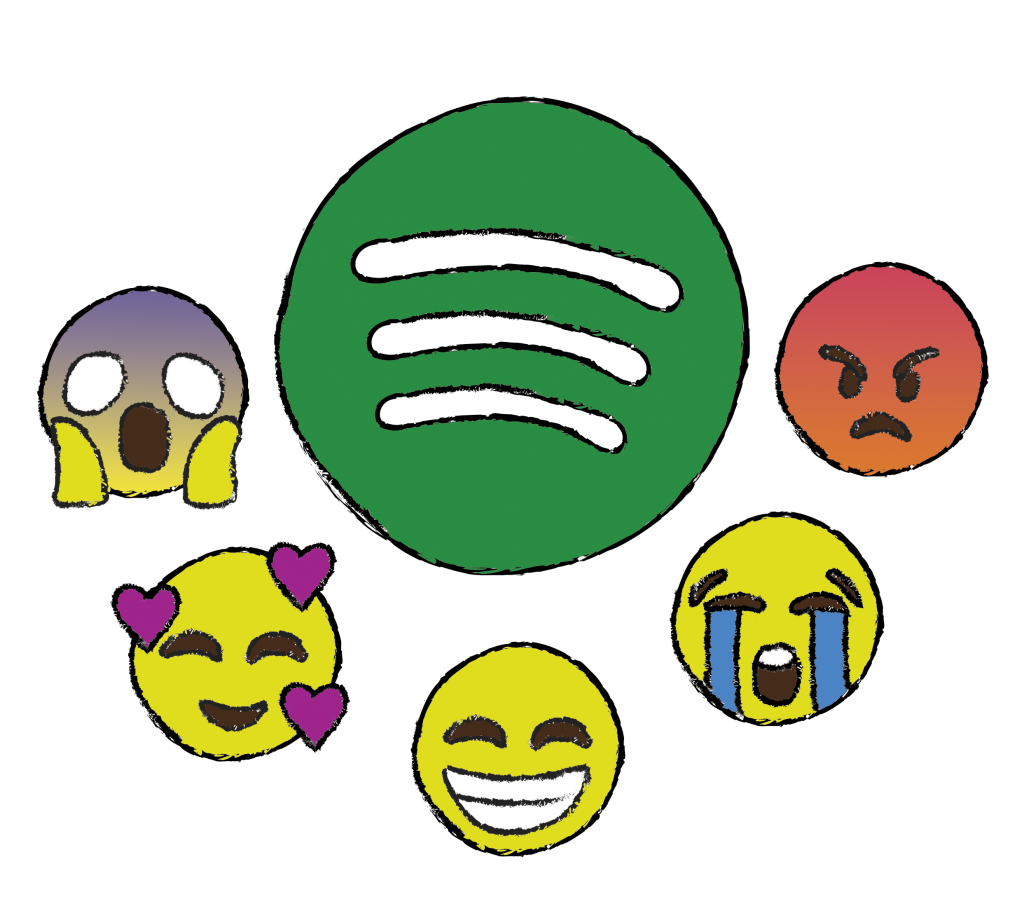 By Jacob Vaughn
Copy Desk Chief/Music Editor
Illustration by Eriana Ruiz
Music streaming service Spotify aims to track its listeners' emotions and activities. The company has been increasingly focused on making its way into the world of big data, according to adage.com.
Through first-party data and its 2014 acquisition of The Echo Nest, a music analytics service, Spotify has looked into its 1.5 billion user-created playlists to surmise what context people are listening to. According to adage.com, Spotify can guess whether a person is working out or hosting a barbecue cookout based on the playlist they are listening to.
The 2013 launch of a free, ad-supported mobile service opened a world of opportunity for Spotify, according to adage.com. Brian Benedik, global head of advertising of Spotify, said this move was a strategic evolution of the site's ad business.
According to Music Business Worldwide, a news and analysis platform for the international music industry, Spotify's free mobile service reaches more than 100 million people globally.
The mobile service accounts for a majority of Spotify's ad revenue, according to Reuters. Video is shaping up to be the company's fastest-growing advertising product. If Spotify figures out a customer is looking at their phone application, it will now know to run a video ad.
In September, Spotify's vice president of brand and creative as well as the company's chief marketing officer left the company, according to adage.com. However, recent moves by the company indicate its ad business will grow.
Spotify has struck a new deal with Nielson, a data company, to give advertisers more information on how its ads are performing on the site's free tier service, according to Music Business Worldwide. As its advertising platform matures, Spotify has set out to prove it is more than just the cool kid on the block, Benedik said. "It's a valuable platform that delivers major impact for brand advertisers," he said.
According to CNBC, Spotify pays artists a fraction of a cent per stream. Octavio Gutierrez, Brookhaven College music department chair, said he thinks there will be problems between artists and Spotify if some of this extra ad revenue does not stand to benefit the artists.
"They are in the hunt for revenue," Simon Perry, chief creative officer for ReverbNation, an online music platform, said. "I think that finding ways to offer more value to the people with the deepest pockets, which are brands, is a very obvious move for them. At some point they're going to have to share the increased spoils with the people that provide the content."
According to The Guardian, Andy Haldane, chief economist at the Bank of England, said researchers are turning to nontraditional methods of surveying the public to comprehend consumer behavior. They are observing music download sites, such as Spotify, and studying song lyrics to gauge people's moods and target advertisements. Results from these observations are far from conclusive.
However, Haldane said the results were at least as good at tracking consumer sentiment as the monthly Michigan University survey, which is considered by economists to be a good guide to how confident Americans are feeling, according to The Guardian. However, Spotify is doing more than analyzing the song choices of its users.
Marketers now have playlists in 15 categories of activities and moods with which they can target ads to free Spotify users. Activity categories such as workout, commute or party will be subject to ads for things such as sportswear, according to adage.com. Similarly, someone listening to a playlist that might suggest they are on their way to work might hear an ad for a coffee company.
The company's founder, Daniel Ek, has ambitious growth goals. Spotify's net worth has reached $33 billion, but Ek is still looking to grow revenue as much as 35 percent per year, according to Reuters.