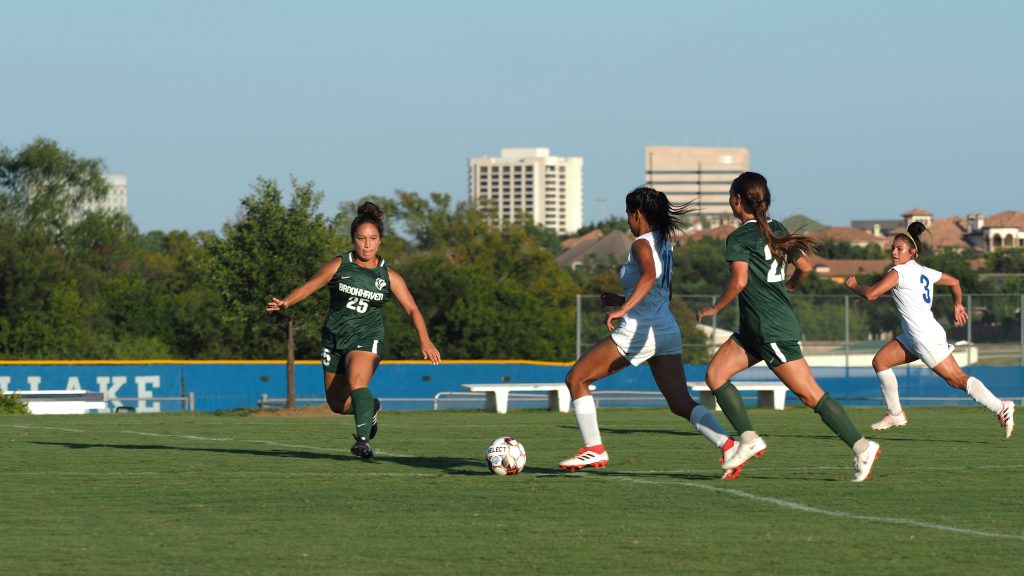 By Malen Blackmon
Sports Editor
On a humid afternoon, the Brookhaven Bears soccer team defeated North Lake College 2-0 on the road Sept. 18.
The Bears dominated possession of the ball in the first half. The Blazers could not fire a shot past Bears goalie Gaby Roa, who has 12 saves for the season and a 0.800 save percentage as of Sept. 27, according to njcaa.org.
Brookhaven midfielder Tatiana Garcia scored the Bears' first goal with a corner kick in the eighth minute. After her unassisted goal, the Bears kept up their offensive momentum, tallying 20 shots in the first half. North Lake only recorded three.
The Bears maintained control in the second half. Three minutes in, Brookhaven midfielder Jennifer Martinez passed the ball to forward Sydney Davis, who scored the Bears' second goal.
From there, the Bears stayed in control and looked to kill time off the clock. Brookhaven maintained possession for most of the second half and only allowed the Blazers to get one shot on goal against Roa. The Bears took a total of seven shots in the second half, totaling 27 for the game.
The Bears hold an undefeated 3-0 conference record, and an overall record of 6-1. The defending national champions are ranked third in the division standings as of Sept. 27. Brookhaven will play an away game against Mountain View College at 4 p.m. Oct. 2. at Mountain View.