Chesney presents State of the College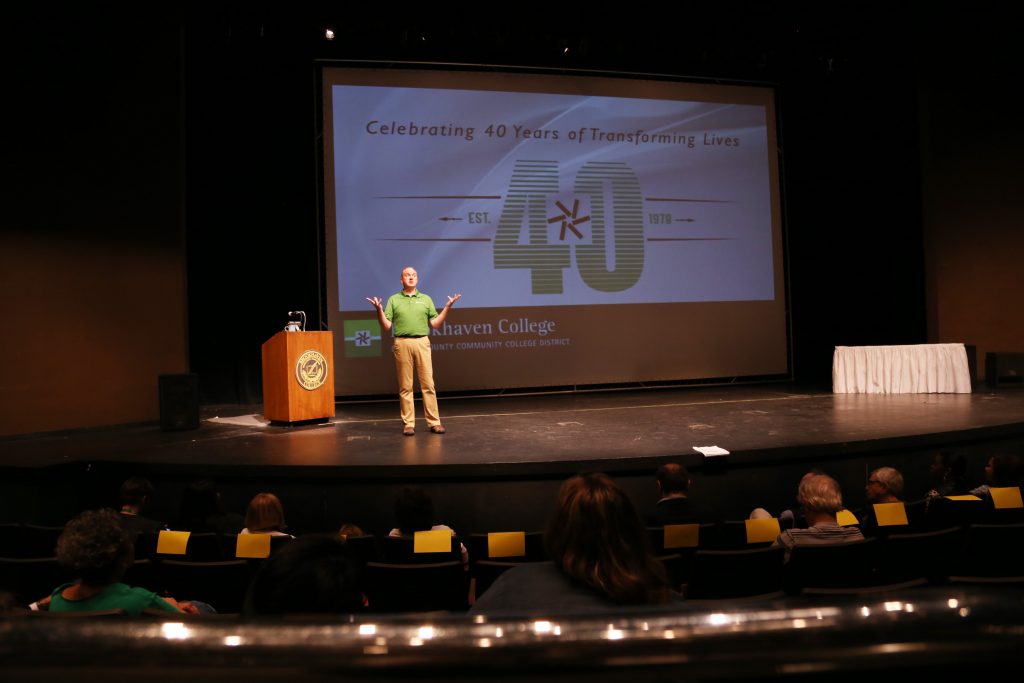 By Jubenal Aguilar
Editor-in-Chief
[email protected]
"The state of the college is good. … And getting better," Thom Chesney, Brookhaven College president, said. "In fact, I think it's getting greater day by day and it takes every one of us to ensure that it does so."
Chesney spoke to staff, faculty and administrators during the annual convocation Sept. 13 about the current state of Brookhaven as an educational institution and 2018 Employee Gift Giving campaign.
The theme for the fall 2018 state of the college address was "Now Look What You've Done." Through personal examples, Chesney showed the theme is one generally associated with negative connotations.
Chesney presented a slide with all the state community colleges. "If you break out all of the community colleges in Texas and you look at how the formula is done that funds us in part on success points and how we're performing, we've taken the next step in the DCCCD and put into this where the colleges rank," he said.
As an individual college, Brookhaven was listed as the fourth from the bottom, along with three other of its sister colleges.
"My emphasis today is on those times where we say, 'Now look what we've done and look where we're going,'" Chesney said.
"That's not reflected in a number that lumps us down at the end of the spectrum," Chesney said. "It's reflective of where we've been and where we're going."
To show the progress of Brookhaven's educational record, Chesney presented statistics from developmental courses, credit hour completion and graduation rates.
Completion of developmental math courses, Chesney said, has increased 86 percent over the last three years. Likewise, developmental reading and writing course completion have increased 18 percent each over the same period.
Success in gateway math, reading and writing courses have seen a 6-, 17- and 38-percent increase, respectively.
Chesney said completion of 15 credit hours by students is a key threshold. That milestone has increased by 15 percent while completion of 30 credit hours has increased 17 percent.
Chesney said the presented metrics should not be committed to memory. "You need to be focused on only one thing," Chesney said. "We are moving in the direction and it takes this college, this team, every one of us to continue and sustain this trend. … Look what you've done in moving us the right way and for our students."
Chesney added that the upward trends of the different measured areas is not just the work of faculty. Everyone, including those that work in areas not directly involved in student instruction are jointly responsible and part of the reason the college continues to improve its standards.
The increase of course and credit hour completion puts Brookhaven in pace with contributing to the 60x30TX, a state-level higher education that aims for 60 percent of Texans age 24-35 have some sort of post-secondary credential by 2030.
Chesney said 854 students graduated from Brookhaven in 2016-2017. Keeping the current rate of increase, Brookhaven is projected to have 3,645 credentials awarded in 2030 – a total of about 55,000 in the upcoming 12-year period.
The district's new Guided Pathways, which outline student course and educational paths based on their chosen field or career, will help the college keep with the predicted trend, Chesney said. The Dallas County Promise, which has provided Brookhaven a 20 percent increase in students that would otherwise be unable to enroll in college out of high school, will also be a contributing factor to meet graduation goals.
Chesney said collaboration with local service organizations such as MetroCrest Services are also contributing to the success of the college.
The Hub, Brookhaven's new student engagement and support center, which opened in August, will also play a key role in continuing the upward trend of Brookhaven's success.