Activist and March for Our Lives co-founder promotes civic engagement at Brookhaven College.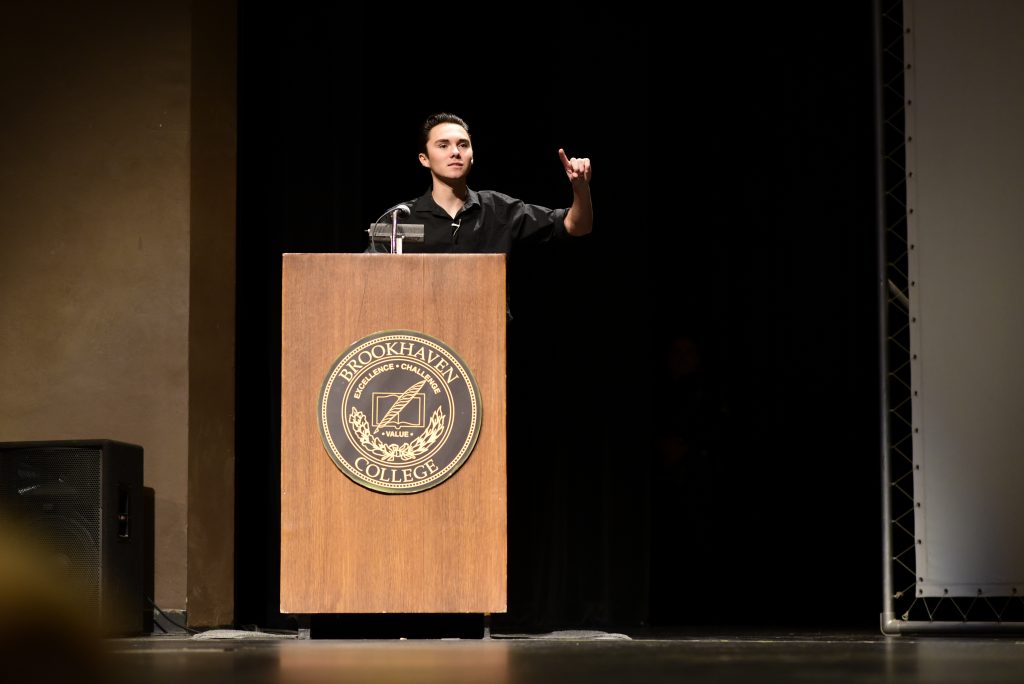 John C. McClanahan
Editor-at-Large
Crackling rounds from an AR-15 echoed through the halls of Marjory Stoneman High School on Feb. 14, 2018, in Parkland, Florida. Amidst a Valentine's Day turned to panic, David Hogg, a 17-year-old senior at the time, waited helplessly as 17 of his friends, fellow students and teachers were killed by a lone teen gunman.
Unbeknownst to him, Hogg became a survivor in the largest mass school shooting in U.S. history, placing him in the media spotlight. Soon after witnessing the violence, Hogg and friends from Marjory Stoneman teamed up to found March for Our Lives.
"Gun violence is not an act of God," Hogg said. "Gun violence is something we can stop. Gun violence is an act of man, a man that shouldn't have a gun in the first place."
Five weeks after the shooting, an estimated 200,000 people gathered in Washington, D.C. to attend March for Our Lives.
Since, Hogg has toured the U.S. speaking out against gun violence and promoting activism and civic engagement. Last year, he and his sister, Lauren Hogg, co-wrote a book, "#NeverAgain: A New Generation Draws the Line," which made The New York Times Best Seller list.
Hogg visited Brookhaven College as a guest speaker Jan. 29. Speaking from the Performance Hall, he encouraged activism, urged the Centers for Disease Control and Prevention to address mental health issues and called for U.S. politicians to increase measures against gun violence. Afterward, he met with Brookhaven's Early College High School students in H Building. When Hogg arrived on campus, he was escorted by several police officers and security detail.
In front of students, staff and faculty, Hogg recalled the day 18-year-old Nikolas Cruz walked into Marjory Stoneman with an assault rifle and fired barrages of bullets at his classmates for 6 minutes and 20 seconds. Hogg said that cold Valentine's morning seemed happy and peaceful, unlike any he had experienced during his time at the school. Come afternoon, he was sitting in his environmental science class when he and classmates were startled by a loud noise.
HEARD A BANG
"As we were sitting in class, we heard a pop, and I looked over to my seat partner and said, 'Hey that sounded like a gunshot,'" Hogg said.
After hearing the noise, Hogg said he asked his teacher to close the classroom door, which had been propped open during class. As the teacher went to close the door, a fire alarm went off. Thinking it was an accident from a nearby culinary classroom, Hogg and his classmates evacuated the room. They stepped out to see a flood of students running through the hallways.
"As we were going out the evacuation zone, these kids started running in the opposite direction of where I was headed to," Hogg said.
Hogg and his classmates unwittingly ran toward the shooter until a school janitor stopped them and told them to head another way. Seconds later, a culinary teacher waved Hogg into her classroom with about 60 other students. They spent the next two hours there under lockdown.
While trapped with his terrified peers, Hogg, a student journalist, begin documenting the incident, taking notes and video and interviewing students to provide an account of the chaos surrounding him. Eventually, a SWAT team broke through glass windows and cleared everyone from the room, ordering them to run with their hands above their heads to a safe zone off the 42-acre campus.
When Hogg arrived home, he sent videos of the incident to a local newspaper where he interned as a student journalist. When his family arrived, he heard Lauren, who was 14 at the time, bawling inconsolably – four of her friends were killed in the shooting.
"For the first time in my life, as her big brother, there was nothing I could do to make her feel better," Hogg said. "The only thing I felt that I could do was to use my voice for those who couldn't at the time."
FIGHT FOR REFORM
Following the Parkland tragedy, Hogg, who regularly participated in debate during his high school tenure, took a stance against gun violence and challenged politicians to push for more gun control during a bus tour across the U.S. He helped organize rallies and spoke at town halls to raise awareness for his cause.
Along the way, he was also mocked by conspiracy theorists claiming he was an actor who was never present at the shooting.
Alex Jones, internet personality and conspiracy theorist, questioned Hogg's credibility, citing on his late-Twitter account and ultra-conservative news channel, Infowars, that he and other Parkland survivors were hired to promote gun control and spread false information. But Hogg has repeatedly debunked these rumors. In April 2018, he addressed Parkland conspiracy theorists, such as Jones, from a sofa at home, surrounded by his family in the Vice episode "The Rise of the Crises Actor Conspiracy Movement."
In the episode, Hogg offered to debate Jones on the Parkland incident and said the 44-year-old internet radio host's comments echoed verbatim what he said used shortly after the 2012 Sandy Hook Elementary School shooting, in which 18 children and six adults were fatally shot.
Hogg's family has also been subject to harassment. On June 5, 2018, Hogg's family residence in Broward County was swatted, a technique in which a harasser reports to local authorities in efforts to have a SWAT team sent to an unsuspecting victim's home. In the Hoggs' case, no one was home at the time.
It has almost been a year since that dark Valentine's Day afternoon. Now a full-fledged Harvard University-bound activist, Hogg said he will continue his mission to persuade U.S. politicians and voters to speak out against tragedies stemming from firearms and cognitive deficiencies. Before participating in a Q&A session, Hogg asked the audience of Dallas County Community College District students, staff and faculty to act to eradicate gun violence.
"The one thing that should determine the validity of your suffering in the United States to any politician shouldn't be about where you live or the figures in your bank account or your age," he said. "It should be the fact that you are a human being that should not live in suffering in the greatest country on the planet."