Art class decorates Windmill Garden
By John C. McClanahan
Editor-at-Large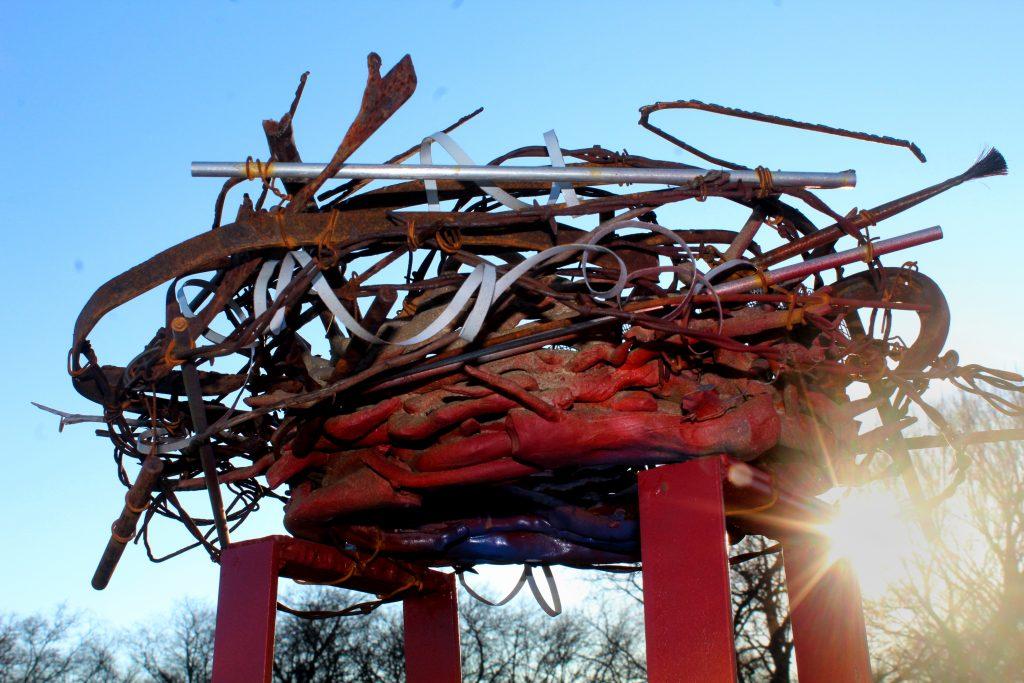 New decor graces the Windmill Garden. Last fall, Brookhaven College art students designed and installed five sculptures to visually enhance the campus' Texas-native pollinator and plant sanctuary situated behind P5 parking lot.
Students from Natalie Macellaio's fall 2018 class crafted the garden sculptures and placed them in and around the beds.
"I'm really excited about the potential for these sculptures to bring more people out there," Macellaio said. "I hope it can be a little bit more interactive in that way."
At the beginning of the fall 2018 semester, Carrie Schweitzer, director of sustainability, met with Macellaio to talk about a collaboration between the art department and the Windmill Garden coordinator, Amy Monroy. The three met to discuss ways to attract more visitors to the garden.
The three hatched an idea to create a temporary art installation using work created by Macellaio's students. She assigned her class a project to design outdoor, eco-friendly pieces to be displayed in the garden.
Before they constructed their work, Monroy gave them a tour of the organic attraction and explained how local wildlife interact with the native plants rooted in the Windmill Garden. Macellaio's class had to factor in weather conditions, material costs and time constraints. Monroy said she asked the students to use materials that would not be intrusive to the garden's ecosystem and consider how their art would interact with the surrounding species of plants and animals.
"I was excited to hear about the concept of the Windmill Garden with its native North Texas prairie plants that bring in butterflies, bees, birds and insects," Michael Duncan, a student, said in an email to The Courier.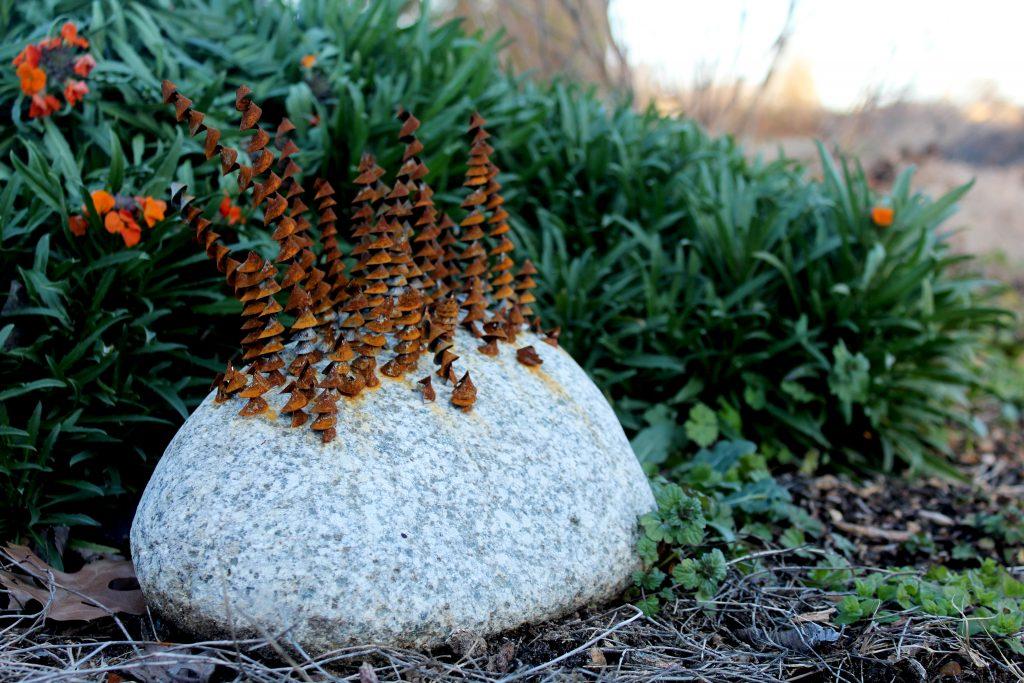 Duncan spent about a month in Macellaio's class cutting and welding scrap metal, ceramics and parts of a ladder together to create "Urban Topiary."
"My concept was to mimic the decline of our native plants and nature," he said. "'Urban Topiary' represents a metal tree with a useless bird's nest, thus the bird's egg on the ground."
Duncan said he designed his sculpture mainly as a perch for birds and butterflies and as a climbing trellis for vines to grow. He said the intense blue egg he placed on the bottom reflects nature's decline.
Another student, Barbara McQuarrie, used a mixture of super glue and epoxy to adhere rusted steel drillings to a river rock. In an email to The Courier, she said her untitled piece, which sits inside a bed, resembles a group of trees.
McQuarrie said she finished her artwork in approximately three hours.
Cody Smith, a student, twisted and spray-painted barbed wire to create "Golden Thistle," which sits in the bed closest to Windmill Circle.
The other sculptures were done by students Jim Tompkins, who designed "Beginning to End," which is comprised of five hand-made ceramic orbs and one white limestone rock, and Joy Kees' who fabricated a steel sculpture she titled "A Little Off Center."
Monroy said she would like to continue working with art students on future collaborations. The current pieces will be on display through the spring semester.