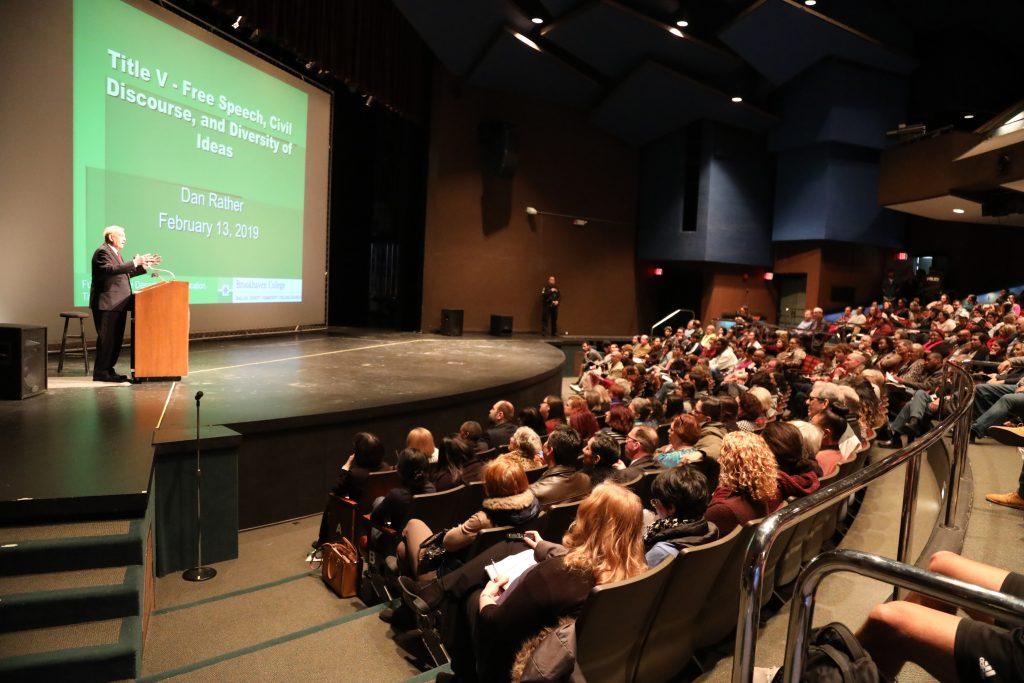 By Jubenal Aguilar
Editor-in-Chief
[email protected]
"We are a nation not only of dreamers, we're also a nation of fixers. We Americans know how to fix things, and we like to fix things," journalist Dan Rather said. "We have looked at our land and people and said, time and again through the course of our history, 'This is not good enough. We can do better.'"
The veteran journalist spoke to Brookhaven College students, staff and faculty Feb. 13 about patriotism.
"I've traveled many miles, and seen a few times and places over the years," Rather said. "I've been blessed with a long and eventful life, in which I've been able to see and learn a lot. I've gone far beyond what I could dream as a young boy. I'm a reporter who got lucky, that's basically what you have here. I'm not an expert in anything."
Rather drew upon his more than 60 years of experience chronicling the events of the nation and the world to share his thoughts on patriotism and nationalism.
"I've been suspicious of people who would vociferously and publicly bestow the title of the patriot upon themselves with a sort of air of supremacy," Rather said. "These people often pass quick judgement on the depth of others' patriotism because it does not conform to theirs."
Rather said he believes many people confuse patriotism with nationalism. This confusion, he said, can be dangerous to the people of a country.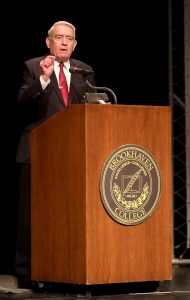 "Now, as I define nationalism, it is in general a monologue in which you place your country in the position of total, complete moral and cultural supremacy over all others," Rather said. "That is extreme nationalism."
Frequently, nationalism can lead to extremes, Rather said. In the 1920s, he said, extreme nationalism led to the Great Depression and then to World War II.
"Patriotism, while deeply personal, is a dialogue with your fellow citizens and the larger world about not only what you love about your country, but also how your country can be improved," Rather said.
Active, constructive patriotism takes work and knowledge, Rather said. He said it requires engagement with those who are different than us. It takes coming together for good causes.
Rather said it is important not to confuse patriotism with nationalism. The descent from patriotism to nationalism, particularly extreme nationalism, can be subtle.
"Unchecked nationalism leads to conflict and war," Rather said. "Unbridled patriotism can lead to the betterment of society. Patriotism is rooted in humility. Nationalism is rooted in arrogance."
"This is the most dangerous time, this is the most perilous time in the history of our country," Rather said. "We went through such times before. That does not guarantee that we will get through it again because it's up to … each succeeding generation to meet the dangers to our country in their time."
Our nation cannot survive, Rather said, without an engaged and committed population.
To meet the challenges of our time and of being a good citizen, Rather shared some things he said most leaders have in common. He called these The Great Eight and said they can be followed by anyone who wants to be a patriot and at the same time follow their dreams.
Mikhail Imtiaz, an Early College High School student, said people of his age have a hard time deciding on a career to pursue.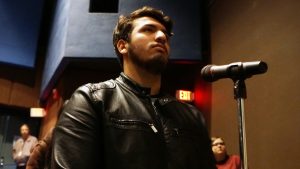 "Find something about which you're passionate," Rather said. It is not always easy, but people that find their passion feel like they are living a life larger then themselves.
Shirley Roberts, an English professor at Collin College. said she was a "former girlfriend." Roberts said she was in high school when Rather was the DJ of radio station KTRH on Friday nights.
"We went out to the radio station every Friday night. And every Friday night you played our favorite songs and we danced American Bandstand style," Roberts said. "It was one of the highlights of my life."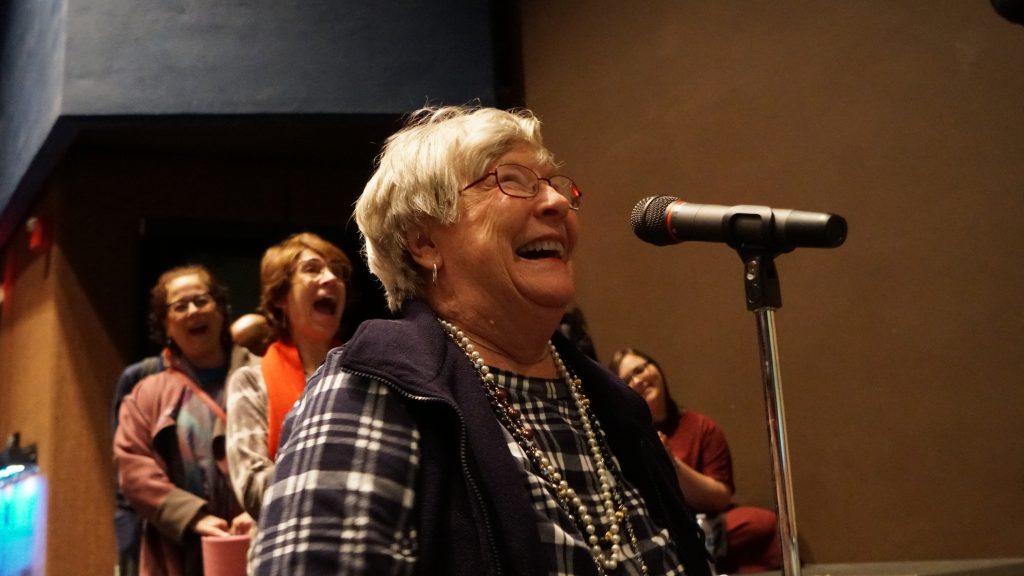 Rather also met with Brookhaven student leaders where they continued their discussion of patriotism and other issues college students face.
The event was funded by supplemental funding to Brookhaven as part of a U.S. Department of Education Title V grant, which enabled The Hub to be built in S Building.
Rather was the third in a lineup of speakers planned to speak this academic year on issues such as free speech, activism, civic engagement and voter participation, among other related topics.
THE GREAT EIGHT
Dan Rather describes the eight traits he recognizes in great citizens and patriots that engage in patriotism.
To lead a noble life is to lead a life of service to others.
Six words are key: humility, gratitude, modesty, forgiveness, mercy and wealth
"If it is to be, it is up to me."
Hearts can inspire other hearts with their fire.
The best leaders tend to be excellent listeners.
Leaders and people who succeed in life tend to be strong communicators.
People who do well, know how to write well.
Think critically and analytically.