Coyotes lurk near campus perimeter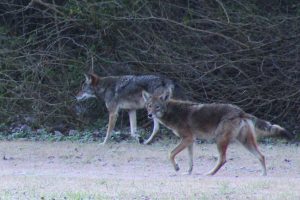 By John C. McClanahan
Editor-at-Large
Coyotes are roaming Brookhaven College grounds. Runners have seen a pair of the native canine species dashing into shrubbery flushed along the north side of campus and trotting on the jogging trail near Windmill Circle.
Amy Monroy, an English adjunct faculty and North Texas master naturalist, said she first spotted a pair – male and female – on Martin Luther King Jr. Day darting around the campus entrance on Valley View Lane.
"They cut across the main road on Valley View, the entrance roads," Monroy said. "They went trotting along the front part of campus, and then they cut across the road off of Alpha, and then they headed off down toward the creek."
Monroy said the coyotes' den is located near the entrance.
"Coyotes are present throughout the metroplex," Sam Kieschnick, an urban biologist with the Texas Parks and Wildlife Department, said in an email to The Courier. "They are resilient and opportunistic – a true survivor in the urban ecosystem. They go about their daily lives, usually without people even noticing them. They will use the margins of our urban areas as corridors to move about, and around Brookhaven I would assume they're doing the same thing."
COYOTES IN FRISCO
There have been several coyote attacks since October 2018 in Frisco, according to The Dallas Morning News. City officials teamed up with urban biologists from Texas Parks and Wildlife to find the coyotes responsible for the attacks. Most of the reported attacks occurred near the corner of Eldorado Parkway and Preston Road.
Experts say the attacks are unusual, as coyotes are shy around people.
According to the DMN, four attacks were reported to police last October and November, including a report detailing an attack on a 9-year-old and a woman, who needed neck surgery because of the incident. And twice, drivers passing along Eldorado stopped a coyote from stalking joggers.
"For most coyotes, as soon as you see one, they run away," Kieschnick said. "Some of the urban coyotes are a bit more 'used' to human activity, so they may be a little less skittish."
He also said: "To see a coyote in the urban ecosystem is not a reason for alarm. They're present and are usually active around dawn and dusk. If people want to avoid any contact with coyotes, one could avoid running or jogging at dawn or dusk."
In an attempt to track the coyotes, Frisco city officials launched an interactive map posted on the city website for people to report and view coyote sightings, according to the DMN.
PREVENTIONS
According to the Texas Parks and Wildlife Department, people should not feed coyotes or other wildlife and should keep pets, pet food and pet water inside. The department also advises people to walk pets with a leash when outside, keep trash securely stored and use loud noises with scaring devices approved by local authorities to address coyote nuisance.
Urban and suburban coyotes are a result of human expansion and urbanization, according to Texas Parks and Wildlife. Coyotes usually grow to 32-37 inches in length from head to body, with their tails growing up to 16 inches, and can weigh from 20-50 lbs., according to National Geographic.
"If a coyote appears to be bold, not running away if you get closer, then we encourage 'hazing' techniques, such as making loud noises, stomping feet and even throwing an object at the coyote," Kieschnick said. "A healthy fear of humans is good for both the coyotes and people."