Read-In to celebrate dreamers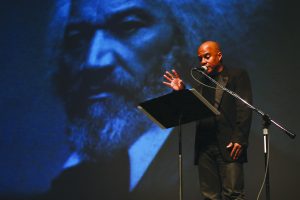 By Mykel Hilliard
Contributing Writer
Hazel Carlos, Brookhaven College English professor, will host the annual African-American Read-In at 10:30 a.m. Feb. 20 in the Performance Hall as part of celebrating Black History Month. Carlos said this year's theme is "Respect the Dream and the Dreamer" with emphasis on dreamers and their respective dreams.
Attendees should expect to see and hear Brookhaven students, staff and faculty perform monologues and poems by influential African-American activists, poets, writers and singers, such as Langston Hughes, Aretha Franklin and Martin Luther King Jr.
Carlos said after Brookhaveans leave the event, she wants them to have a greater respect for others and wants that respect to be reciprocated within themselves.
Donna Crenshaw, college tutor coordinator and long-time read-in participant, said she will be reading a poem and narrating for the event. "It is important for us to remember our history, appreciate it and respect it so that people are aware of what happened in the past so we can learn from it," she said. Her favorite part of the event is the emotion it brings up from onlookers and the powerful ending.
Bill Sigsbee, Brookhaven psychology chair and professor, will also take part in this year's read-in. In an email to The Courier, he said, "It is important because we all need to be reminded of our history and the part our ancestors played in it." He also said events such as the read-in work to heal societal wounds, and combat the country's history of slavery and civil rights injustices.
The inaugural read-in took place more than 26 years ago in a small theater located in S Building's west wing. Carlos and two English department colleagues, Delryn Fleming and Marjorie Westberry, started the read-in to celebrate black history. Carlos said the event's goal was to bring people together.
This will be Carlos' last African-American Read-In as a full-time faculty member. She said she will retire after the spring semester.