Author talks book, career at BHC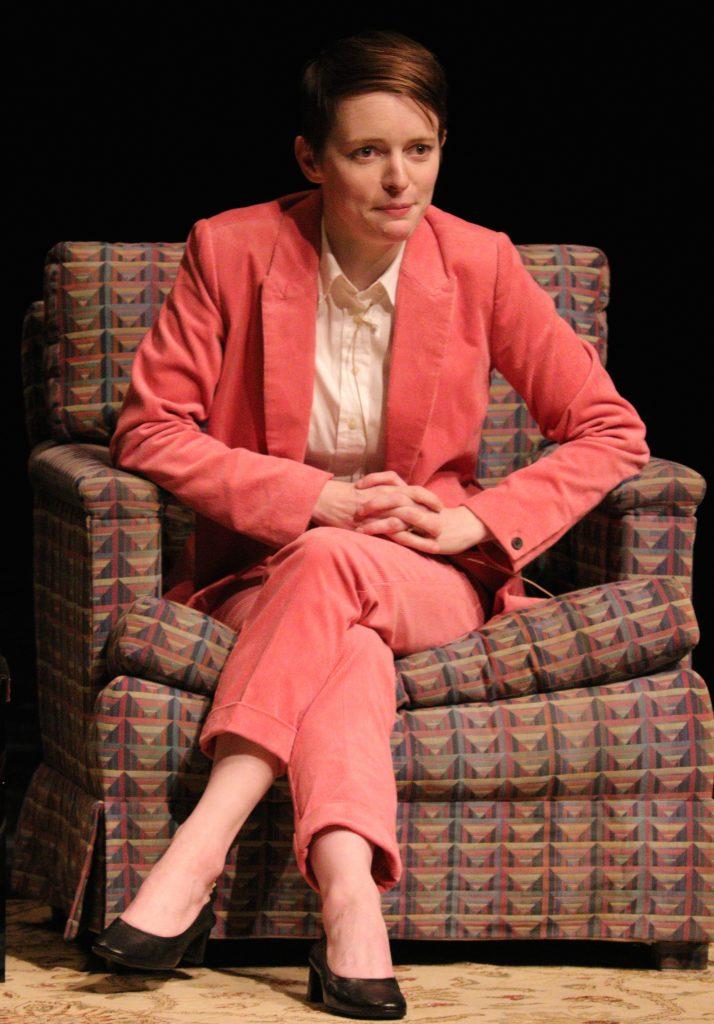 By John C. McClanahan
Editor-at-Large
Brookhaven College students, staff and faculty heard author Emily St. John Mandel reflect on "Station Eleven," her fourth published novel. Mandel sat on stage in the Performance Hall with Hurshel Burton, an English professor, who asked her questions about her writing career and "Station Eleven," which was selected for this year's Open Book Project, Brookhaven's common book reading program.
"She is a living, traveling, young, vibrant female writer, who is writing in a genre that is a very challenging genre for female writers as well as someone writing from a non-U.S. based context," Burton said. "It's important for students, I think, to see that and to see that you can come from different angles."
Released in 2014, "Station Eleven" tells the story of a traveling Shakespearean theater company as it navigates a post-apocalyptic North America ravaged by a swine flu pandemic.
Mandel said she wanted to write something different from her previous novels, which were often categorized as crime fiction.
"I realized if I were to keep on in that way indefinitely, writing these plot-driven novels with car chases and murders and such, that I would eventually be categorized a crime writer," Mandel said. "As a writer, once you get stuck in one of those kind of marketing boxes, it can be really hard to get out."
Mandel said the book portrays the characters as an ensemble of full-fledged protagonists, each navigating through trials and tribulations of persevering an artform in a dystopian society.
However, to keep the story cohesive, Mandel said, she wanted the characters to have a common thread and relate back to a central character.
Before Mandel wrote "Station Eleven," she researched Shakespearean plays and watched episodes of "How I Met Your Mother" and "Seinfeld," thinking about incorporating them as acts performed by the traveling theater company. But she thought people living in a post-apocalyptic world would not be interested in stories about New York City or the real estate market.
"We live in this extraordinary world where we keep supercomputers in our pockets, where we can cross the Atlantic Ocean in five hours from New York to London," Mandel said. "These are things we completely take for granted. We live in the age of miracles, technologically speaking, and it seemed to me that maybe an interesting way to write about that is to think about its absence."
She said she wanted to keep her initial idea about a traveling theater company, but set it in a post-technology world.
"That's how it all started with 'Station Eleven,'" Mandel said.
Mandel grew up in British Columbia, Canada. At a young age, she trained intensively in ballet. "I was one of those little obsessed 6-year-old ballet girls," she said. Homeschooled as a child, Mandel wrote every day as part of her curriculum.
"There was a period when I was about 8 or 9 when I did have to write something every day – a short story or poem," Mandel said. "I got in the habit of writing. That curricular requirement didn't last, but I found it was something I really loved doing."
At 17, she attended community college. "It was great, but what I really wanted to do was study dance at a conservatory level." She graduated from dance school and briefly danced as a professional. She said the transition from dancer to writer was a slow process.
"Station Eleven" won the Arthur C. Clarke Award in 2015 and made the Washington Post's Top 10 Books of the Year list of 2014.
Mandel said she is currently finishing her fifth novel, which is about Ponzi schemes.