Photographer shares presidential snapshots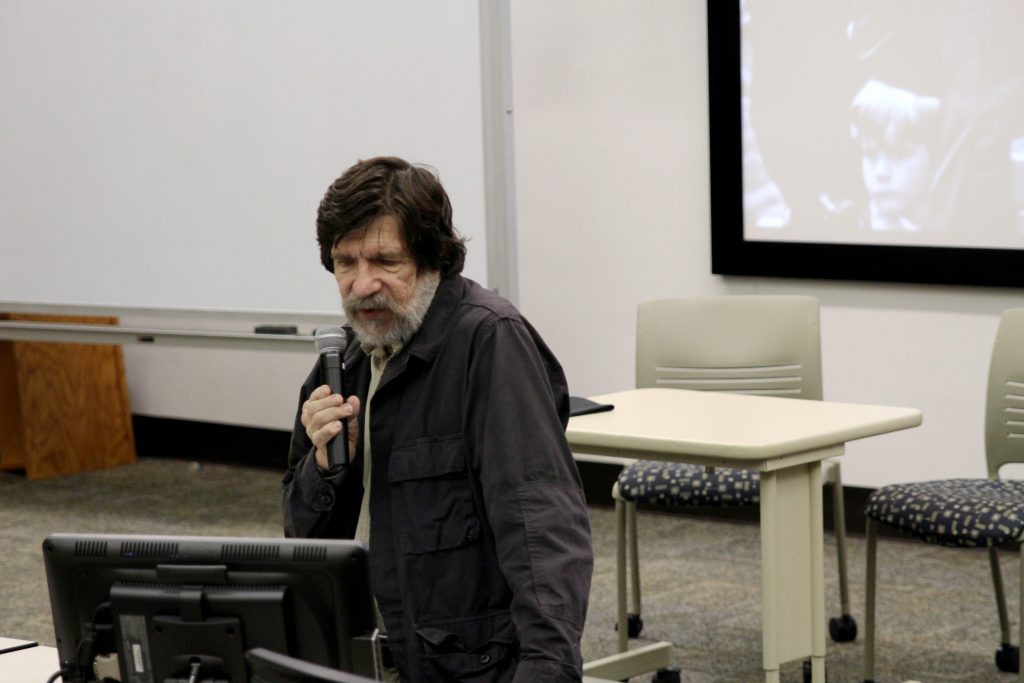 By Adam Bourenane
Contributing Writer
George H.W. Bush watching baseball, bombs in Beirut and Brazilian beaches do not easily relate, except on Phil Huber's résumé. With 40 years of photojournalism under his belt, he has captured every U.S. president from Lyndon B. Johnson to George W. Bush, according to D Magazine. Huber, a Brookhaven College adjunct faculty and professional photographer, spoke to students about gaining access to unique photo opportunities with the likes of George H.W. Bush and Ross Perot, during his talk Politics and Photojournalism Oct. 9.
Huber's political photos are on display on the library's second and third floors through October. Huber's subjects include Lyndon Johnson, Richard Nixon, Gerald Ford, Jimmy Carter, Ronald Reagan and George H.W. Bush.
"[Phil Huber] is a celebrity," Wes Smith, visual communications professor, said. "He is well connected. I don't think there's anybody he doesn't know."
A soft-spoken man, Huber said he just got lucky sometimes. He covered Vice President Bush when Reagan was shot in an assassination attempt. He approached Bush to ask if he could photograph him while he was acting president. Bush agreed, so long as he waited until Reagan recovered to publish the photos.
According to his website, Huber has been shooting professionally since 16. While attending The University of Texas at Austin, Huber began working for United Press International's Austin bureau, making his move to Dallas shortly after.
He has also shot live music and sporting events for Sports Illustrated and Newsweek. Huber said live musicians will sometimes allow shooting for two to three minutes during a concert. For politicians, the window can be even narrower, with some giving as little as 30-45 seconds to take a shot.
To continue getting work, photographers need to develop the ability to take quality shots quickly, Huber said. Once he learned that skill, a sense of urgency and excitement for finding more photo opportunities set in, he said.
When Johnson had a heart attack, Huber was one of the first at Johnson's ranch. "Anywhere that Lyndon went, Phil was sure to go," Huber said.
Smith said one of Huber's good qualities is he does not force himself onto people, a mistake which many photographers make. This, plus prioritizing one's focus toward one's craft is a respectable combination which only makes networking easier, Smith said. Rosa Poetschke, a student, found a lot to take from Huber's talk. "Since I'm taking a photojournalism class, I felt like it was a good thing to learn about in practice," Poetschke said. "I learned quite a bit about his angles of shooting and how it created a much better shot than the myriad of other photojournalists at the same event."
During chaotic scenes surrounded by other photographers, Huber learned to stay in control under pressure. "If you're doing your job right, you don't need to worry about keeping your cool because you're just too busy," Huber said.
This gave him confidence when dealing with other photographers covering the same event. For example, when finding a position from which to shoot, Huber does not let others compromise his shot. "If I was there first, … they're not going," he said.