Beto rocks Dallas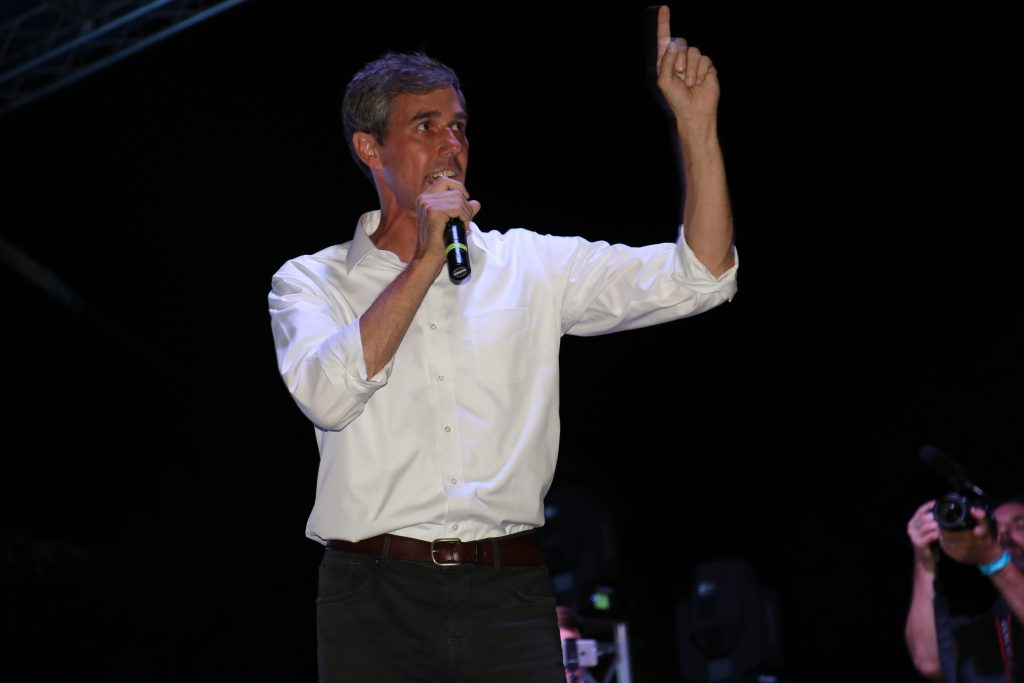 By Jubenal Aguilar
Editor-in-Chief
Dallas area Democratic candidates took the stage alongside musical performances for a day of entertainment and a massive voter registration two days before the state registration deadline.
Beto O'Rourke, Democratic nominee for the 2018 Texas U.S. Senate race, headlined the inaugural Buffalo Tree Festival Oct. 7 in Dallas' Main Street Garden, where he presented his stance on various political topics, including immigration, health care, living wages and veteran affairs.
"We are not running against anyone. We are not running against another political party," O'Rourke said. "We are running for this country that we love so much, for each and every single one of us. We are running because we believe in the United States of America. We know that we are still to do great things in this country; we're going to do them together and Texas is going to lead the way."
The festival, presented by the Homegrown Music and Arts Festival and the Dallas County Democratic Party, was a political engagement event with the goal of registering a thousand new voters by the end of the day.
Over 30 Democratic candidates for different state races, including Texas gubernatorial nominee Lupe Valdez, took turns making short speeches to the crowd.
CALL TO ACTION
A call to action was among the most recurring themes of the day.
All the speakers called for the audience to register to vote and help their families and friends to do the same.
Juan Sustaita, a Brookhaven College student, attended the festival because he believes becoming involved in the political process is important. He helped two of his nieces register to vote during the festival. Sustaita said he has registered about 60-70 people.
Sustaita said he became involved in the political process after hearing former First Lady Michelle Obama give a speech. She said if people do not vote, than the government will vote for them, Sustaita said.
If people want their communities to get better, Sustaita said, they need to speak. "That's the only way," he said. "You vote, you're talking."
STRAIGHT TICKET
Many of the candidates asked the audience to vote straight Democrat during the midterm election.
Some of these candidates, David Griggs, government and criminal justice adjunct, said, are down-ballot candidates. "They are afraid that everyone is going to go vote for Beto and then forget to vote for judge or justice of the peace," he said.
Straight-ticket voting is a way for all candidates in the same political party on a ballot to receive votes, not just the top candidates, such as governor and state senator candidates. Griggs said the Dallas County ballot for the 2018 midterm election is two pages long. "It is a way to not have to go through an entire ballot, especially if you don't know about all races," Griggs said.
He added this will be the last election where straight-ticket voting will be an option in Texas.
ADVOCACY EDUCATION
Various nonprofit organizations, including the Human Rights Campaign, Planned Parenthood, Dallas Sierra Club and Moms Demand Action, were also present at the festival to advocate for specific causes.
Griggs represented the Dallas Sierra Club, a grassroots environmental organization, at the festival. "My objective was to get young people involved in the political process," Griggs said. He added that it is important that young eligible voters turn to the polls, regardless of who they choose to vote for, to be heard.
"Hopefully, they will be educated by going to various events like this and they can make up their own mind as to who they want to vote for," Griggs said.
GUN VIOLENCE
Among the speakers were Manuel and Patricia Oliver, parents of Joaquin Oliver who was one of the 17 students killed in the Marjory Stoneman Douglas High School in Parkland, Florida Feb. 14. In Spanish, Manuel told the audience the Latin vote cannot support gun violence.
During the festival, Manuel created a mural with the image of his son and the words, "Will you vote for me or the NRA?" Scattered in the art piece were the names and locations of dozens of shootings including Las Vegas, Columbine and Sandy Hook. After speaking to the audience, Manuel invited everyone to step up to the mural to write or sign it.