Read-In celebrates dreamers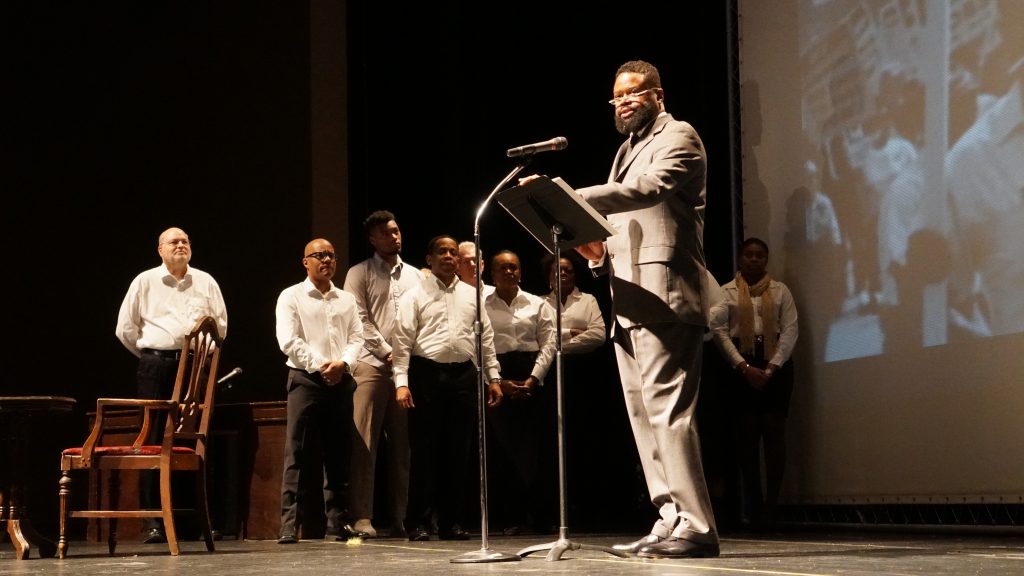 By Mykel Hilliard
Contributing Writer
Students, staff and faculty stood in solidarity for dreamers and their respective dreams at Brookhaven College's annual African-American Read-In. The read-in, which was held Feb. 20 in the Performance Hall, was titled "Respect the Dreamer and the Dream."
Brookhaveans performed poetry pieces, sang and acted to the work of notable black activists, politicians, singers and poets such as Langston Hughes, Aretha Franklin, Martin Luther King Jr. and former president Barack Obama.
During the opening performance, the song "Never Give Up," by gospel singer Yolanda Adams, played while the lyrics of the song appeared on a screen. "Keep the dream alive. Don't let it die," the screen read. As the song faded, English professor Stephanie Venza appeared on stage to recite "Dreams," a poem by Hughes. The poem emphasizes holding on to dreams and not giving up. Hughes was a famed black poet, novelist, playwright and fiction writer who is credited as one of the founding fathers of the Harlem Renaissance, according to poets.org.
Venza said performing at the read-in was a special experience. "It always feels good," she said. "This is a great group of people."
Donna Crenshaw, college tutor coordinator and longtime participant, narrated the event and opened for each presenter as they read their pieces. Crenshaw garnered smiles and laughs during her portion of the program as she waltzed on stage dawning a bright yellow feather boa to perform a choreographed dance routine to Franklin's "Respect." She was joined by participants Venus Bullard, media circulation assistant, and Nneka Ikeama Chidin Nnaji, a student assistant in the Communications Division. The two swayed and snapped behind Crenshaw.
Psychology professor Bill Sigsbee collaborated with Quincy Freeney, a student, on "Theme for English B" by Hughes. During their performance, audience members were transported to a Harlem YMCA as it appeared on the screen.
Sigsbee played the role of a professor giving out an English assignment and Freeney played his student. "Theme for English B" highlights the racial barriers of an older white male professor and a young black man whose only place of solitude was a Harlem YMCA. After a few more readings, a video of "Oh, Freedom" showed the lives of black dreamers as they fled from Jim Crow laws, lynchings and forced labor of the Deep South for the North.
Christopher Cyriaque, a professor of English for speakers of other languages, performed a powerful rendition of King's "I Have a Dream" speech. Cyriaque passionately channeled King's mannerisms. Before his speech began, he was joined on stage by other read-in participants as onlookers at the March on Washington. As he made his way through the speech, the participants cheered.
Cyriaque said events such as the read-in are important for the college because they are dynamic and educate Brookhaveans on issues that affect the black community. He said, "These pieces of poetry and literature are important because they expose how black people felt from the period of slavery, through the period of Harlem Renaissance to the period of today."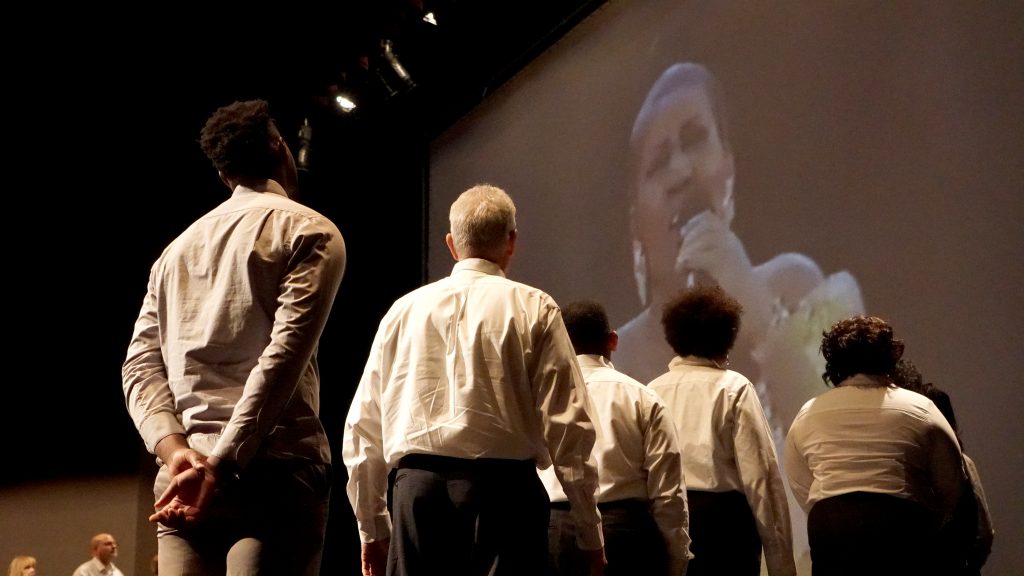 Karla Camacho, a student and first-time attendee, said she was moved to tears by the message of the program. "It really made me emotional because both of my parents immigrated here – from Colombia and Mexico," Camacho said. "[They] came here with a dream to start a family and give their future children a good life." Camacho said she was not familiar with most of the material that was performed but will look to it for future inspiration.
In the read-in's finale, the presenters and performers gathered on opposite sides of the stage as a video of Franklin singing "I Dreamed a Dream" from "Les Miserables" appeared on screen. At the end of the song, the individuals on stage formed an X with their arms and walked to the front of the stage where they joined hands to take a bow together.
After the final bow, the crowd erupted with a cheer and Hazel Carlos, an English professor and creator of the read-in, brought out a bushel of red roses and handed each participant a rose.
After this semester, Carlos will retire from teaching full-time, and relinquish her read-in duties. She said she hopes for more student participation in the read-in, as well as more diversity in participants.