Campus repairs leaks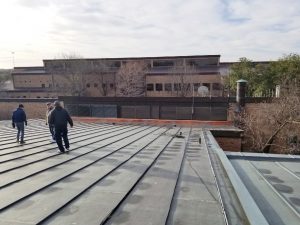 By Jacob Vaughn
Managing Editor/Music Editor
[email protected]
As mid-February rain poured over Brookhaven College, a bulk of the campus interior remained dry. Last semester, water leaks on campus sprung up during the wettest North Texas fall season on record. Garry Hodges, facilities director, said most of those leaky areas on campus have been repaired.
"We're 99 percent complete in repairs with the roofing project we lined up for this year," Hodges said.
The roofing project entails repairs to B, C and S buildings. Last year, a Brookhaven faculty member said if it is raining, there will be leaks in C Building. Buckets were set out to collect water in the backstage area of the Performance Hall and on an upper level of the building next to the 420-volt dimmers that control the stage's lighting.
George Hagele, technical theater director, said the building has zero leaks this semester.
Octavio Gutierrez, chair of the music department, said water leaks have damaged pianos and computers in Room D207 in the past. D Building's interior has remained dry so far this semester, Gutierrez said. Work is being done to other buildings on campus, but Hodges said those are from previous projects.
Now that most of the repairs are complete, Hodges said only time will tell whether they will hold up. Water tests will be conducted in which the roofs will undergo simulated flooding to gauge the strength of the repairs.
"Sometimes we'll get up there and test it and we're like, 'OK, this is great,'" Hodges said. But nature has its own way of doing things, he said.
"Mother Nature has a way of blowing and twisting rain that we really can't simulate," Hodges said. "We just hope for the best."
Hodges and his team in the facilities department had to wait until Sept. 1 to get the required funding for the repairs. For this project, the department hired an outside roofing consultant.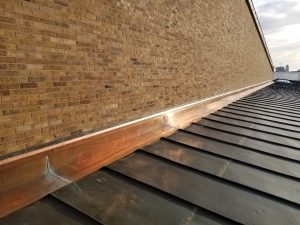 Before, roof repairs were patches to solve the immediate problems, but water redirected to other areas of the buildings.
Working with the consultant, Hodges replaced old roofing material. The replacement materials should hold up better than the repairs he and his team were making last semester, Hodges said. He said his team did the best with what they had.
"When we go up as a department, we have limited resources and expertise," Hodges said. "[A roofing consultant] understands more than your average maintenance guy."
In the fall, leaks sprung up at other campuses in the Dallas County Community College District too. In fall, DCCCD Chancellor Joe May said during a press conference with district student media that steps were being taken to get the facilities departments the funding they needed to make repairs. The district currently spends about $16 million a year on facility maintenance, May said.
As part of this effort, he said a facilities master plan was created that would allow the district to bring in architects, engineers and other building experts to identify the needs of each campus.
While this most recent round of repairs was not a part of Brookhaven's facilities master plan, students, staff and faculty can expect to see more substantial work being done on campus in the near future as part of the plan.