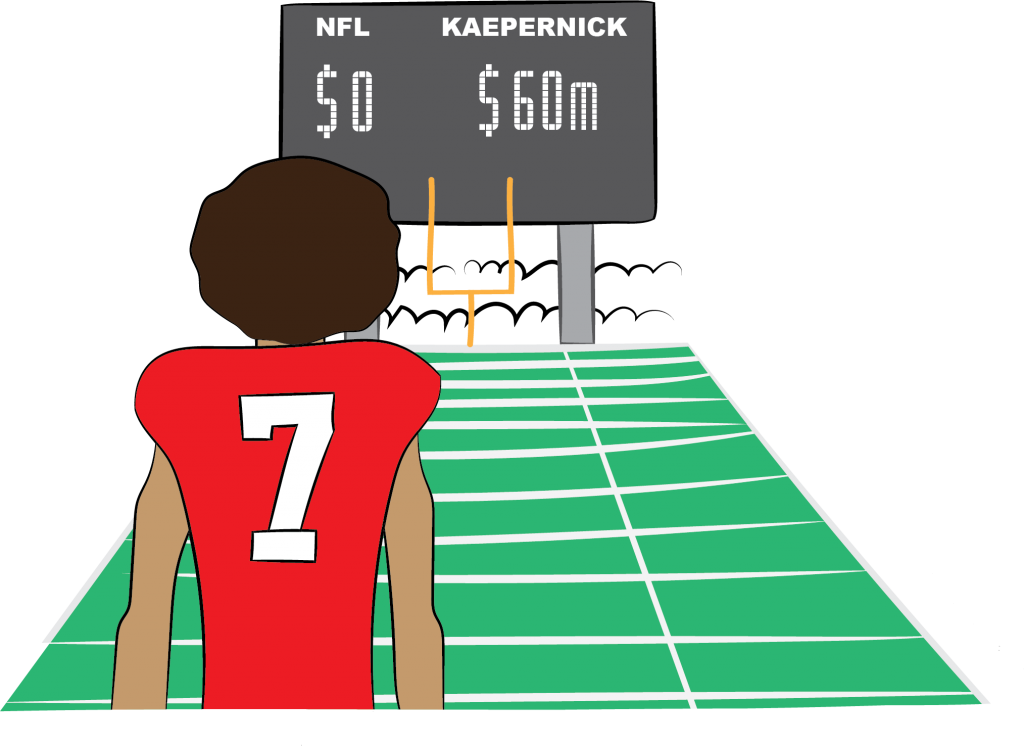 Thao Nguyen
Web Editor
After a controversial, years-long battle, former San Francisco 49ers quarterback Colin Kaepernick reached a settlement with the National Football League Feb. 15.
Although the exact amount of the settlement has not been made public, Mike Freeman of Bleacher Report said there is speculation Kaepernick was paid around $60-80 million, according to Forbes.
This is a historic win for social justice in the U.S. Kaepernick has won the case and is now a powerful symbol in American culture.
KNEELING
In 2016, during a preseason game against the Green Bay Packers, Kaepernick refused to stand during the National Anthem, stirring a wave of backlash and controversy. Later on, Kaepernick said he did not intend for people to see his action as anti-American or unpatriotic, but as raising awareness of the killing of unarmed black men by police, according to The New York Times.
"I am not going to stand up to show pride in a flag for a country that oppresses black people and people of color," Kaepernick said, according to The New York Times. "To me, this is bigger than football and it would be selfish on my part to look the other way."
By 2017, Kaepernick's contract with the San Francisco 49ers was up, and he became a free agent, according to The Wall Street Journal. No team in the league would sign him. Many believed that owners were afraid of then presidential candidate Donald Trump's opinion on Kaepernick's protest.
According to The Wall Street Journal, Jerry Jones, owner of the Dallas Cowboys, testified in a deposition that Trump said to him during a phone call, "This is a very winning, strong issue for me," and "Tell everyone you can't win this one. This one lifts me."
Similar conversations with other owners, such as Miami Dolphins owner Stephen Ross, suggested the league had let fear of Trump influence their decisions about Kaepernick and other players who had joined the movement.
AN UNLIKELY WIN
At the time, I don't think many people believed Kaepernick had any chance of winning a case against the NFL. But somehow, he got his first win in August, when an NFL arbitrator ruled to allow Kaepernick's case to proceed to an official trial phase, according to vox.com.
The NFL's settlement is a huge win for the former 49ers quarterback.
It is rare to see the NFL backed into a corner, especially by a player. Even Tom Brady, arguably the greatest quarterback ever, couldn't beat the NFL in court — he eventually accepted his four-game suspension for #DeflateGate in 2015.
The league handled player protests incompetently from the beginning, starting with Kaepernick. If the league had not policed the protests so heavy-handedly, this issue would have abated sooner.
Presidential Influence
If the league had not been influenced by Trump and given into his bullying, appeasing the president wouldn't have become a priority, according to The Atlantic. And if just one league owner had signed Kaepernick, this collusion case might have been avoided altogether.
And though the NFL's legal battle with Kaepernick has been resolved, he isn't going away any time soon.
The league will forever live with its complicity in destroying a player's career simply because he wished to use it to bring attention to the injustices suffered by people of color.