Prof recalls 40-year career at BHC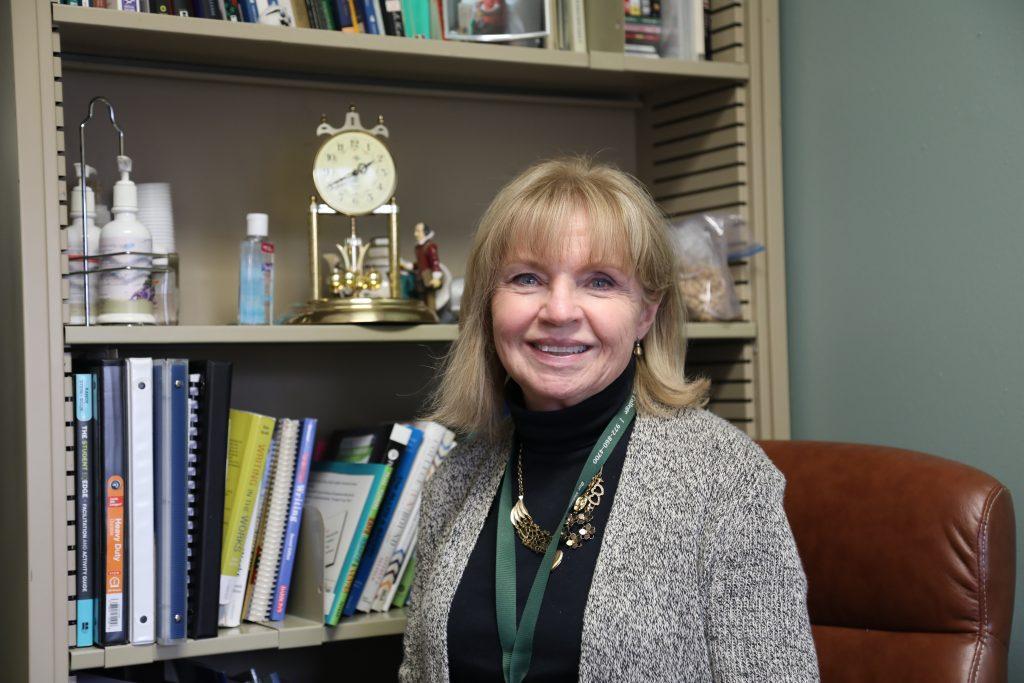 By Travis Baugh
Editor-at-Large
Teaching was always Stephanie Venza's passion. When she was young, she says, women did not have many career choices, but she always loved education.
"I always liked school, and always I thought I would like to teach, too," Venza, now an English professor, has taught at Brookhaven College since the campus opened in 1978.
"I wanted to teach French because my father didn't speak English until he went to school when he was 5 years old," Venza said.
PROFESSOR AT WORK
Venza joined the Dallas County Community College District in 1970.
At the time, the district was relatively new, she said. She was hired as an English professor at El Centro College, the district's first campus.
"I had enough English background that they hired me, but they said that I needed to go back and get my master's degree," Venza said. "I went back over [two] summers and got my master's degree."
When Brookhaven opened in 1978, she transferred and found the campus to be a perfect fit. When it opened, Brookhaven had a childcare center available for students, staff and faculty.
At the time, Venza had two young children and could take advantage of the childcare center. "It was a really good situation for a lot of us who had young children," Venza said. The proximity of the care center allowed Venza to have lunch with her children every day.
At the childcare center, Venza's children became friends with children of other charter faculty, such as Hazel Carlos and Bob Little, English and government professors, respectively.
Little said he and Venza have also shared many students in their time at Brookhaven. "[Stephanie] is A-plus, No. 1," Little said. "The best there is."
STUDENT TO TEACHER
She was inspired to become a teacher by Dr. Zellner, one of her professors at The University of Texas at Austin. "She was very encouraging, helpful and inspirational and she really cared about her students," Venza said.
She earned her undergraduate degree at Lamar University in Beaumont, Texas, and first master's in French at UT Austin.
After she graduated, Venza found a job teaching French at Grayson County College in Sherman, Texas, approximately 65 miles north of Dallas. Transportation was difficult for the couple who had only one car and lived between the two cities. Venza said she would take the school bus to Grayson with students.
"That was OK for a year and we just knew it would be better if I moved to Dallas," Venza said.
STUDENT NEEDS
Venza said a lot has changed since she arrived at Brookhaven. Today, professors are more open with one another and work together to help students, she said.
"When I first started working here, there wasn't that atmosphere of sharing," Venza said. "There was a lot of one-upmanship, and it's not like that anymore. Everybody freely shares. If something works, they share it."
Venza said current educational state-level standards hinder students' abilities to progress as they did a few years ago. "Students today need a lot more help, I think," Venza said. Students have trouble with the basics and neither the students nor the teachers are at fault.
"Texas has an 80 percent graduation rate, but our chancellor told us in a presentation about a year and a half ago that 80-something percent of them are not ready for college," Venza said.
"We had a really wonderful, robust developmental [writing] program," Venza said. Students that completed the program were well prepared, she said.
When the Texas Higher Education Coordinating Board cut the program, Venza said, it lowered the admission standards for English 1301 allowing more students to enter, college-level composition courses without adequate preparation.
The loss of some literature courses and reduction of the developmental writing classes have led to a larger gap in students' knowledge, which affects their performance in school, Venza said.
"I don't know anybody in this department who doesn't care about students doing well and is not willing to do as much as they can to see students do well," Venza said. As Venza considers retirement, she said she also thinks about the future of Brookhaven.
Venza said technology advances every day and makes it easier for teachers and students to stay connected, teach and learn. She said she hopes DCCCD and Brookhaven will continue to grow and keep furthering the education of the community even after she retires.