Former BHC student opens local coffee shop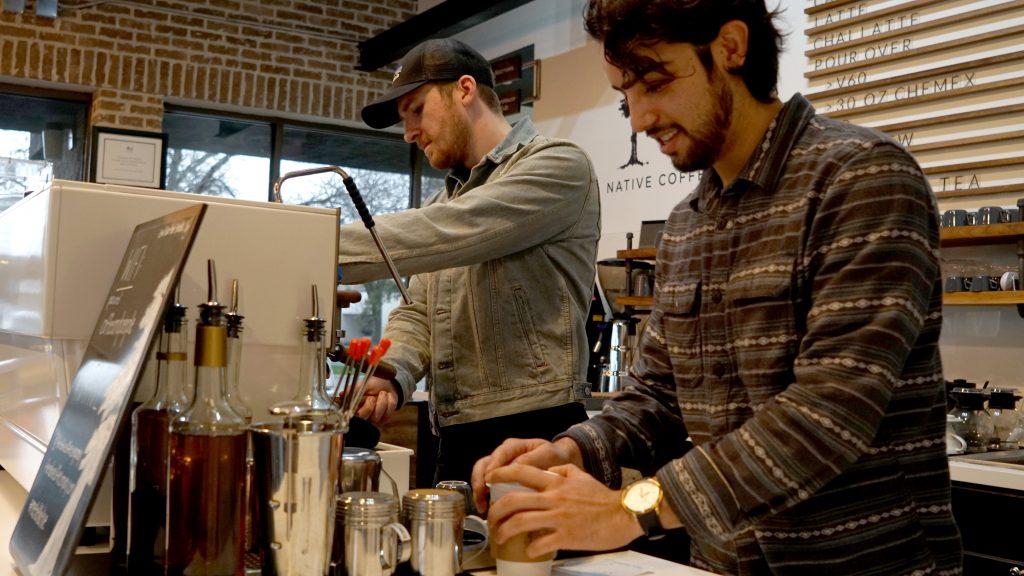 By Matthew Brown
Copy Editor/Opinions Editor
All of Native Coffee Co.'s tables were pushed into a back hallway for the coffee shop's grand-opening ceremony. Half of the space was occupied by people seated attentively in rows around a musician singing and playing guitar Feb. 2. The rest of the shop was filled with chatting and laughing patrons – most holding cups of coffee despite the late hour.
"I just never imagined I'd be doing this," Luke Jackson, co-founder and former Brookhaven College student, said. "Seeing all these people here tonight is just a validation of what I said about Native's core values: Coffee is great, but people are better."
The shop is decorated simply, its industrial shell of polished concrete floors and brick walls made warm and homey by furniture in leather, velvet and curved wood. The only ornaments are the lush, green plants scattered around – a fern flowing from a pot by the door, a palm tree leaning casually in one corner, little waxy-leaved things sitting primly on the tables – and cups of carefully brewed coffee.
Drip coffee, espresso, pour overs, as well as a handful of other café staples are all available at Native. Those who like to get their caffeine fix through other means, can also order iced or loose-leaf tea.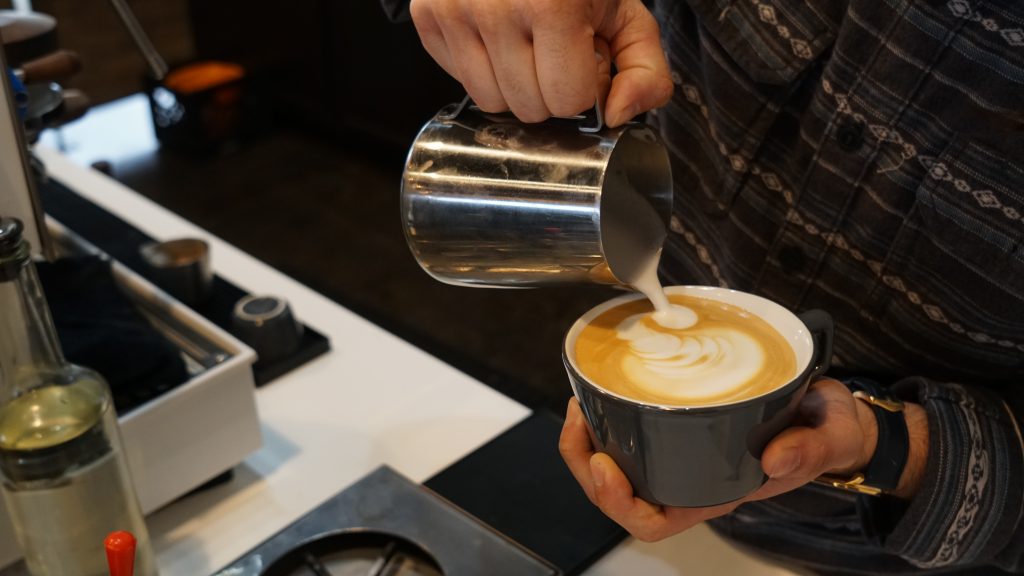 Jackson saw an opportunity to fulfill a dream with his father, Tracy Jackson, when their church moved to a new space.
The shop, a five-minute drive from Brookhaven, is on the corner of Alpha and Neutron roads in Dallas and has been in operation since Sept. 2.
THE CRAFT
Luke said craft coffee is a movement made up of a new wave of coffee shops in America that focus on the purity of their coffee beans and the precision of their brewing process. The origin of the beans in a coffee means everything to the flavor, much like the grains in a craft beer or the grapes in a wine, he said. In Native's case, the beans are Ethiopian and Colombian varieties from Edison Coffee Co. in Flower Mound, Texas.
Precise brewing has a huge role – the size of the coffee grounds, the ratio of coffee to water and the current barometric pressure affect the flavor of the coffee, Luke said.
Heather Lester, a Native barista, said, "You may have to wait a little longer for your drink, but craft coffee is brewed with tons of love, and it will be worth it." Luke's shop makes seasonal syrups to go along with their coffee, he said. They are currently featuring a lavender latte. Native also serves pastries, such as banana muffins, cinnamon rolls and blueberry turnovers from Baked, a local bakery.
A NEW PASSION
Luke said he is a huge coffee nerd, but that this is a relatively recent development. When he visited coffee shops in college, he did not pay much attention to the coffee.
Luke said he was not too happy with how his life was going a year after graduating college in 2016. It was not bad, but Luke said he wished for something better.
Then, one day, Luke's father mused that they should open a coffee shop together. Because they knew nothing about coffee or running a coffee shop, the two dismissed the possibility almost immediately. "My dad loves people," he said. "He didn't even really drink [coffee] when we started, but now he does, which is kind of crazy. He just loved the idea of having regulars come in and seeing people, and he lives for that kind of stuff."
Soon afterward, Luke spoke to his pastor, Tracy Eckert, at Storehouse Church, who was in the process of refitting a new building for the church and was trying to attract a coffee shop franchise. He told her no established coffee chain would risk its brand on a partnership with a small church.
Eckert told Luke the church refitting the space would greatly cut the cost of building their coffee shop there at the same time.
Still not completely committed, Luke researched and wrote a business plan for the shop and showed it to his father. They talked more about the idea. When they took out a business loan, the plan was in motion.
FULFILLING A DREAM
That business plan was one of the most unique things about Native. The shop is built in what would otherwise be a side entrance of Storehouse. Luke said, he knew it could be difficult to run a business in a place where some customers might worry about feeling judged or otherwise unwelcome. He worked with Eckert to keep the church and the coffee shop separate.
Despite the two sets of double doors that lead from the coffee shop into the main chapel, the only evidence of a church from inside is the large black "S" hung on the wall separating them. "Sunday is the only time the two spaces really cross over," Luke said.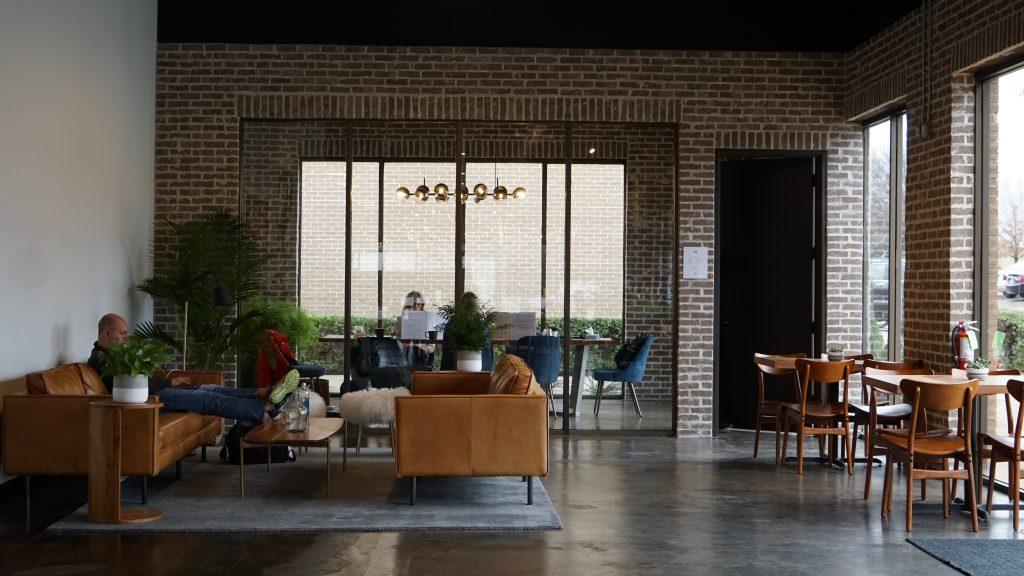 INSPIRATIONAL MINIMALISM
Another unique thing about Native is its minimalist aesthetic. Luke said the design was inspired by an experience he had while mountain climbing.
"Me and a couple buddies tried to summit a fourteener in Colorado, and there was a snowstorm," Luke said. "We didn't summit, but I remember sitting 11,000 feet up. This view, it stops you. You're just trapped, and I live for those moments. You have to stop what you're doing and look at it and appreciate it."
Craft coffee does not quite make him stop like that. However, he said he hopes Native and its design can create a focused atmosphere that helps people find creative inspiration in their work as well as to enjoy moments spent with people they care about.