Artists talk about circus, life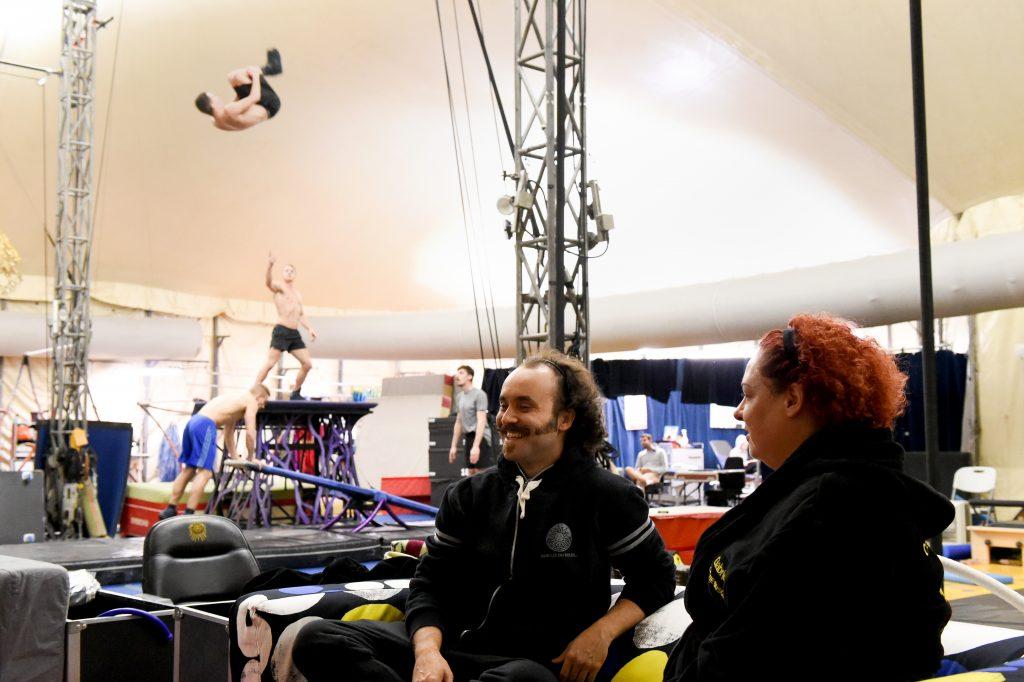 By Jubenal Aguilar
Editor-in-Chief
[email protected]
The circular stage under the Grand Chapiteau went dark. The rock music silenced.
A single spotlight illuminated a woman – Maïnha – in a floral-pattern dress standing among the audience as romantic music set the mood.
She murmured to herself and then talked in an unknown language to the audience.
"Yoo-hoo," Maïnha said as she called out to someone in the dark. She encouraged the audience to join.
"Yoo-hoo," a man's voice excitedly called from the other side as a second spotlight revealed Tito, Maïnha's newfound love.
Maïnha blew a kiss to Tito. He reciprocated the act, and they exchanged back-and-forth gestures as the audience gazed.
A love letter, paper airplane, slingshot and a tennis match were used in the battle of kisses as the lovers professed their feelings to each other.
Their light-hearted humor brought a change of pace to the intensity of Cirque du Soleil's "Amaluna." The show made its first U.S. stop Jan. 3-March 3 in North Texas.
TWO FUNNY
"I am a clown," Gabriella Argento, a Brazilian actress, said. Argento plays Maïnha in "Amaluna," opposite Thiago Andreuccetti, who plays Tito.
Argento and Andreuccetti worked together to create a story of their own within "Amaluna." They are two of the 48 artists who call Amaluna home. They provide comedic relief to contrast the more serious themes of the show.
"We're the clowns of the show, which is very interesting because it's a very different kind of clowning inside Cirque du Soleil," Argento said. "It's a hybrid of clowning and physical acting because we have to tell a story in a funny way. It's not just being a clown. It's not just making people happy and laugh. We have to tell a story."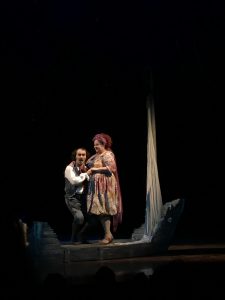 Andreuccetti said their act is a love story. "We fall in love, but we are not able to be in love because love is complicated," he said.
The act, Argento says, alludes to the normal love between two normal people who appear to have nothing in common. In "Amaluna," Maïnha is Miranda's childhood nurse. She still looks over Miranda as the princess enters adulthood. Tito is the manservant of Romeo, the leader of a group of men who washed ashore on the island of Amaluna.
Argento has been a clown for 25 years. "[This is] my third show in the company," she said. In 1997, she auditioned for Cirque du Soleil, but it was not until 2004 that she joined the traveling circus.
Everyone at Cirque du Soleil has to audition. "It's a large process," Argento said. "We have three days of physical tryouts and improv games." The requested abilities depend on the part the artist is auditioning for.
Andreuccetti is one of the fresher faces of "Amaluna," with just over one year of experience with the company. "I worked about 15 years in Brasil as a clown and as an actor," Andreuccetti said.
CLOWNING AROUND
Argento and Andreuccetti have a symbiotic relationship. To perform their act and meet the high standards of the circus, they must know each other at a deep level.
"We are always together," Andreuccetti said. "Before the show starts, we are always together. Being together is good to warm-up the clown thing."
Argento added: "We joke with each other. We make fun of each other. We play with each other." Their instructions range from simple games to more serious competitions, Argento said.
"Yeah, things that we learned in Siberia," Andreuccetti jokes.
TRAINING & SHOW
The training at Cirque du Soleil is rigorous and spares no one, not even the clowns who constantly rehearse their acts. "We wake up and then we do breakfast," Andreuccetti said. "Sometimes eggs, sometimes coffee."
"No, actually we do have a pretty normal life," Argento said.
"We divide our days in training, practice and what we have to do in order to do the show," she added.
The life of a Cirque du Soleil clown involves constantly working on their act. With shows most days of the week, all artists must maintain a sharp mind and stay in physical shape.
"We do have to exercise and do physio and do lots of things to take care of our bodies," Argento said. "We take care of our act and we take care of our makeup and ourselves."
Andreuccetti said, "In a regular day, we do makeup, our warm-up and then we go to the fun – the show."
To prepare for a show, Argento said she follows a routine. "I pray every day," she said. "I have a little ritual of my own. I just ask the forces of theater to protect everybody [and no one] to get hurt." She also sings and performs other warm-ups as part of her pre-show routine.
Andreuccetti said everything is still new to him at Cirque du Soleil. "I'm learning day by day and for me it's a joy to be here, and I have too much pleasure to be here," he said.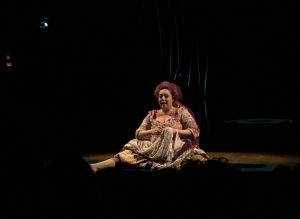 "It's very special to perform in the ring in the Big Top," Argento said. "The geography of the Big Top is very interesting because it's all rounded so you can see everybody that you are performing to and you can be seen by everybody. So you have to dialate yourself, you have to make sure you are taking the whole stage. It's very powerful, it's very beautiful. There is a very famous theater director used to say the audience is like a dragon with a thousand eyes, so every day we invite this dragon to play with us."
LIFE IN THE CIRQUE
Part of the Cirque du Soleil life includes being far from family and friends for long periods of time as the different shows tour around the world.
"It's part of the job and sometimes it's difficult," Andreuccetti said.
"Every time you make a choice, you leave something behind," Argento added. "Of course we miss our families, of course we miss our friends, our countries and the place we are coming from, but there are so many other things that pay off."
For Argento and Andreuccetti, as well as all other artists and crew of "Amaluna," Cirque du Soliel has become like an extended family.
"We have kind of a family here because everybody is in the same boat," Argento said. "Everybody that is here doesn't have a family around, [they're] away from their countries. So we've built up this feeling of family within ourselves here."