Yoga Promotes Overall Good Health
By Azure Wickert
A&E Editor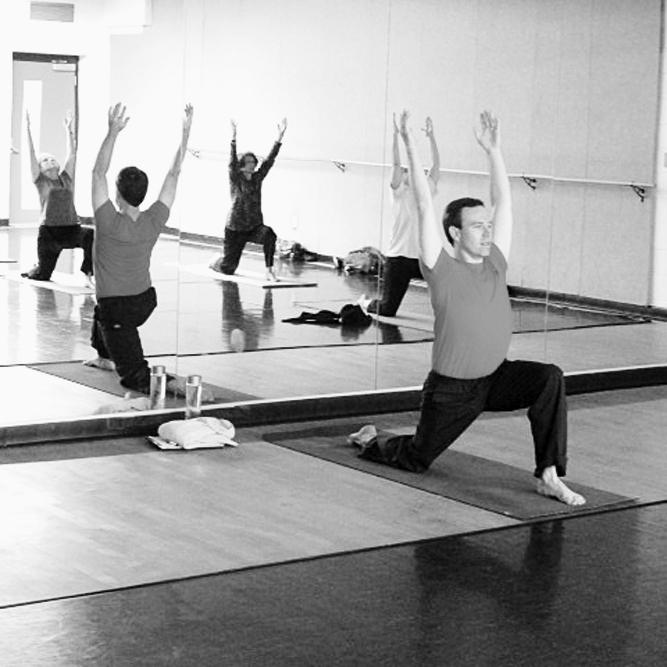 Lying down on the job is a major part of the job in Brookhaven College adjunct faculty Andy McDonald's yoga class. Students unroll their mats in various shades of purples and blues and settle in to participate. The form of McDonald's instruction not only focuses on the postures and poses (asana), but is also a lesson in the history and philosophy of yoga, exposure to different styles of yoga, and breathing technique and meditation.
With the holidays fast approaching, finals week drawing nearer and the imminent New Year's resolution, McDonald's class is a mellow environment that presents an opportunity for students to get in touch with their own bodies and minds, McDonald said. Benefits of the class include stress reduction and an increase in focus, concentration and overall energy,  he said. Yoga practice can make students stronger, more flexible and balanced: three benefits that cover the physical, mental and emotional health of a person.
McDonald has been a yoga instructor for eight years and is currently in the process of obtaining his certification as an E-RYT 500, Experienced Registered Yoga Teacher with 500-hour training, through Yoga Alliance. This certification requires the instructor to complete at least four years of teaching experience, with more than 2,000 hours of teaching and advanced training. The certification makes the instructor eligible to instruct and certify other teachers at multiple levels of experience, both 200-hour certification and the more advanced 500-hour certification.
Having taught this class at Brookhaven since the spring of 2011, McDonald said he has seen numerous students repeat enrollment in the course. This semester alone, 11 of the 16 students enrolled are returning. He credited this return rate to the affordability of tuition, while student Patty Bigas credited it to his teaching.
"He is a great instructor," she said. Bigas said she has taken the course multiple times and has already enrolled in classes for next semester that line her up to take four yoga classes a week. "It's very relaxing," Bigas said. In class, she added, you can "zone out from all the chatter in your life."
Brookhaven's yoga class is a one-credit course that meets the physical education requirement, and McDonald has structured his class to be self-contained, requiring no participation outside of class time. McDonald begins his class with a brief lecture followed by physical practice, and concludes with time in meditation.  Grading for this course is based on participation and attendance, and although it is not required, McDonald said his class empowers students to feel confident attending an outside yoga class at another studio or gym by creating a solid foundation of knowledge and skill to build upon.
In addition to the for-credit course offered at Brookhaven, there is also a weekly yoga and meditation club on campus that meets 4 p.m. Wednesdays in Room T131. The free yoga and meditation club is open to the public, students, staff and faculty, and is led by Dada Advayanda, who teaches at local area schools such as University of Texas at Dallas, University of Texas at Arlington and Richland College.