Returning Slam Poet Enthralls Students During Campus Visit
By Amy Price
Editor-in-Chief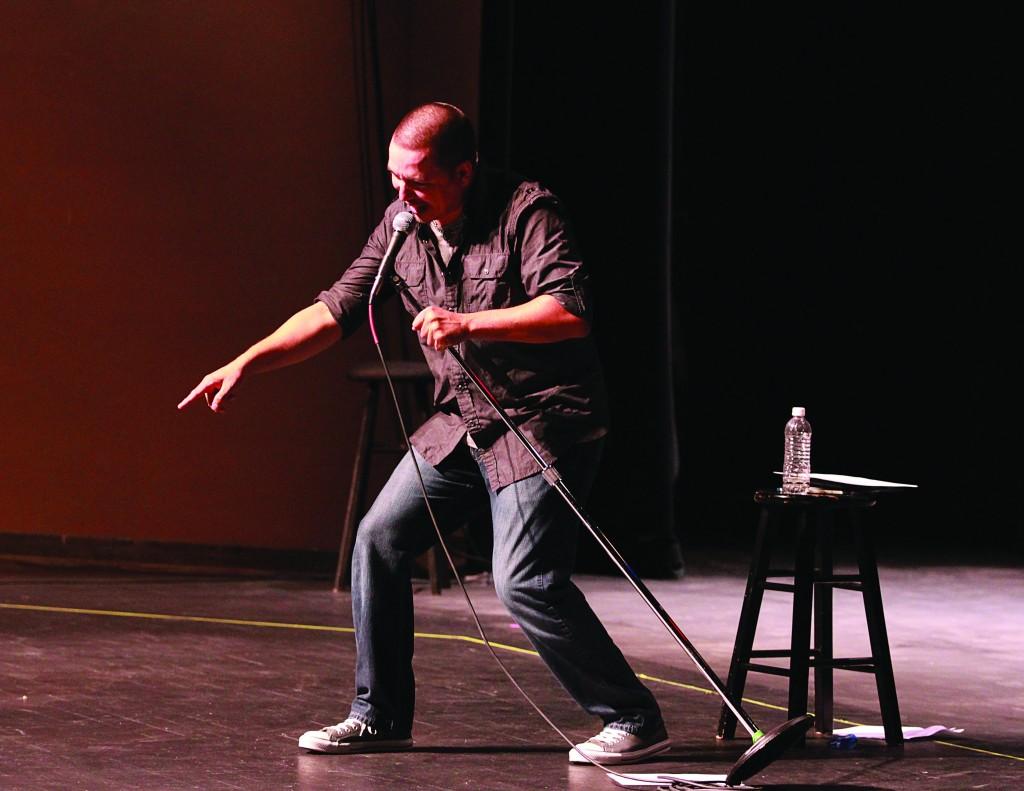 With his hands moving faster than a symphony orchestra maestro and violent gasps of air between breaths, Joaquin Zihuatanejo spits out his infamous slam poetry.
In front of a full house Zihuatanejo's prominent voice and over-the-top body language grabs the audience's complete attention as he pours out his soul through the power of poetry.
The 2009 World Cup of Poetry champion, Zihuatanejo performed at Brookhaven College Sept. 3 for the fifth annual Fall Forum, which was presented by the Communications Divison and the Office of Student Life.
"He was so successful last year we asked him to come back this year," Kendra Vaglienti, executive dean of the communications division said.
A former English and creative writing teacher, Zihuatanejo grew up in the "barrio" of East Dallas. His charismatic performances relate to past experiences, Chicano life, and cultural indifferences — and some poems are just plain comical.
Zihuatanejo's first poem, "The Television Will Not Be Revolutionized," was a shot on pop culture and how it has suffocated deep thinking. The poem read: "Seems like the flatter the screen gets the less definition we get."
In the only love poem he slammed, "Sliding Doors, Frogs and How We Love Each Other," Zihuatanejo talked about his true experience of being trapped with his girlfriend inside a convenience store with a grotesque cashier during a blackout. The spoken word performance left the packed crowd in tears of laughter and a roaring round of applause.
Toward the conclusion, Zihuatanejo performed his piece, "A Poem for John."
It began silently as Zihuatanejo waved his arms and signed out the first line. The audience was so enamored a pin drop could have been heard. The piece was related to a deaf student he once had and how he wanted to learn his voice, since his student had to learn everyone else's.
The event ended with a standing ovation and an open microphone Q-and-A session.
Zihuatanejo said he began performing professionally after one of his students encouraged him to follow his dreams. "I had a student say, 'You're always telling us to chase our dreams and I can kind of tell you want to be a poet. Why don't you just do that, chase your dream?' and walked out," Zihuatanejo said.
That would be his last year of teaching. He began competing in the Dallas Poetry Slam nights and that turned into a career. Zihuatanejo has since built up an extensive résumé.
By becoming a National Poetry Slam finalist, Grand Slam Spoken Word Champion and appearing on season five of Russell Simmons Presents Def Poetry on HBO. Earlier this year, Zihuatanejo released his third book, "Family Tree," adding it to his collection of six published CDs.
After the program Zihuatanejo held a creative writing workshop for students. On May 9 the students from the workshop will be performing in their own poetry slam on campus.
Zihuatanejo gave three pieces of advice — write what you know, make it odd and always read more than you write.
Art student Austin Mayfield said he had seen Zihautanejo perform at his high school and was not going to miss out on seeing and attending the workshop at Brookhaven.
Mayfield writes as a hobby and was captivated by Zihuatanejo's slam poetry. "I thought it was pretty incredible, honestly," said Mayfield.
Zihuatanejo encouraged students to get their voices out there and go home and write.
"Those of you who are aspiring to be poets the best advice is to keep doing what you're doing now and get an education," said Zihuatanejo.