Adidas turns threat into thread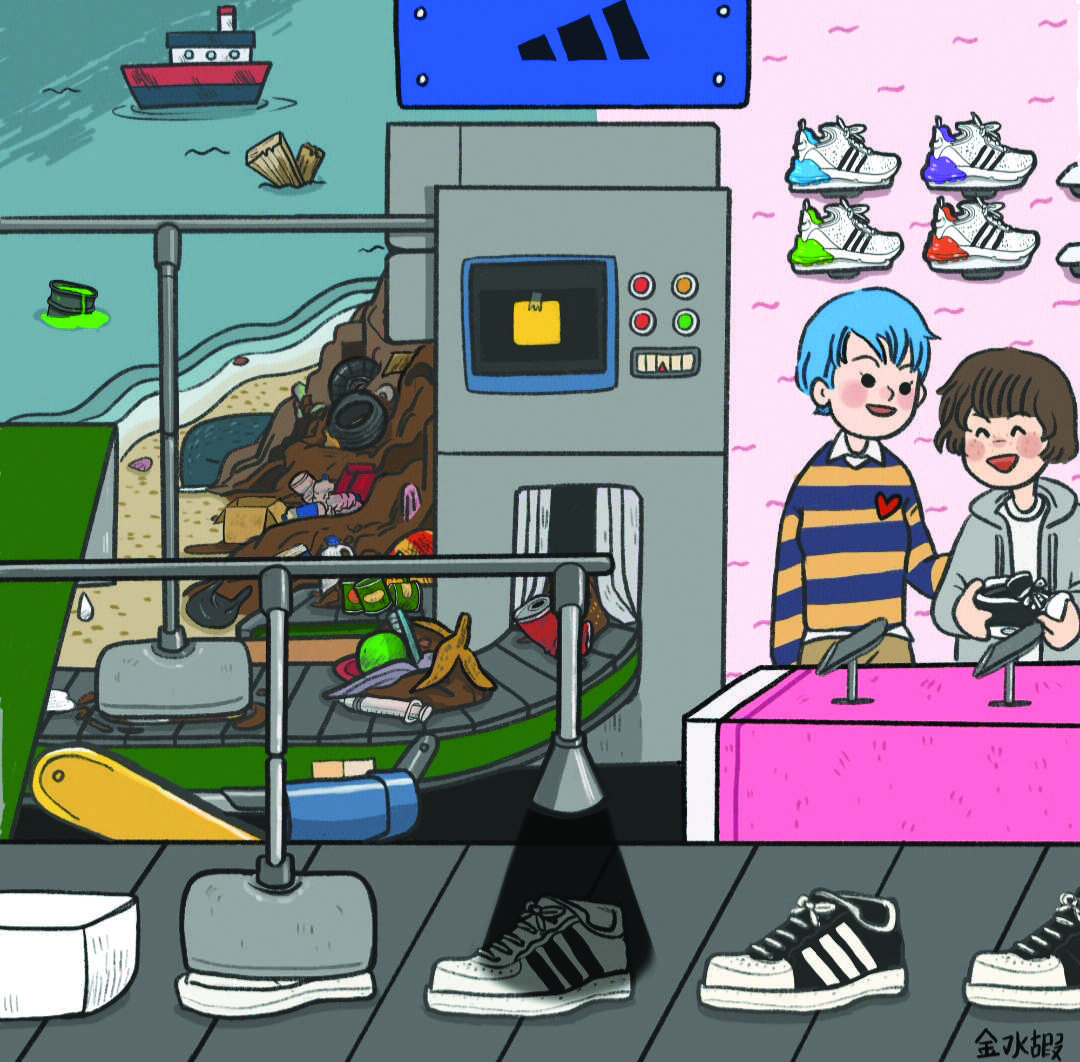 By Malen Blackmon
Sports editor
Adidas and Parley for the Oceans have been pulling plastic out of the ocean and converting trash into thread, literally.
About 8 million metric tons of plastics are dumped into the ocean in a single year, according to earthday.org. Every minute one garbage truck worth of plastic is dumped into the ocean. It is killing sea life and destroying ocean water.
The majority of plastics are non-biodegradable. Bottles and cups float through the ocean until their chemicals seep into the water or get eaten by sea creatures such as fish, whales or dolphins.
The genetic make-up is starting to shift in some of these animals, and more problems arise as fish consume plastic and people eat the fish, according to pewtrusts.org.
Instead of ignorantly watching our oceans become contaminated with plastics, Adidas and Parley for the Oceans have teamed up to arguably start the most innovative campaign in sportswear since the emergence of the Jordan brand by Nike.
Eric Liedtke, Adidas executive board member, said the company teamed up with Parley to help spread awareness and transform ocean plastic pollution into high-performance sportswear, turning the threat into thread, according to forbes.com
In 2015, Adidas and Parley constructed a single pair of sneakers made of yarn recycled from ocean waste and illegal deep sea nets, according to Business Insider. "If we can make one shoe, we can make one million," Liedtke said, according to Forbes. In 2016, Adidas and Parley representatives established global advertising campaigns by supplying championship soccer clubs, Real Madrid and Bayern Munich with jerseys made from recycled waste, according to CNN.
In 2017, the two companies swept through the North American market introducing a wide range of sportswear clothing made from ocean waste. The jerseys were made using over 70% of recycled ocean waste, the first college football uniform of its kind, according to hurricanesports.com. The University of Miami was among the lucky colleges that received fresh threads to be worn by their athletes.
Mark Richt, head football coach at UM, said, according to hurricanesports.com, "Community service has always been an integral part of our football program, and this partnership with Adidas and Parley helps us continue those efforts." Their products have become more available to the public. According to Business Insider, they sold over one million pairs of Parley sneakers in 2017.
But they are not satisfied. While looking to improve the performance of their products, Adidas and Parley also continue to expand their idea by including plastic waste found in coastal communities and on beach fronts, collecting the trash before it touches the ocean, according to Business Insider.
What started as an idea and shoe project has grown into lifestyle clothes, running shoes, game-worn jerseys and now the Parley x Adidas Outdoor collection, according to Business Insider.
Maureen Dale is a Brookhaven College student from the Ivory Coast. She said the beach has always been a part of her life and clean waters are important to her. "Me and my friends would always clean the beach on Friday afternoons after class [because] there would be plastic bags and bottles," she said. "I definitely would buy products made from ocean waste."
The Parley shoes are priced between $55-$230, on adidas.com. The shoes come in men, women and children sizes, and they also make soccer and football cleats. As Americans, we use recycled paper towels and we recycle plastics to create more plastic products. But being able to recycle ocean waste and turn it into fashionable performance wear is remarkable.
According to Forbes, Peter Diamandis, founder of the X-Prize and Singularity University, said, "The world's biggest problems are the world's biggest business opportunities."
Adidas and Parley are setting a standard and trend in today's clothing and the profitable sneaker market. Their collaboration will challenge other global businesses to switch to recycling and sustainability practices that help the planet.