Human Rights Guru Talks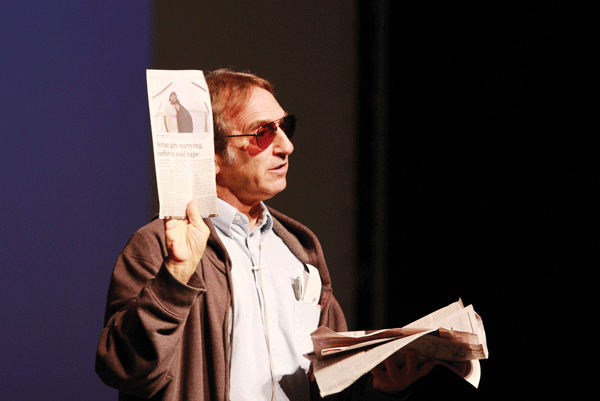 By Amy Price
Editor-In-Chief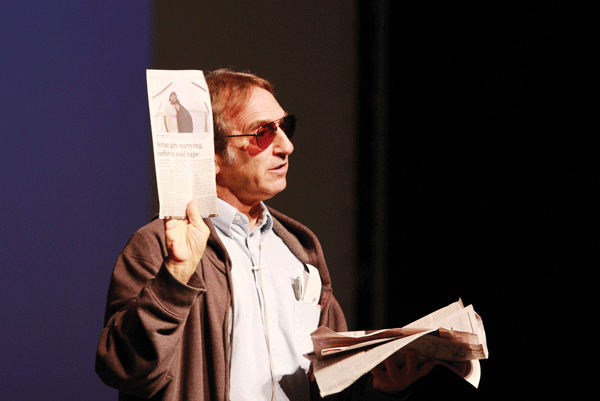 Pacing back and forth in his worn-out loafers and aviator-style glasses, Dr. Rick Halperin uses a pencil to metaphorically demonstrate how many journalists have been killed for speaking out on behalf of others. "Their only crime was this," Halperin said, tilting the pencil between his thumb and index finger.
As a special guest of Brookhaven College's Open Book Project, "In the Sea there are Crocodiles," Halperin spoke about human rights Jan. 30 in the Performance Hall.
Halperin is part of The Embrey Human Rights Program, a human rights professor at Southern Methodist University and assistant director of SMU's Office of Leadership and Community Involvement. He wasted no time in demonstrating the relevance of human rights by displaying a stack of news articles relating to human rights violations.
Halperin said that human rights are not a political agenda but a human one. "We don't get to pick and choose who is entitled to human rights," he said.
The audience sat silently as photos of lime-covered bodies and mounds of ash and bone were shown. Three times a year, Halperin takes students and anyone interested to visit countries with devastating human rights issues. A trip to Poland also takes place every Dec. 16-30 to visit defunct concentration camps.
General studies student Eric Plascencia said he is giving serious thought to going on Halperin's Poland trip in December. "It was very eye-opening," Plascencia said. "I was aware, but not to that level."
Topics such as lesbian, gay, bisexual and transgender issues, child labor, trafficking, the death penalty and disappearances in border towns such as Juarez, Mexico, were also covered in his speech. He made it a point to discuss the issues of men as source of many human rights problems. "Men are the problem," Halperin said. "You [women] might as well walk around with a sign — abuse me because of my gender."
Attendees were invited to sign up for volunteer opportunities to help local refugees at a Catholic Charities of Dallas table outside the Performance Hall.
English professor Hazel Carlos said she brought her students because it was a good opportunity to see Halperin speak. Carlos said the message goes along perfectly with the campus' current Open Book Project.
"It was important for them to be here so they can make parallels with the book as well as in their own lives," Carlos said.
Halperin closed the speech with his solution to the worldwide human rights atrocities — education and action. He said for the sake of future generations and positive change, society must make a conscious effort toward change. He said awareness is also key to achieving change. "Get rid of the most dangerous words in the English language —'I didn't know.'"