Get ready to donate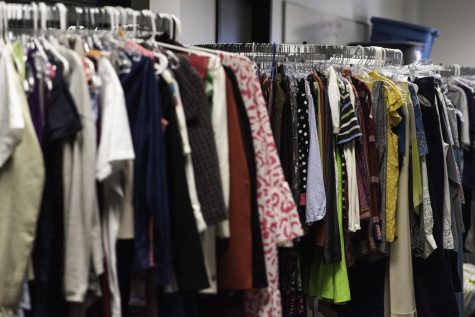 As the year comes to a close, it may be the perfect time to clean and organize your closet and remove any unused items.
Having an organized closet can bring many benefits, and create a sense of peace. It can also help you sort through old items that have accumulated and open storage space for new items.
After compiling unwanted clothing items, consider putting them in a trash bag and dropping them off at the Brookhaven Campus clothing closet. With your help, these clothes can be given a second life and given to someone who will make use of them.
Follow these three easy steps to make a successful closet cleanout.
Step 1: Take everything out
It may seem like a daunting task to remove all the items from the entire closet, but it will be worth it.
Removing the items can help you get a better view of all your clothing and make the process easier. Decide what items to keep or donate.
Step 2: Divide the clothes into three groups
Some basic advice for cleaning your closet is to be objective and recognize which clothes are no longer used.
Create three piles – keep, donate and throw away. Here are some important questions to ask yourself when deciding whether to keep something.
•Have I worn it in the past six months?
•Does it fit my lifestyle?
•Does it fit?
•Is it comfortable to wear?
•Do I feel great wearing it?
•Is it in good condition?
Step 3: Time to organize
It is important to finish organizing the closet with the first piles of clothes, the clothes that make us feel good. The style is up to each person's preference. It can be by color, style or even by size. The main idea is to find a system that works according to the person, which will vary and to stick with it.
Take advantage of the new season to make changes in the closet. Cleaning can make people feel good about what they have and get rid of things they do not need.
Donate to the campus food pantry 
Dallas College supports students, not only with food and personal hygiene products, but also with a vast selection of everyday necessities on campus.
Donations greatly help people in need. Always remember clothes must be in good condition, washed and ironed, if needed.
According to the Dallas College website, "At Dallas College, we don't just care about the student, we care about the whole person." Donating is a great way to help others and get more involved in your community.
All clothing closet donations can be made at the Food Pantry in Room J104 at Brookhaven Campus.