India Palace delivers spice
By Scott Mitchell
A&E/Sports Editor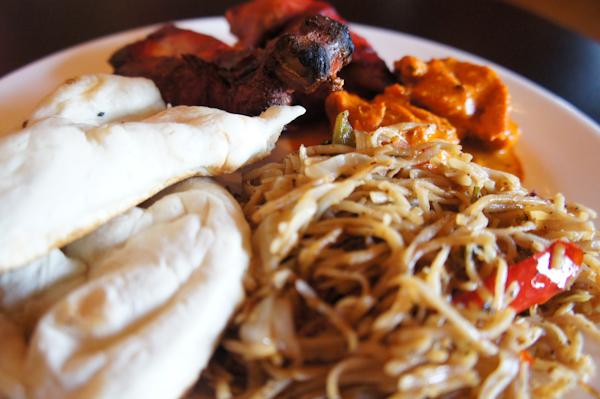 After passing through an unassuming entrance, there is a mood-lit room reminiscent of many high-class eateries. There was very little about the interior that would evoke thoughts of Indian culture, besides a bronze statue of Shiva and some vague Indian patterns on tapestries.
India Palace, located at the intersection of Preston Road and Interstate 635, presents a calm dining atmosphere. There is a bar slightly elevated above the dining area with televi­sion screens to watch whatever sports match is on at the time. The small area of the restau­rant is close to being too clut­tered with tables, and offers just enough space for waiters to navigate.
While the atmosphere may be standard fare for restaurants, the food is anything but. India Palace makes use of tradition­al Indian flavor without mak­ing anything too spicy for its American market.
The lunch buffet, for a mere $13 from 11 a.m. to 2 p.m., allows a restaurant-goer to lather his or her palate with a variety of sauces and spic­es. The chicken masala offers great flavor without much of the spice commonly associated with Indian cuisine. The beef curry features slow-cooked cuts of beef soaked in a thick brown curry sauce. It has one of the more subdued flavors offered at India Palace, but mixes with their rice sides for amazing fla­vor combinations. The pullav rice acts as a sponge for any sauce you have pooling on the plate and goes well with any meat wrapped in the naan bread. If patrons are seeking more spice, the chicken biryani is a mixture of rice and chicken offering a moderate spice that shocks the taste buds.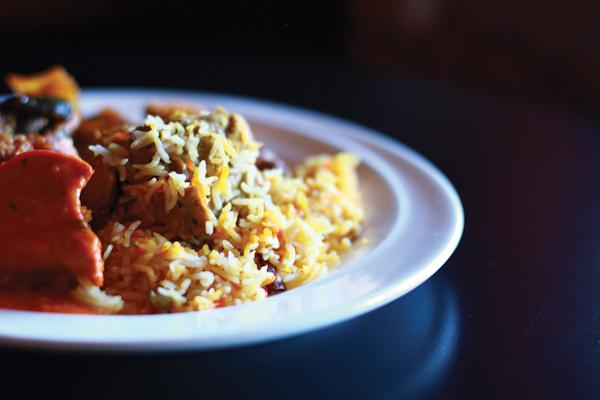 Photo by Kathy Tran  | The chicken biryani sits marinating in the chicken masala.
Perhaps the best item offered at India Palace's lunch buffet is the Hakka noodles. Resembling chow mien, these fried noodles offer as much flavor as anyone could hope for. With just enough spice to keep you on your toes while still offering a mouthwatering symphony of flavors, it would be a mistake not to fill your plate at least twice with this side.
India Palace offers a few dish­es that are not available from the buffet. The beef vindaloo dish, consisting of prime beef cuts bathing in a pool of spice that may make your nose run, with a side of pullav rice, cannot be ignored by anyone seek­ing to get the most flavor out of his or her meal.
The portion is an average size, but you would be in trouble if you wanted more than one bowl of this spice demon. The flavor is a mixture of beef stew and the beef curry offered from the lunch buffet, with added spice. From start to finish, the spice sticks with you. If you aren't accustomed to your tongue being numb from spicy hotness, you may want to request the server leave a pitcher of water for you to drown yourself in.
India Palace brings diversi­ty to the cuisine in the North Dallas area while simultane­ously offering a pleasant dining experience. Its price point may be a bit high for the average col­lege student, but its lunch buffet is too good to pass up.
12817 Preston Rd #105, Dallas. 972-392-0190.