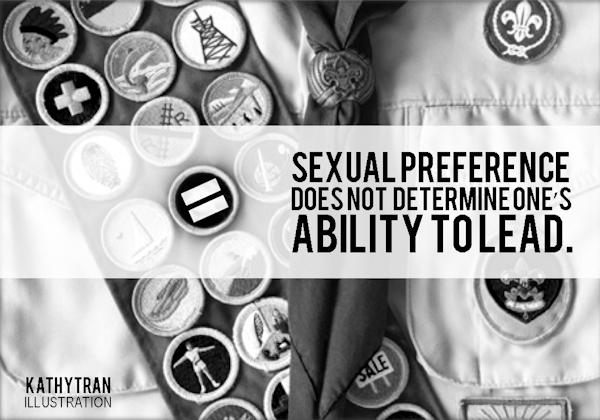 Against by:
Amy Price
Editor-In-Chief
Boy Scout leaders and Scouts in Dallas and across the country converged on the Boy Scouts of America headquarters in Irving, Texas, Feb. 4 to drop off boxes filled with 1.4 million signatures from a www.change.org petition to repeal the ban on any lesbian, gay, bisexual or transgendered members.
With tears in her eyes, former den mother and lesbian Jennifer Tyrrell pleaded in front of the press for the lifting of the ban as she shared her story of being ousted last year.
The long-standing BSA ban on the inclusion of homosex­uals has recently come under pressure after information was leaked in January that the organi­zation might consider lifting the ban. According to The Human Rights Campaign, the BSA's employment application states in an "exercise of its constitu­tional right to bring the values of Scouting to its youth mem­bers, the Boy Scouts of America will not employ atheists, agnos­tics, known or avowed homo­sexuals, or others as professional Scouters…"
Change for the outdated and revolting policy is long over­due. This agenda is not politi­cal; it simply comes down to acceptance and diversity – both of which the BSA obviously doesn't want, or so it seems. On the BSA website, the organiza­tion has a page under the careers section announcing its "diver­sity and inclusiveness among its youth members and adult volun­teers, as well as among national and local council employees." This cannot be a true statement if the group does not allow homo­sexual members. The BSA oath states: "On my honor I will do my best to do my duty to God and my country and to obey the Scout Law; to help other peo­ple at all times; to keep myself physically strong, mentally awake, and morally straight." Now, unless "morally straight" is meant to refer to sexual pref­erence, nowhere in the oath nor the "Scout Law" does it say anything about the exclu­sion of homosexuals. The BSA's employment guide­lines also state that persons with criminal records could be considered for hire, but no gays allowed. This is a grave contradiction.
The policy is hateful and outright discriminating to people like me who are a part of the queer community. According to the Dallas Voice, on Feb. 4, Eric Andresen, a father of a former Scout, told his story of prejudice. His son was denied an Eagle Scout Award after announcing his sexuality. It nearly broke him down to watch his son go through all the hard work for nothing.
Innocent adolescents and young men are being betrayed by the very people who are supposed to set an example for them. Unfortunately, according to the law, the BSA can continue the policy. However, it would not be in best interest of the organization. Two major cor­porations, Intel and UPS, have already pulled funding from the BSA, and according to The Advocate, an LGBT publication, more companies are sure to fol­low. Quinnipiac University in Connecticut surveyed 1,772 vot­ers between Jan. 30 and Feb. 4. The results showed American voters favored ending the ban 55 to 33 percent, with a 2.3 per­cent margin of error. The results speak for themselves.
The BSA was planning on making a decision on the policy change earlier this month, but has pushed the hearing back to May 3. I hope the organization retracts its claws and makes an informed and humane decision. The BSA is not a terrible organi­zation, but this policy is.
Pro
Bill Michel
Staff Writer
Recent public outcry pressur­ing the Boy Scouts of America to reverse a ban on gay membership has been newsworthy. I am gay, but I still support the stance of the BSA. The BSA should continue to operate under any legal rules it sees fit. If one of those rules is to restrict gay membership, then so be it.
There is no explicit rule that bans gay membership, nor is a question of sexuality asked upon becoming a member. However, if a member (or troop leader) makes his sexual orientation known to be other than hetero­sexual, he can be dismissed.
Founded in 1910, BSA was designed to train boys to be responsible, patriotic citizens, becoming selfreliant in the pro­cess. In 1916, the BSA attained a congressional charter under Title 36 of the United States Code. This charter protects the symbols and insignias of the corporation from becoming altered by any other group as a means to protect patriotic-based organizations. Other corporations protected by this Title include the Girl Scouts of the USA, Red Cross and American Legion. This pro­tection does not circumvent each group's First Amendment rights, nor does it make any of the groups a federal entity. Therefore, the federal government cannot regulate the rules and regulations of the BSA, because it is an inde­pendent organization.
Membership in the BSA is voluntary. It is not required and it is not the only group available to boys for additional lifestyle enrichment. There are many other groups that offer valuable skills and activities, including: Boys and Girls Club of America, Big Brothers and Big Sisters, Camp Fire (co-ed since 1975), and sev­eral other groups tailored toward specific learning experiences dealing with a specialized demographic. None of the clubs listed have any rules restricting homo­sexual membership. Therefore, I would be inclined to say that if a gay parent, or gay youth, feels it is important for their sexuality to be a driving force behind a social organization, they should look into becoming a member of a group other than the BSA.
By now I'm sure some of you are thinking, "But that isn't fair." To quote "Mommie Dearest," the iconic 1981 movie with Faye Dunaway, "Ahh, but nobody ever said life was fair, Tina." The simple fact of it is that if a store doesn't sell what you are look­ing to buy, don't shop there. If you always get horrible service at a local restaurant, don't eat there. If you are gay and the BSA is known for revoking memberships of gay people, join a differ­ent group.
My view on the subject of whether the Boy Scouts of America should allow gay mem­bership, both youth and leader, mimics the same decision the Supreme Court had in the case of Boy Scouts of America v. Dale (2000). In a 5-4 decision, the Court ruled the BSA has the constitutional right to free­dom of association. The First Amendment clearly grants the right for groups to peace­ably assemble, and Congress shall make no law to prohibit or abridge such a right. In a nut­shell, the BSA is a private group that can make its own rules and regulations as long as they are law-abiding; public opinion does not constitute law.
Furthermore, how does sexu­ality even play a role in what the BSA as a group stands to do for boys and teenagers? Last I checked, the BSA offered badges in fire safety, first aid, plumbing, reading, stamp collecting and journalism, among many others. To inject sexuality into any of those activities is gratuitous. The BSA is neither a vehicle for its members to learn sex education nor is it a club for leaders to advise young men of any concerns they may have regarding their own sexual orientation. In fact, the BSA has specific guidelines in its hand­book to instruct scoutmasters to direct any questions of a sexual matter to a parent, religious leader, or teacher. A scoutmas­ter's job is not to replace any of those advisers in a young person's life when it comes to such an important issue. By the way, those rules regarding questions of a sexual matter are not just for potentially homo­sexual-leaning scouts, they are for all scouts; issues regarding homosexuality are not specifi­cally referenced to be dealt with in a discriminatory way.
The Boy Scouts of America does not seek to change any­one's opinion, so why should anyone attempt to change it? We are all protected by the same Constitution. Sometimes it is a better option to seek other outlets for expression, outlets that better suit our individual needs and desires, rather than to spend valuable time amending the values of others with whom we disagree.