Honoring MLK through poetry
By Bradley Varnell
Staff Writer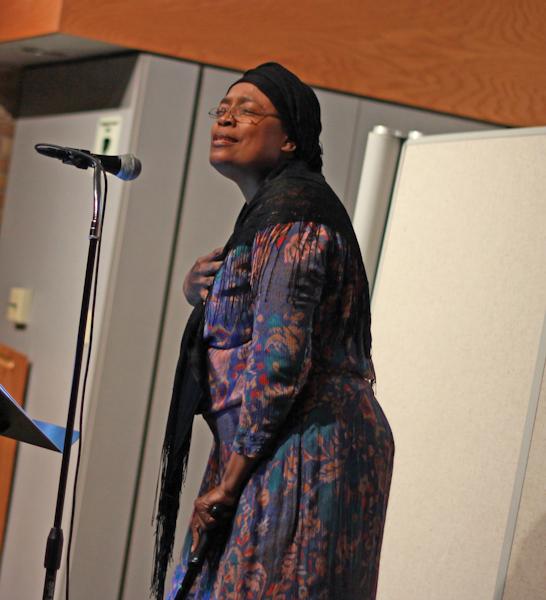 More than 150 students, faculty and staff filled the K234 West Lecture Hall Thursday, Feb. 28, as Brookhaven College closed out its celebration of Black History Month with the annual African American Read-In.
Titled "Poems of Freedom," this year's event was held in commemoration of the 50th anniversary of Dr. Martin Luther King Jr.'s "I Have a Dream" speech and the 150th anniversary of the signing of the Emancipation Proclamation. The 15 works of poetry and prose by black authors documented the evolution of the struggle for freedom and equality in the United States.
Hazel Carlos, professor of English and director of the Brookhaven Black History Month program, said she hoped the reading would help give those in attendance an understanding of the African-American struggle and "the whole picture of what the American experience is all about."
Opening with the spiritual "Oh, Freedom," the readers, dressed in simple costumes, marched around the makeshift stage in the lecture hall as audience members watched with rapt attention.
Progressing from early poets who begged for freedom and concluding with poets who demanded it, the event's tone, Carlos said, steadily increased in force and militancy. Starting with "Slave Auction" by Frances Harper, the program continued on through Sojourner Truth's "Ain't I a Woman" address to the Akron Women's Convention, read by professor Naomi Stokes-Wesson, and concluded with a simple restaging of  King's  "I Have a Dream" speech, performed by professor Chris Cyriaque.
Brandon Green said,  "I  had no clue it was going on until the instructor announced it." Green said he enjoyed the emotion the readers brought to their poems: "The readers were all mature enough to have a deeper feeling and deeper emotion to read the poems than, say, someone my age."
Bruno  Chiquini  said  he  had not planned to attend the reading, but popped in while he waited on his brother instead of waiting in the library. He was very happy he stayed. "I thought it was emo- tionally  moving.  [The readers] really  got  into character,"  he said. Chiquini's friend and event volunteer Ana Immerso agreed, "It felt very real."
Donna Crenshaw, tutoring coordinator at Brookhaven, was a reader for the  program and felt it was a success. "I thought it was awesome, absolutely moving  [and]  emotional," Crenshaw  said.  She believed many  readers  who had  lived through the Civil Rights  Era contributed  to the emotional nature of the  event.  "We  can relate," she said.
Crenshaw  said  she  thought it comforting to see the progress that has been made in the 50 years since King's speech, noting that, although the U.S. still has a way to go regarding racial issues, things are looking up. "You know, it's a struggle and  it's  been  a  struggle  and, at times, it's still a struggle," Crenshaw said.
For  her  part, Crenshaw  said she hopes the men and women who attended,      especially African-Americans, left with a sense of pride and a respect for where  they've  come  from. "We're thankful that we've had strong  people  like  Dr.  Martin Luther King Jr., Malcolm X and Sojourner Truth to pave the way to where we are today," she said.
"We stand on their shoulders."