Faculty stars in film
By Nicholas Bostick
New Media Editor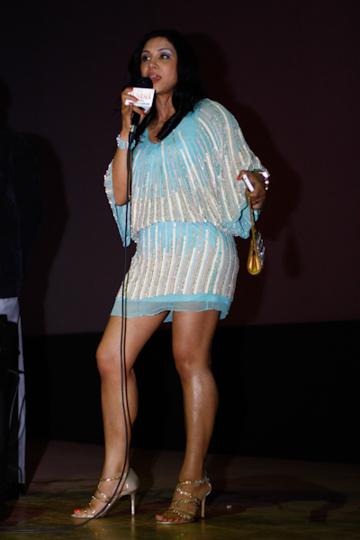 It was raining outside, but the fans still came out to FunAsiA Theater in Richardson for the premiere of "Geeta in Paradise." The small theater was crowded with photographers snapping pictures, friends chatting over plates of curry and rice and a duo of musicians wandering through the crowd playing acoustic Beatles songs. Parul Bhatia, the movie's leading lady and executive co-producer, was at the center of it all.
Bhatia, an adjunct faculty member in the English program at Brookhaven College, had a passion for acting at an early age. "My mom would tease me, 'We should open a club for you.' I just enjoyed performing," she said. Bhatia said her family, however, had a different path in mind for her, leading to a master's degree in English from the University of New Delhi. After graduation, Bhatia traveled 8,000 miles from the busy streets of Delhi to the University of North Texas in Denton.
The transition was difficult for her. "I was so used to a lot of passion and people and India," Bhatia said. She turned those homesick sorrows into her radio-TV-film thesis focusing on the trials and tribulations felt by Indian college students living in a new country. Bhatia said what Indian students miss is the culture and the intimacy that is brought by that culture.
After the lights came up at the premiere, Bhatia took part in a Q-and-A session, hosted by her former UNT marketing professor, Jhinuk Chowdhury. "Parul Bhatia is a very interesting person. She's an actor, she's a director, she's a writer—she's been doing this for a very long time," Chowdhury said. He went on to say how proud he was that Bhatia continues doing this work.
There was no mistaking the impact Bhatia had on the local Indian community. Faces in the crowd beamed as she answered questions in the tiny theater. People repeatedly praised her performance as if it were prerequisite before asking their questions. The movie itself was not as widely appreciated as Bhatia's performance, however. "Some of the things that you see may not be the best scene, but the director, Benny, is not here so he can answer why he has some scenes. That's my disclaimer on this work," producer Moody Ahktar said at the beginning of the Q-and-A, causing groans of either agreement or scandal from the crowd.
Bhatia was not afraid to shake things up, however. "Yes, it could have been a more traditional movie in some ways if I tweaked it, and perhaps some sensibilities of a certain audience would have been more massaged in a way, but I stayed away from it," Bhatia said. "I didn't want to be a hindrance to the director's creativity. What he had in his mind I wanted to kind of uphold, and give that to the audience."
Bhatia said the producer is the backbone of the film. "He makes things happen, be it the location, be it the casting or your props. If the director needs something, it's the producer who ends up arranging it," she said. One of Bhatia's duties involved a trip back to India, where she assisted in arranging the cast. "When you go there, there's a different mindset," Bhatia said. She said many Indians do not understand that she is from there and her roots are there. Bhatia also put her own money into the film and set up filming locations in the DFW area. "It was so much fun. It's like we were exploring some Texan landscapes," Bhatia said. "It was kind of cool to capture the Texas feel."
Bhatia has written books of poetry, taught traditional Indian dance and created movies.
"I think at the end of the day you have to do what you want to do. I can't imagine doing something that I don't want to do," Bhatia said. "At the same time, I think you have to be practical, so find a way where you can earn your money and have a job."
More information is available at the Facebook page for "Geeta in Paradise."