Student fighting way to pros
By Scott Mitchell
A&E/Sports Editor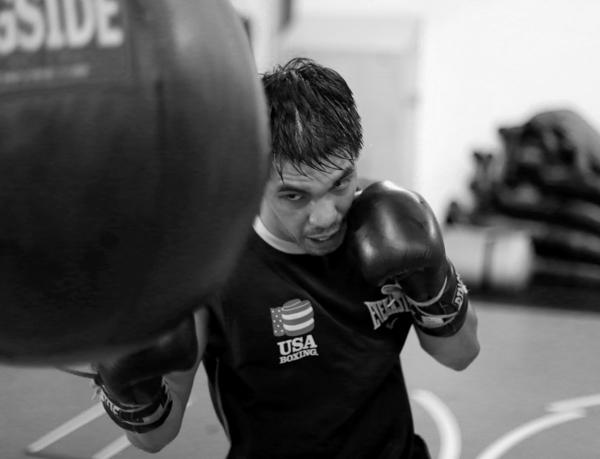 The air was alive with the sound of laughter, the solid thumps of sparring, heavy medicine balls being slammed to the floor, padded fists hitting thick bags and the eerie sound of idly swinging bags following the ring of a bell. In the middle of all this chaos, Brookhaven College student George Rincon finds himself at peace.
"It's like a second home to me," Rincon said. This was obvious from the way he walked about the open space of the Irving Police Athletic League, bumping wrapped fists and exchanging greetings with everyone who passed him. Now and then he would stop to talk with a younger boxer, asking them if they were ready to spar or telling them to make sure to use their jab more.
The 21-year-old Rincon splits his time between boxing and attending Brookhaven. He has fluctuated between being a full-time and part-time student, but said education is one of his top priorities. He sees Brookhaven as a place to get his basics out of the way. "It's really close to home," Rincon said. "It's something I did so I could focus on boxing more." Rincon said there is a possibility of the Spring 2013 semester being his last at Brookhaven if he obtains a professional contract.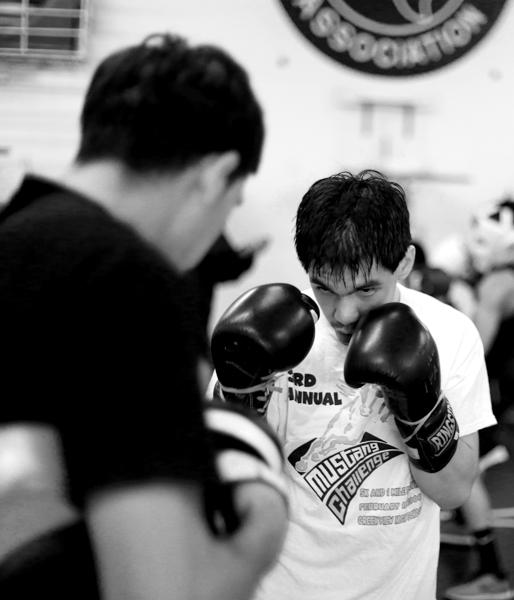 Rincon is somewhat of a celebrity at IPAL, which is open to the public. Almost everyone knows him and speaks to him reverently. Other fighters were sure to listen to whatever advice he had to give.
There is good reason to listen to Rincon. He has been in more than 200 bouts and won the National Golden Gloves championship in 2012. He also competed in the 2008 Olympic trials and represented the US in fights against Ukraine and Russia in Eastern Europe.
The success Rincon has found is largely due to the support system he has. His father introduced him to boxing when he was very young, starting his training at age eight. George Rincon Sr., Rincon's father, boxed a bit when he was younger, but said he got into it too late to have the chance at success that George has. "I knew he would be a boxer," George Sr. said. "I bought his first boxing gloves a week before he was born."
Rincon's story is not one of unwavering success. When he competed in the Olympic trials in 2008, he fought his way to the final four boxers. It was at this greatest moment of success when Rincon suffered his greatest defeat, losing the fight and becoming ineligible to attend the Olympics.
It was hard for Rincon to lose in the top four, but he said: "I've been to the Olympic trials. Not many people can say that." Rincon does not see another Olympic trial in his future. "It's a lot of work," he said. "You have to put your life on hold."
Alex Rincon, George Rincon's brother, has been with him through much of his boxing career. Alex, a 17-year-old who is about three inches taller and 20 pounds heavier than Rincon, could always be found training with Rincon. Whether it was exchanging blows in the ring or putting on the body pads to act as a moving punching bag, Alex was often near his brother.
The training is not just for Rincon's benefit. Alex seems to be taking a path similar to his brother's. He will be fighting in the same competition as Rincon, the Klitschko Brothers Tournament in Eastern Europe.
Roberto Hernandez, Rincon's coach, has Rincon spar against his brother so he can practice against bigger, harder-hitting fighters. Hernandez, who wore a jumpsuit, looked the part of the seasoned boxing coach. "In the pros, there are no head pads," Hernandez said. "He needs to get used to getting hit harder."
Hernandez, who has been coaching Rincon since he first came into the IPAL in 2000, has a lot of faith in Rincon. "He listens," Hernandez said with a grin. "A lot of guys, they don't listen. George listens to me, even when he shouldn't."
Alex said Rincon has a lot of strengths. "He can set up his punches," he said. "A lot of people don't do that, don't follow through. They can punch hard, but they can't set it up." Rincon can indeed throw a punch, some- times to Alex's disdain. Beads of sweat fell from Rincon's face with every uppercut he threw. After a minute or so of sparring, hundreds of droplets could be seen where the Rincon brothers stood.
While acting as Rincon's punching bag, Alex had to stop Rincon after a solid liver shot. Alex threw his padded hands up, almost doubling over. "Sometimes he catches me and I get dazed," Alex said. "If he catches you, he can knock the wind out of you."
It is like this five days a week, two hours a day for the Rincon men: training, sparring and stop- ping when the bell sounds. "I'm hoping to go professional soon." Rincon said. "I feel like it's time." Rincon received a couple of offers from professional boxing managers two years ago, but felt he was not ready at the time.
Rincon's team is abundantly confident about his boxing. George Sr. nonchalantly said he knows Rincon has the skills and the experience, so he does not worry. Hernandez shared the notion, having confidence in Rincon's ability to listen and protect himself.
Eventually, the final bell sounded. Activity in the gym stopped and many, including Rincon, packed up their gear and exited. It was just another day of preparation for Rincon.