Students commemorate Earth Day on campus
By Cynthia Arias
Staff Writer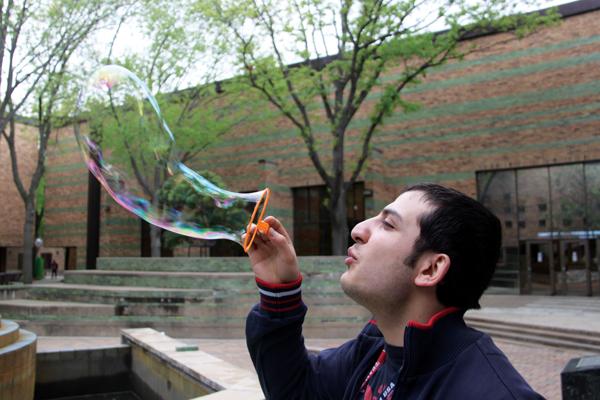 Stretched across the Commons Courtyard, a white banner strewn with hand prints drew a crowd of students and attendees urging them to sign the pledge to be green. DJ Earthshine, English professor Hurshel Burton, spun the turntables and pumped out tunes in celebration ofEarth Day at Brookhaven College.
The Brookhaven Green Team hosted Earth Day Fest April 4 for its fourth year. "Our mission is to educate about sustainability into our learning community at all levels," Carrie Schweitzer, coordinator of Earth Day Fest and assistant to the president of Brookhaven, said.
Students and employees were invited to visit various local organizations that promote eco-friendly habits. Helen Dulac, from Dallas Water Utilities, encouraged visitors to cease the grease. "Anything solid can be thrown away, if it is a liquid it can be recycled," Dulac said. She handed out fat trapper bags that help dispose of grease, oil and fat properly. She said pouring grease down the drain causes extensive clogging over time and can cause serious plumbing issues resulting in costly repairs.
She informed students about the cooking oil drop-off location on campus, located near the baseball field and east parking lot. All Dallas Community College District campuses have cooking oil drop-off locations where the grease is then picked up to be recycled.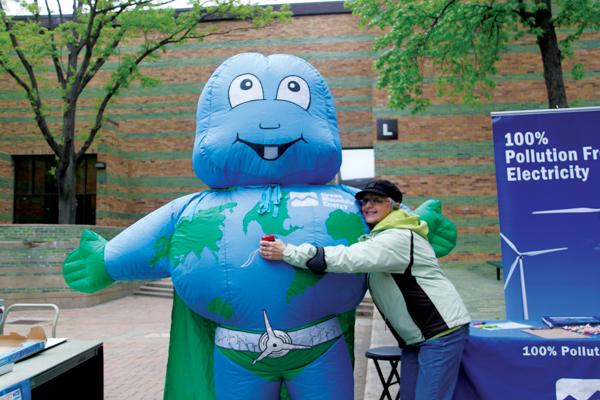 In the center of the courtyard was a 2012 Nissan LEAF, courtesy of Nissan and the Brookhaven College automotive program. Several people checked out the all-electric car that produces zero emissions. "It looks pretty spacious and I think it would be cool to drive a car that does not contribute to pollution," student Angie Lee said.
The Texas Master Gardeners offered guests a more hands-on approach to being green. "Our purpose is to educate citizens on the best practice gardening," Peggy DeFore said. They passed out information on how to make compost and grow vegetables. Many Earth Day guest met with Raini Layne, of Groundwork Dallas, a non-profit organization that helps build and maintain trails in the Great Trinity Forest. "If you are in service learning, the volunteer clean-up days are applicable towards it," Layne said.
As attendees continued to check out the happenings at the Earth Day Fest, they were invited to recycle on-site. There were bins placed throughout the Commons Courtyard for small recyclables such as plastic bottles and a booth designated for electronics.
The fourth annual Big Green Bear garage sale was also in full swing at the Earth Day Fair. Donated item sale raised money for scholarships and the student book fund. Schweitzer said any unsold items would be taken to the Metrocrest Social Services or the Salvation Army. Many remaining guests were motivated to pledge and have their hand printed on the banner before they left including Brookhaven President Thom Chesney.
Brookhaven librarian Lois Wagenseil said the banner and the event photos will be displayed on the Brookhaven Greenies Facebook.