Student government to assign new leaders
Chris Allison
Copy Editor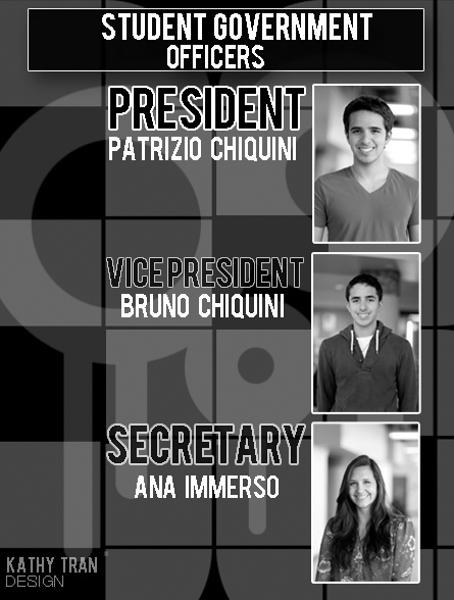 Newly elected Brookhaven student government officers offered some insight into their values, goals and plans for selecting remaining officers.
Patrizio Chiquini, the Brookhaven College Student Government Association president, represented Brookhaven at the Texas Junior College Student Government Association conference a few weeks after the recent election.
Meanwhile, vice president Bruno Chiquini and Secretary Ana Immerso were busy preparing to fill the remaining BSGA officer positions and representing the student body on campus.
Although the student leaders chose not to reveal much about the process of selecting the remaining officers, they said candidates were being interviewed and mock trials were being held to gauge applicants.
Information provided by the SGA showed the applicants reflect the diversity of the student body.
Local candidates as well as those from Ukraine, Belarus, Egypt and the Ivory Coast offer a range of options to become the voices of Brookhaven.
The deciding factor, however, is willingness to work toward the shared goals of the organization. "The most important matter for elections is that whoever wants the position is committed to our SGA," Immerso said.
The officers share a common interest of a more unified student body. They envision a more involved community with more events and activities to foster connections among students.
"Outside Brookhaven, we are all individuals," Patrizio said in an email. "We all have our own routines, our own lives. But when we step on the campus, we become one. We are one community, one school, one family."
Patrizio went on to say: "We all have different characteristics that can help other students out. We just need to get the students involved to create these types of connections."
The Chiquinis know exactly what such an effort entails, bringing their experiences as representatives of Coppell High School to their new roles at Brookhaven.
Immerso uses her outgoing nature to communicate with students. She would like to help get rid of cliques and create more school spirit during her time with the SGA.
Vice president Bruno dis- covered the SGA representatives do not sit on many of the campus committees.
"I would want to make sure that SGA members can be part of those committees, which make decisions about the school, because if SGA is not a part of them, then the students' voices cannot be heard," he said.
The SGA was created, in part, to provide a means of communication between Brookhaven staff and students, according to its charter.
The new SGA members believe as the school expands and more committees and advisory boards are created to accommodate inevitable changes, the need to represent the student body becomes increasingly vital.
For more information about the Brookhaven Student Government Association, visit the student services page of brookhavencollege.edu.
For a more personal approach, readers can strike up a conversation with one of the current officers.